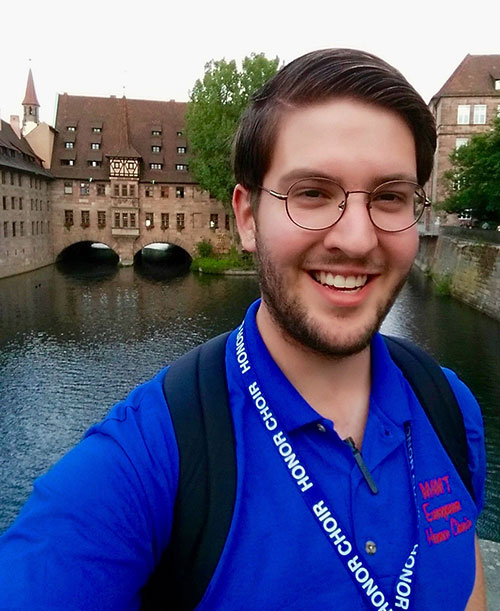 PROVIDENCE, R.I. [Brown University] — After completing his freshman year at the University of Nebraska-Lincoln, Jacob Ihnen decided on a whim to take a comparative literature class during Brown's summer session. The class, taught by Professor of Classics and Comparative Literature Joseph Pucci, studied the American presidency through a literary lens. It also looked at the ways in which presidents have used literature, including classical and scriptural texts, in their own writings and thinking.
The class, and the professor, were ultimately so inspiring — and pertinent to his academic interests — that Ihnen applied to Brown as a transfer student to study classics and to continue taking Pucci's classes.
Now a rising senior at Brown, Ihnen spent this summer working with Pucci on an UTRA project titled "Lincoln of the West." As part of a broader book project on Abraham Lincoln by his professor, Ihnen focused his research on examining how the 16th president used both ancient rhetoric and Bible scripture to effectively relate to the contemporary politics and happenings of the day, particularly the turmoil between the north and south. The research also aimed to refute what Ihnen said is a common misperception of Lincoln: that he did not have a thorough understanding of the Bible.
To do this, Ihnen compiled an index of all of Lincoln's public speeches. Then he worked with Pucci to study the index and categorize it in order to cross-reference biblical references by type, an endeavor that will continue into the academic year. The two reviewed the research regularly and ultimately plan to collaboratively develop a course on the subject.
"Professor Pucci is the ideal research partner," Ihnen said. "He is passionate, respectful and pragmatic." 
His summer UTRA project not only tracks well to his first Brown experience and the love of classics that brought him here, but also to his future goals: a doctorate in classics, a law degree, a master's degree in divinity, and ultimately a teaching, research and administrative role at a university.
"I had never conducted academic research before, so a big part of the summer was learning how to do formal research with a research partner," Ihnen said. "I want to go into academia, and I really wanted and needed to get some academic research experience under my belt." 
The experience confirmed that the path he's chosen is the right one for him. Ihnen said he enjoyed doing independent research outside the boundaries of the classroom, something in which he'll be immersing himself as an academic.
"It's very liberating to pick who you want to work with and to research whatever topic you want," he said. "You get to pursue your passions instead of jumping through hoops."