PROVIDENCE, R.I. [Brown University] — Brown's celebrated Van Wickle Gates parted, 2,675 incoming students processed through en route to the College Green, and speakers urged students to appreciate and learn from the diversity of ideas around them as the 2016-17 academic year officially began during the University's 253rd Opening Convocation on Tuesday, Sept. 6.
Brown President Christina Paxson welcomed incoming students with an appeal to consider the University's values, especially as they relate to the hot-button issues facing higher education today — freedom of expression and the supposed coddling of American college students. The process of creating knowledge can be contentious, Paxson said, but she sees in Brown students a willingness to jump into difficult issues.
"From the earliest days of this country, college campuses have been at the vanguard of fierce debates about slavery, war, women's rights and racial justice," Brown's 19th president said. "These discussions create uncomfortable moments, and they should. We're talking about discussions that create seismic shifts in how we treat each other as people and recognize the rights of individuals. These arguments, debates and even protests are essential to our work and to society at large. If we don't have these debates — if we limit the flow of ideas — then in 50 years we will be no better than we are today."
Yet the right of academic freedom comes with a moral responsibility, Paxson said, to carefully consider how that right is exercised in service of society.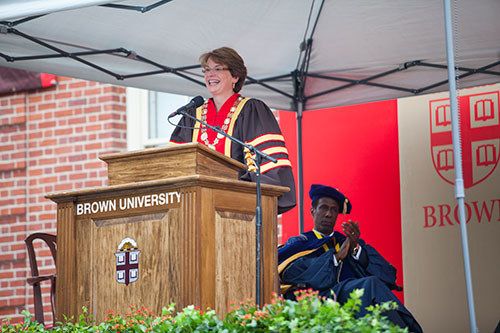 "Every person here has a choice…" Paxson told the incoming students. "To be mean-spirited, to engage in divisive rhetoric and to stoop to name-calling and labelling in the hope of pummeling others who don't share our views into submission… But each of us is also free to aspire to do better: to value others, even as we may disagree with them, to treat people with respect and dignity, to listen to others, and to appreciate and learn from the rich diversity of backgrounds and experiences of the people who comprise this amazing community.
"And over and over again — not every time, certainly, but much more often than not — I see members of the Brown community making the second of these two choices."
Paxson's Convocation address came on the same day that the Washington Post published a guest column in which she asserted the value of freedom of expression and confronted the debate on "safe spaces" and "trigger warnings." The op-ed was framed as an opening address for the new academic year and previewed the themes she shared with the incoming students.
Following the president's remarks, in a welcome address that referenced the wisdom of such disparate figures as playwright George Bernard Shaw, Nobel scientist Martin Chalfie, French artist Paul Gauguin and 19th century Brown president Francis Wayland, keynote speaker Andrew G. Campbell urged students to examine their own assumptions, call upon their imaginations and take creative and intellectual risks.
"As human beings, we are predisposed to attend to what is consistent with our biases — our internal theories of the world — and to ignore or minimize what is inconsistent," Campbell said. "This very human tendency is the enemy of true scholarship and discovery, as it is the enemy of personal growth."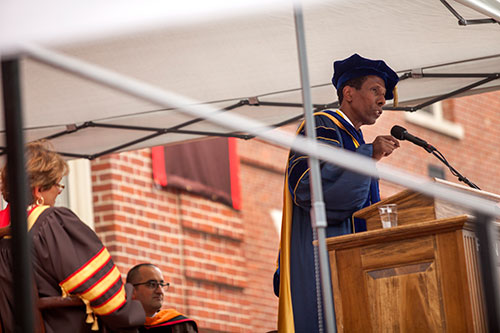 Instead, Campbell said, students should actively subject themselves to new and unfamiliar ideas that can push past what he called dogma — the beliefs accepted without doubt or question, which hinder intellectual progress.
"These experiences will reveal your essential nature and will help you to imagine greater possibilities for yourself and for society," he said. "They will help you to build lives of purpose and meaning."
Campbell, a longtime Brown faculty member and new dean of the Graduate School, also implored the incoming students to cast aside the limitations of one-dimensional thinking, noting Brown's strength in the Open Curriculum and commitment to scholarship across boundaries. "Seek out the myriad opportunities for interdisciplinary collaboration with faculty and fellow students alike," he said. "It is in these intersectional spaces that new insights are gained, dogma questioned and creativity nourished."
Video: 2016 Brown University Opening Convocation
Incoming class profile
Celebrating the start of the academic year with Paxson, Campbell and other Convocation guests were 2,675 new Brown students. Here's a closer look at the incoming class, from undergraduates to master's, doctoral and medical students.
The undergraduate class of 2020
A total of 32,390 students applied for admission to Brown's undergraduate class of 2020. The University admitted 3,015 students (9.3 percent), yielding a matriculating class of 1,682:
Gender: 903 women (54 percent) and 779 men (46 percent)
Diversity: 41 percent of the class are students of color; 11 percent of students are first-generation college students
Financial aid: 41 percent of the class will receive need-based scholarship or grant aid; 64 percent of those students receiving financial aid have no loans in their financial aid awards, and 34 percent have no expected parental contribution from income
Academic interests: among the most popular intended areas of concentration are engineering; computer science; biochemistry and molecular biology; business, entrepreneurship and organizations; biology; international relations; economics; political science; and English
Geography: Members of the class come from 48 U.S. states and 58 countries; 14 percent of students were educated abroad; after the U.S., the top countries represented are China, the United Kingdom, South Korea, India and Canada
In addition to the 1,682 first-year students, 10 incoming Resuming Undergraduate Education students and 54 transfer students will begin at Brown this semester
The Graduate School
A total of 10,140 students applied for graduate program admission. The Graduate School admitted 1,972 (19 percent), yielding a matriculating class of 785 master's and doctoral students; the doctoral acceptance rate was 12 percent.
Gender: 380 women (48 percent) and 405 men (52 percent)
Diversity: 20 percent of incoming graduate students are students of color
Financial aid: Incoming doctoral students receive five years of guaranteed financial support, including a stipend, tuition remission, a health services fee, and both health and dental insurance subsidies
Geography: entering international graduate students come from 49 countries, with the largest numbers coming from the People's Republic of China, India, Republic of Korea, Canada, Italy, Japan, Germany, Iran, Pakistan and Brazil
The Warren Alpert Medical School
A total of 144 matriculants will begin their studies at the Alpert Medical School. The total number of applicants was 8,916, representing all routes of admission, including those students who applied to the Program in Liberal Medical Education. The admit rate was 3.2 percent.
Gender: 72 women (50 percent) and 72 men (50 percent)
Diversity: 50 percent of incoming medical students are students of color
Financial aid: 70 percent of medical students receive financial aid, in the form of institutional or federal aid, or a combination of both.
Undergraduate majors: biology, chemistry, math or engineering (67 percent); social sciences (23 percent); humanities (10 percent)
Geography: entering medical students come from 28 U.S. states and the District of Columbia, and represent by birth or citizenship 11 other countries:  Argentina, Bulgaria, China, Columbia, Dominican Republic, Korea, Haiti, India, Mexico, the Russian Federation and Taiwan