PROVIDENCE, R.I. [Brown University] — On Saturday, April 22, countries across the globe will celebrate Earth Day. At Brown, the day caps off a week of conservation-related events ranging from a used clothing swap and solar oven s'more-making to a lecture on environmental justice at the Brown Center for Students of Color and a panel on fossil fuel infrastructure concerns in Rhode Island. The Brown community's engagement in environmental issues continues on Earth Day itself when hundreds of students, faculty and staff will participate in local and national March for Science rallies, co-organized by the National Earth Day Network.
It's a good time of year to reflect on Brown's work around sustainability, says Christopher Powell, assistant vice president of sustainable energy and environmental initiatives. 
"Students and faculty at Brown, as well as Brown's leadership, are very engaged in conservation issues," Powell said. "As an institution, we are always looking for ways to offset and lessen the impact we have on the environment, and with that goal in mind we have implemented conservation measures around everything from greenhouse gas emissions to dining waste to water conservation. Brown students, in particular, have an incredible passion for the environment and have been responsible for the grassroots creation of many initiatives and programs here that have made a lot of impact."
Of course, Powell says, there is always more work to be done. "We have made great strides at Brown, but we will continue to seek out ways to reduce our footprint on the planet," he added.
In celebration of Earth Week, below is a sampling of some of the many innovative green initiatives and projects at Brown that are having an impact on College Hill and beyond.
1. Reducing greenhouse emissions
In 2007, the Energy Conservation Initiative created by then-University President Ruth J. Simmons set the goal of reducing the Brown's greenhouse gas emissions by 42 percent by 2020. Since then, the University has reduced the greenhouse gases it emits by 27 percent through hundreds of optimizations made to lighting in and around campus, heating and cooling systems in University buildings, and energy systems used in research. One example: The Unoccupied Lab Ventilation Initiative seeks to reduce unnecessary energy usage by the fume hoods found in labs across campus.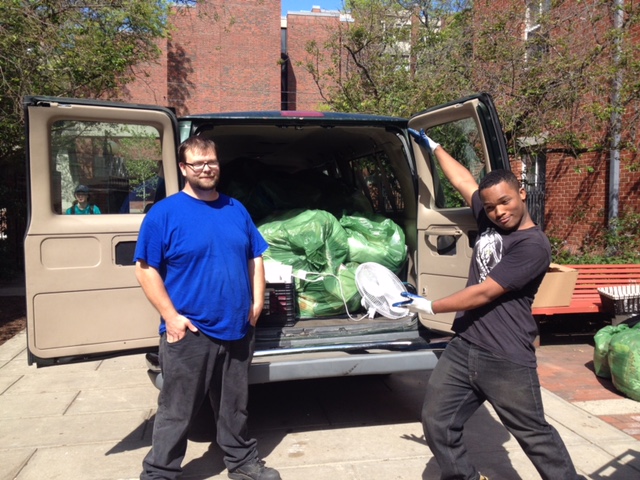 2. Making a "clean break"
When students from Brown leave campus at the end of the academic year, they leave a gift that weighs more than 13,000 pounds. Through the coordination of the EcoReps student group and the Department of Facilities Management, students clearing out their dorms can donate clothes, household items and unopened food. Last year, students donated 13,365 pounds of clothes to Goodwill and nearly 450 pounds of nonperishable food to local food banks.
3. Interning with a local impact
Undergraduate and graduate students at Brown who are interested in making a local impact are encouraged to apply to one of 14 green internships — most of which are funded through the Office of Energy and Environment. A recent partnership with Brown's Office of Transportation and Parking Services, for example, allowed students to get their hands on all areas of campus sustainability, from improving marketing for the office and developing green campus tours to promoting biking on campus and more.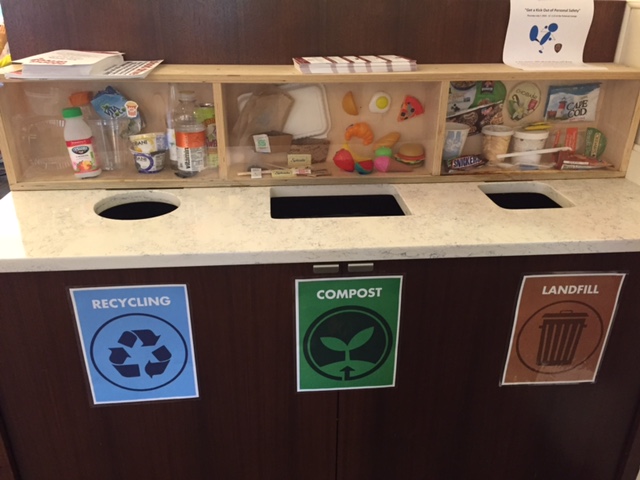 4. Diverting trash from the landfill
By the end of this year, a collection of Brown departments and venues — three major dining facilities, the Department of Facilities Management, Brown-RISD Hillel and the School of Professional Studies — are expected to collectively compost more than 500 tons of waste, diverting it all from local landfills. "That would be the equivalent weight of about about four blue whales," said Jessica Berry, Brown University's sustainability manager. Composting efforts have also been supported by students through the SCRAP composting program. At the beginning of each semester, members of SCRAP, a student-led composting group founded in 2010, distribute free green compost bins to interested students who then can bring their full bins to two campus compost stations.
5. Doing homework in the dark
For seven years running, students from residence halls across campus have participated in a monthlong competition to determine which dorm can conserve the most energy. To reduce energy, contestants turn their lights out as often as possible, unplug their appliances when not in use and use natural light instead of lamps. During the 2016 "Brown Unplugged: Do It in the Dark" competition, participating dorms saw an overall energy reduction of 11,215 kWh,
averting the emission of 10,215 pounds of carbon dioxide into the atmosphere. The winning dorm gets bragging rights — plus, pizza with University President Christina Paxson.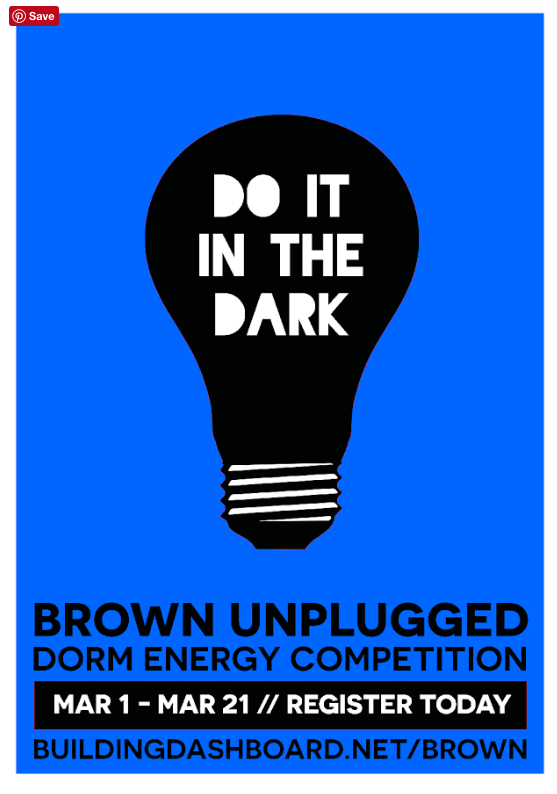 6. Lighting the way through LEED
For more than 20 years, Brown has voluntarily required University building proposals and designs to meet the rigorous requirements of the LEED program. LEED certification evaluates a building's design using a few key metrics to determine whether a building is designed and built in a way that reduces energy and water usage, promotes better indoor air, ensures sustainable stewardship of resources and reduces impact. Many hallmark and newly constructed buildings on campus meet these requirements. The Stephen Robert '62 Campus Center, the Perry and Marty Granoff Center for the Creative Arts and the Nelson Fitness Center are among a long list of Brown buildings that have earned a LEED Gold designation by the U.S. Green Building Council. 
7. Making green travel easier
Parking around College Hill can be hard to come by. Instead of having an idling car contribute to global warming, students in Bikes at Brown know the most environmentally friendly way to get across campus and they're willing to help. The cycling enthusiasts — who are part of the emPower student group — hold community bike rides around the Providence area, host workshops on maintaining bicycles, rent out bicycles and loan them through a bicycle sharing program. Brown has also made it easier for bike riders by installing bike racks at key locations around campus.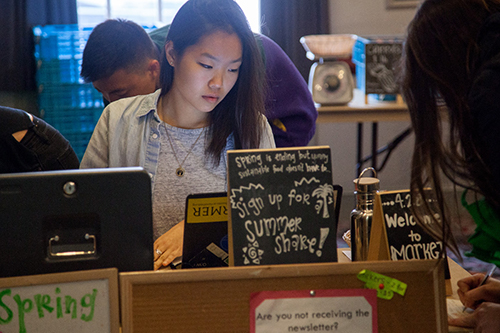 8. Dealing in market shares
Locally sourced produce can be expensive and hard to find, but Brown students have found a way to remove some of those barriers. Now in its 10th year, the student-run Brown Market Shares Program provides fresh produce to the Brown community all year long, partnering with local famers to provide Brown students, staff and faculty with locally sourced vegetables, bread, eggs, dairy and meat at a modest price and at a convenient campus pick-up location. Last year, the popular program had more than 600 shareholders. 
9. Going beyond the bottle
In 2008, a group of students in the EcoReps student group identified plastic water bottles as a major source of campus trash. They banded together to form Beyond the Bottle, handing out reusable water bottles to all first-year students and, for the first time in 2016, to visitors attending Commencement. In recent years, Brown has installed water-refilling stations across campus making it easy to reduce waste and stay hydrated.