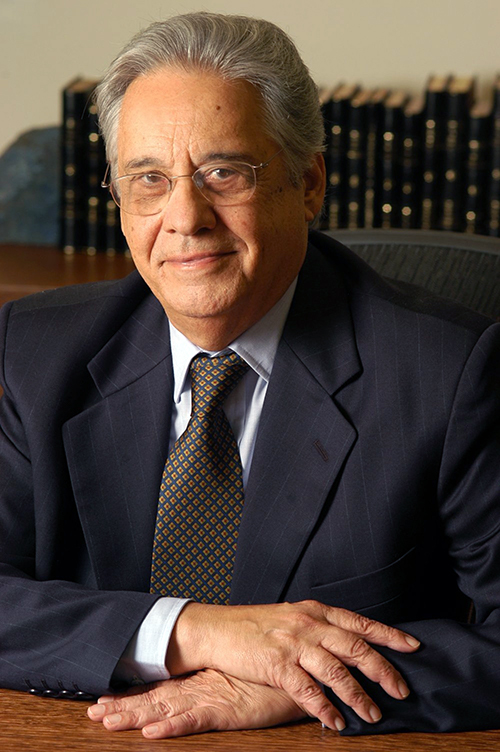 PROVIDENCE, R.I. [Brown University] — During a visit to Brown University on Thursday, Nov. 16, former Brazilian president Fernando Henrique Cardoso will deliver the 95th Stephen A. Ogden Jr. '60 Memorial Lecture on International Affairs, and the University will celebrate the establishment in his name of a new fellowship for graduate students at Brown.
The lecture, titled "Democracy and Corruption in Brazil and Latin America Today," will begin at 4 p.m. at the John Carter Brown Library.
Cardoso, who served as president of Brazil from 1995 through 2002, is a renowned social sciences scholar as well as a statesman. He began his career as a professor of sociology but was exiled from Brazil in the 1960s and barred from teaching in the country as a result of his vocal opposition to its military dictatorship. He is known for his classic work, "Dependency and Development in Latin America," and he has written widely on sociology and political economy.
First elected to national office in Brazil as a senator in 1986, Cardoso helped establish the Social Democratic Party and served as Brazil's foreign minister and economy minister prior to his election as president. During his two terms as Brazil's 34th president, he spearheaded the development and implementation of an economic stabilization program that is credited with controlling inflation, and his policy of reducing government involvement in the economy helped attract foreign investment.
Over the course of his career, Cardoso taught at institutions in the United States, Europe and Brazil. From 2003 to 2008, immediately following his completion of two terms as president, he served as professor-at-large at Brown through the Watson Institute for International and Public Affairs. He now serves as president of a foundation, the Fundação Fernando Henrique Cardoso, with a mission is to promote public debate and disseminate knowledge about the challenges of development and democracy in Brazil. Among other leadership commitments, he is one of the 12 members of the Elders, a group of global leaders who work together for the peace and human rights, founded in 2007 by Nelson Mandela.
Prior to the Ogden Lecture at 4 p.m., University leaders will gather privately with the former president and others to celebrate the establishment of the Fernando Henrique Cardoso Graduate Fellowships in the Social Sciences. Created in recognition of Brown's strong ties to Brazil and in honor of Cardoso's impact as a statesman and a scholar, the fellowships will provide financial support to graduate students at Brown beginning in 2018-19. Preference will be given to Brazilian students pursuing graduate studies in economics.
Many of the students supported by the fellowship will be affiliated with Brown's William R. Rhodes Center for International Finance and Economics, which aims to promote scholarly research, enhance teaching and impact policy discussions in international economics and finance. William R. Rhodes, a 1957 graduate of Brown and a global financial executive known for managing external debt crises in developing nations, including Brazil, led the fundraising effort to honor Cardoso via the fellowship in his name.
The private event will honor Cardoso, Rhodes and the donors who contributed to the fellowship's establishment.
The Stephen A. Ogden Jr. '60 Memorial Lecture
Since 1965, the Ogden Lectureship has presented the University and its neighboring communities with authoritative and timely addresses about international affairs. The lectureship was established in memory of Stephen A. Ogden Jr., a member of the Brown Class of 1960, who died in 1963 from injuries he suffered in a car accident during his junior year. His family created the series as a tribute to Ogden's interest in advancing international peace and understanding.
Dozens of heads of state, diplomats and observers of the international scene have participated in the series, including former British Prime Minister David Cameron, Queen Noor of Jordan, former President of the Soviet Union Mikhail Gorbachev, former Canadian Prime Minister Kim Campbell, media innovator Ted Turner, astronaut Sen. John Glenn, economist Paul Volcker, Bolivian President Evo Morales, former prime minister of Italy Romano Prodi, His Holiness the Dalai Lama, World Bank President Jim Yong Kim and His Highness the Aga Khan.
Seating for the Nov. 16 Ogden Lecture is limited. The doors to the John Carter Brown Library, located at 94 George St. in Providence, will open at 3:30 p.m. For more information, visit brown.edu/ogden.