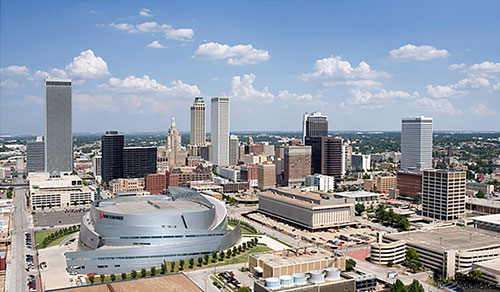 PROVIDENCE, R.I. [Brown University] — In partnership with the Oklahoma-based George Kaiser Family Foundation (GKFF), Brown University's Watson Institute for International and Public Affairs and Howard R. Swearer Center will launch a set of summer and academic-year programs that will bring Brown students to Tulsa, Oklahoma, beginning this year.
With support from GKFF, the Swearer Center will offer the Brown in Tulsa Kaiser Fellowship, a summer program in which undergraduate students spend eight weeks in Tulsa. During the fellowship period, the students will intern at nonprofit agencies in the greater city that work on topics including women's health, poverty alleviation, early childhood education, civic enhancement and criminal justice. To make the fellowships financially accessible, students will receive stipends and may qualify for summer earnings waivers.
The Watson Institute and GKFF's Tulsa Fellowship Program will enable two students to complete Brown's one-year master of public affairs (MPA) program with the foundation funding 50 percent of tuition. Fellowship recipients commit to spending two years living and working in Tulsa in a policy-related position upon completion of their MPA degree.
Both programs provide an opportunity for scholarship that engages with the community and with issues at the intersection of policy and philanthropy, officials said. They create a link between Brown and the Tulsa region, something that GKFF Executive Director Ken Levit, a member of Brown's Class of 1987, celebrates.
"We are excited to have a connection with talented and energetic young people who are ready to make a tangible impact on the Tulsa community," Levit said. "There are dozens of ways we can connect Brown students to the various place-making and poverty-fighting projects that are emerging in our city."
More information about the programs, which have a March 16 application deadline, is available here, at the Watson Institute MPA website the Swearer Center programs page.