PROVIDENCE, R.I. [Brown University] — Growing up in Providence's Mount Pleasant neighborhood, Heather Argueta felt worlds away from the Ivy League university just three miles west.
The child of Guatemalan immigrants who didn't go to college but placed a high importance on their daughters' education, Argueta spoke Spanish at home and attended George J. West Elementary School, where most students qualify for free or low-cost lunches. At that time, few of her peers talked about college, she said, and few of her family members knew much about higher education.
"I had never really thought about Brown," she said.
Yet by 2016, everything had changed. Fueled by her parents' unflagging support, Argueta had spent two summers studying on College Hill. Then she applied to the University and was admitted. On the eve of her high school graduation, she learned she was one of 20 Providence seniors who had been awarded Brown's Fund for the Education of the Children in Providence scholarship.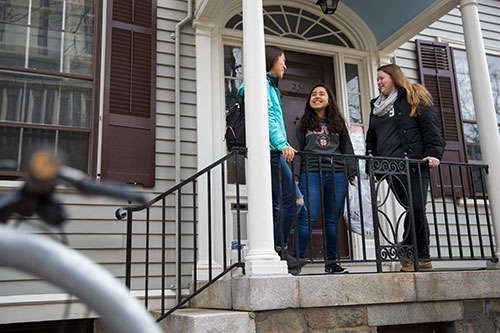 "Thinking about college tuition can be really scary when you come from a low-income background," said Argueta, now a sophomore at Brown concentrating in health and human biology and Italian studies. "Knowing I had support from Brown to invest in books and other things I needed for my classes was a huge relief."
The scholarship is among many community engagement efforts that Brown has grown in recent years to help meet the educational needs of the children of Providence. In 2017 alone, Brown spent $840,000 and logged thousands of student, faculty and staff volunteer hours on initiatives to provide impactful experiences for Providence kids, influence their educational outcomes and enhance their access to Brown and colleges across the country.
The Fund for the Education of the Children of Providence, which provides financial support to underrepresented college-bound seniors from the city that is the University's home, celebrates its fifth anniversary this year. Since 2013, it has provided $250,000 to 100 hard-working high school students. Recipients have headed to Brown, Boston University, the University of Rhode Island and schools farther afield. Some of the earliest recipients have graduated and are pursuing careers in environmental research, nursing and other areas.
For low-income, first-generation college students like Argueta, the Brown scholarship imparts funds that can help ensure a successful college experience — but it's far from the only way in which members of the University community and students from the city's public schools interact.
Every school year, through partnerships that provide tutoring and academic enrichment, summer pre-college experiences on the Brown campus, research and policy work at the Annenberg Institute for School Reform, and funding for teachers, supplies and additional educational opportunities, Brown positively impacts the lives of thousands of Providence schoolchildren.
These partnerships and programs impact Brown students and community members just as significantly as they do local children, inspiring new ways of thinking on everything from research efforts to career preparation.
Preparing students for college
Brown's pre-college programs, Brown Summer High School and the College Advising Corps at Brown (CAC) are among many programs at the University designed to help prepare students for college.
The University's School of Professional Studies (SPS) offers nine academically rigorous summer pre-college programs for talented high school and middle school students from around the world. Since 2016, in an effort to increase the number of Providence Public School District children participating in the programs, SPS has reached out to school guidance counselors, waived application fees and provided more financial aid to eligible students in the district.
Brown Summer High School is a summer daytime enrichment program open to Providence-area high school students; and the CAC is a full-time AmeriCorps program that seeks to increase the number high school students from low- to moderate-income and underrepresented families who enter and persist in college.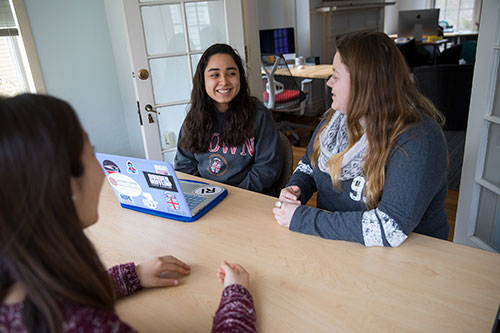 Argueta says she may never have known a Brown education was within reach if not for the summers she spent at Brown early on.
One day, when she was in middle school, a pair of Brown computer science (CS) undergraduates came to an assembly to talk about the Artemis Project, another Brown summer program that provides no-cost CS education to ninth grade girls. Argueta, whose older sister had just enrolled at Brown, jumped at the chance to participate. Over five weeks that summer, she studied in classrooms, ate in Brown's dining halls, strolled around campus and began to see herself in her teachers, who were just as committed to community engagement as they were to the classroom.
"They seemed so passionate about what they were doing," she said, "I knew for sure I wanted to feel that kind of passion in the future."
A few years later, she applied to Brown Summer High School and was awarded enough financial aid to take classes in both literature and physics. Again, she had the chance to interact with Brown students and learn from them about the University's Open Curriculum and the many career possibilities it allowed.
"The experience gave me more of an idea of what I wanted out of college," Argueta said.
Giving teens a place to engage in rigorous academic exploration in a more self-governing environment is an important aspect of Brown's many summer offerings for high schoolers, from Brown Summer High School to the array of pre-college programs on offer through SPS, says Joi-Danelle Whitehead, associate director of pre-college programs and diversity initiatives at SPS.
"Many students transitioning into college, regardless of background, struggle with things such as time management, going to office hours, living with a roommate and tapping into on-campus resources," Whitehead said. "Our summer pre-college programs provide students the opportunity to practice these skills, which can positively impact a student's transition to and persistence through college."
In 2016, Whitehead joined Brown to explore how the University could engage more underrepresented students, especially those from Providence public schools, in its pre-college programs. At that time, few Providence-area children took part in the pre-college programs. Tuition for summer classes can cost between $2,000 and $11,000, and the application fee is $50 to $75 — prohibitive sums for many low-income families.
Over the 2016-17 school year, Whitehead and colleagues launched a campaign to encourage more PPSD students to participate that summer. In addition to waiving the application fee and pledging more financial support for accepted students, they gave presentations and set up information booths at local schools, and pledged more financial support to accepted students. That summer, attendance by Providence students tripled, and the financial aid SPS awarded to local students more than quadrupled.   
"Ensuring that students from the Providence Public School District have access to a Brown education is critical to Brown's overall mission, both in serving underrepresented students and preparing students to be thoughtful, informed citizens," Whitehead said. "We're so excited with the progress we've made, and we're constantly thinking about ways to deepen our partnership with the students and families in Providence public schools and increase our impact."
Though the application deadline for Summer 2018 classes is still to come, Whitehead says she's already received enough applicants to say confidently that local high schoolers will be as well represented in the pre-college programs this year as they were last year, if not more so.
Ensuring that students from Providence's public schools have access to a Brown education is a commitment that extends to the college experience, too. Students — like Heather Argueta — often apply for admission after exposure to the University through summer programs. Brown admits many of these talented students and meets the full demonstrated financial need of all who choose to enroll.
An educational win-win
Though some Providence children may not set foot on the Brown campus until high school, many still become acquainted with the Brown community well before their teen years.
At William D'Abate Elementary School in the city's Olneyville neighborhood, about 150 student volunteers from Brown lead weekly arts workshops, coach intramural soccer and cheerleading, and teach lessons on everything from engineering to English to the history of political activism. On a recent Wednesday — arts day — more than 100 kids spread out across several classrooms were honing their chess skills, making paper crowns and playing charades with Brown undergraduates.
"I love seeing the growth in the kids," said Tommy Collins, a Brown senior who's volunteered here for three years. Once a week, he works as a site manager, flitting between classrooms, replenishing supplies and working with the elementary students. He also runs a weeklong computer science program at D'Abate every December. "One of the students I know was very shy when I met him, and this year he ran for student council."
Brown Elementary Afterschool Mentoring (BEAM) is one of the largest student groups at Brown's Swearer Center and one of its longest running. Since 2000, Brown-led after-school activities have both enriched D'Abate students' learning, educators said, and have allowed many of their parents to stay at work longer.
The long-term results of the partnership, says D'Abate Principal Brent Kermen, have been positive and tangible.
"People always ask, 'How are your test scores so high? How are your attendance rates and teacher retention so high?' BEAM is a big part of that," he said.
Betsy Shimberg, assistant dean of the college and the Swearer Center's director of student development, is quick to point out that students and teachers at D'Abate aren't the only ones that gain from BEAM. Brown students turn to D'Abate teachers and staff for help learning everything from lesson-planning and classroom management to cultural humility and the rich history of the neighborhood, she says.
"Brown is a center of knowledge, but it's not the center of knowledge," she said. "So many students who volunteer here say, 'I succeed in school, so why can't I get second graders to sit on the rug?' They're humbled by their experience here. It's helped many of them realize their passions and future career trajectories. And it acquaints them with this incredible, vibrant community they may never have known if they hadn't left College Hill."
While BEAM is just one of many local school partnerships at the Swearer Center, it exemplifies the reciprocal relationship embedded in such programs. The Swearer's Bonner Community Fellows Program, for instance, pairs students with community engagement opportunities that fit their academic and career goals — benefiting both Brown students and those with whom they work, often local children. And the College Advising Corps, which stations recent graduates at 15 high schools in Providence and elsewhere in the state, helps teens navigate the college application process — equipping them with the skills they'll need to find professional success and potentially invest some of that success in the local economy and schools later in life.
Mathew Johnson, the Swearer Center's executive director, said BEAM's 18-year partnership with D'Abate has inspired the center to build similar relationships with Hope High School and Times2 STEM Academy.
When Brown students work in the schools, he said, they "gain deep insights about community, diversity, equity and inclusion, education, mentorship and the systemic impacts of social policy. We're honored to be part of the community-building taking place at D'Abate and look forward to creating more reciprocal learning opportunities for students at Brown and in greater Providence."
'You have to live your values'
Both Brown and D'Abate owe the after-school program's long history in part to Dilania Inoa, the Swearer Center's manager of elementary school programs. Inoa, who was born in the Dominican Republic, spent her formative years in Providence's public schools and attended Brown, started working with D'Abate students after her graduation in 1999 and never stopped.
"I'm thankful that I'm able to work both with kids in Olneyville and also with Brown students," she said. "They really want to give back. What we're doing comes from the heart."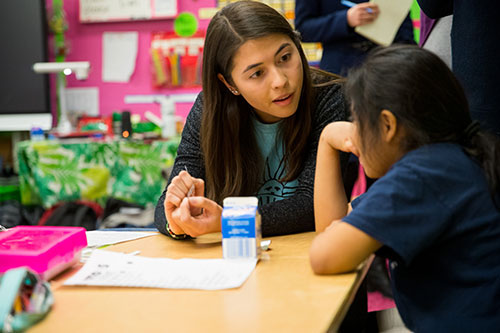 Inoa says Olneyville is a tight-knit, neighborly community where everyone looks out for each other, and she hopes Brown students feel like they're a part of it. Student volunteers say they've felt welcomed with open arms — and that Inoa and BEAM have taught them lessons they'll carry for decades to come.
"A lot of us chose Brown because it has a reputation for social activism," said Josephine Issenman, a senior who's volunteered with BEAM for four years and is also a Bonner Fellow. "I think it's important for all of us to practice what we preach."
Shimberg couldn't agree more.

"Social justice is a hallmark of Brown's identity," she said as she played chess opposite a young student in D'Abate's library. "My son loved to play in chess competitions, and I think these kids have as much potential as he does, if not more — so here we are, helping students to realize their potential. You have to live your values."
Heather Argueta says the impact Brown has had on her experience, from the pre-college courses to the support from the Fund for the Education of the Children in Providence, has inspired her to make her own impact today. Now, when she's not in class or playing violin, she volunteers with SEADD, a Swearer program in which Brown students partner with adults with developmental disabilities for creative writing workshops; CareFree Clinic at Brown, which provides free, confidential health screenings for low-income and undocumented individuals; and Globemed at Brown, which raises funds for an organization that teaches sexual health and financial literacy to young Kenyan girls.
Investments in local schools are important, Argueta says, because kids who feel empowered to go to college are well equipped to return the favor by empowering others in the years ahead.
"I'm proof," she said, "that Brown has a major influence on inspiring kids in Providence to pursue an education, become successful and give back to their communities."