PROVIDENCE, R.I. [Brown University] —This summer, 20 Providence teenagers are interning with six nonprofits and city departments, working on a range of community-oriented projects. There to help them navigate the complexities of those institutions is Brown undergraduate Aaron Cooper, who is devoting his talents to managing the Community Change Fellowship program at Generation Citizen.
Founded by Brown alumni Scott Warren and Anna Ninan in 2009, Generation Citizen's mission is to provide young people with a civics education that empowers them to be engaged and effective citizens. This summer, Cooper is a critical resource for local teens taking action in Providence.
"Through Generation Citizen, the teens receive training on workplace norms and social justice, looking particularly at how their work advances community interest in Providence," Cooper said. "I help to run the workshops and support the fellows at their work sites, visiting and being their point person to ensure they feel prepared for the work they're doing."
The young people Cooper manages work with nonprofits including Year-Up, the Woonasquatucket River Watershed Council and Recycle-A-Bike, which focus on workforce development, preserving the watershed and promoting mobility and education by connecting people and bicycles, respectively. He also supports interns at the City of Providence, the Providence Public Schools and the Providence Children and Youth Cabinet.
While managing that many teens — some as young as 15 — across a half dozen sites is no small undertaking, Cooper takes it in stride. By supporting young people as they learn how to work within institutions that directly impact the local community, he said he has a hand in making those institutions more accessible and responsive.
"Initially the draw for me was being involved in a program that acknowledged existing disparities in access to governing institutions across the U.S.," Cooper said. "I was excited to be involved in a program that is attempting to do the immediate relief work of helping others to understand how we can navigate existing political structures, accepting that those structures are not built to be accessible for everyone in the first place."
Cooper works one-on-one with the Community Change Fellows and keeps in touch with their supervisors to make sure the students have access to whatever they need to feel empowered in their work. These efforts complement Generation Citizen's broader emphasis on systemic thinking and change, something Cooper said was missing from his civics education as a middle and high schooler in North Carolina.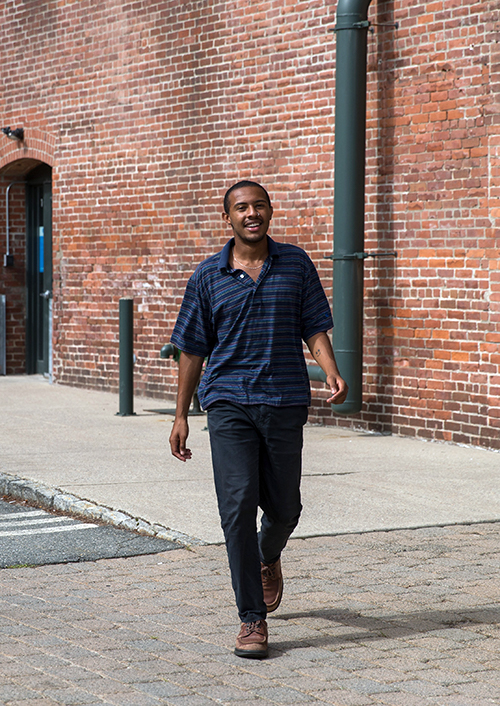 "Generation Citizen does a good job of encouraging folks to analyze issues as products of a greater system of inequality," he said.
While Cooper has not yet chosen an academic concentration at Brown, he said he is leaning toward Africana studies — in part because he said it could help him contextualize and explore some of the issues that come up in his work with the nonprofit, from how democracy manifests in America to the legacies of settler colonialism and racial capitalism.
"I do think Africana studies helps equip folks with the tools to analyze our contemporary sociopolitical / socioeconomic conditions with nuance," he said.
Cooper's engagement with civic education and action will not end once the leaves start to turn. As a Bonner Community Fellow through Brown's Swearer Center, he has been working with Generation Citizen since last fall and will continue to partner with the organization throughout his four years at Brown.
He is also an iProv Summer Fellow and meets regularly for workshops with other college students working with nonprofits in the greater Providence area. In addition to encouraging students to think about the dynamics of community engagement, iProv helps undergraduates connect their internships with their academic work and career aspirations.
By working with Generation Citizen, Cooper is refining his sense of what he values in a workplace. He said his experience has caused him to consider a career in education, which was not something he had considered previously. Working with iProv has helped him think purposefully about the years ahead as his relationship with Generation Citizen deepens.
"The most useful part of the program for me thus far has been getting to know a little better the other organizations trying to do good work in Providence and hearing everyone's critiques of the work they're doing and how it could be better," Cooper said. "Those critiques have allowed me to think more deeply on how I hope to be a positive force in Generation Citizen for the years to come."