PROVIDENCE, R.I. [Brown University] — In 1986, then Brown President Howard Swearer founded one of the first campus-based public service centers in the nation. Swearer situated it within the Dean of the College's office — at the heart of the undergraduate curriculum — because he believed that experiential learning through public service was an essential component of Brown's educational mission.
The Swearer Center's mission is rooted in engaged scholarship — an educational model that emphasizes the co-creation of knowledge with community partners aimed at solving society's most pressing issues. Each year, more than 1,500 Brown students, 100-plus community partners, and faculty and staff from across campus work to that end through the center.
In 2016, on the 30th anniversary of its creation, Mathew Johnson took over the helm of the Swearer Center. Over the last two years, he has led a strategic reorganization of the Center with the aim of strengthening its links to the curriculum and bolstering community partnerships. Recently, he offered up some insight on where the Swearer Center has been and where he expects it to head over its next 30 years.
Q: How can you best describe the evolution of the Swearer Center over its history?
The Swearer Center has a long tradition of mobilizing students who care very deeply about making the world a better place— and in particular those who want to engage in Providence. Howard Swearer's original vision for the center was not for it to be an amalgam of student activities or clubs, but rather a place for student learning in and through community, and integrated with the curricular experience.
Right from the beginning, Swearer Center faculty, students and staff have been engaged in this co-curricular work with community partners. Today, the Swearer Center is more strategic about those partnerships and curricular links so that we can increase the capacity of community organizations and sustain our partnerships over time. To these ends, in the last two years, we've gone from 13 staff to more than 35. We've also raised more funding, and we've reorganized about 80 percent of our budget toward strategic aims.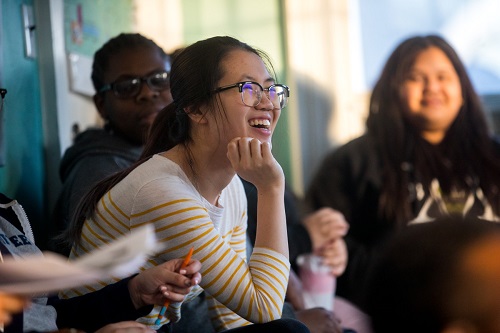 Q: How have you worked in recent years to more solidly link the center's work to the curriculum and to strengthen community partnerships?
At the 10-year anniversary of the center, Chuck Royce endowed the Royce Fellows program, which supports students as they carry out independent engaged research projects across the world. This program became an anchor for the Swearer Center — and an ongoing reminder that we were an academic center.
Under the leadership of President Paxson, we began to develop new partnerships with academic departments and experimented with the TRI-Lab approach to engaged scholarship. We quickly came to understand that TRI-Lab was not scalable; however, we learned a lot about the more integrated academic approach through that experiment.
Those learnings informed the birth of the Engaged Scholars Program in 2015 — the mechanism by which we are gaining scale. Now we have more than 16 academic departments working with us on curricular pathways for students to pursue their concentrations in and through engaged scholarship. 
Q: For those unfamiliar, what is engaged scholarship? What does the Engaged Scholars Program involve?
Engaged scholarship is the generation of new knowledge through the blending of academic knowledge and community-based knowledge. It is a model that integrates curricular, experiential and co-curricular learning and research — and emphasizes co-created, reciprocal relationships with non-academic community partners. Embedded in the center's strategic plan is the notion of community agency — the belief that the community should set their own course and that we should really listen carefully to them and help them achieve the direction they've chosen.
Every fellowship and program in place at the Swearer Center is built around the principles of engaged scholarship. The Engaged Scholars Program is one programmatic approach to engaged scholarship in which we partner with departments across the disciplines. Students in this program develop a scholarly trajectory across their coursework that pushes them toward an expertise around the community issue area that they are focused on. Each department chooses a series of engaged courses that are required for students in the program, who also fulfill other requirements like a 250-hour practicum in the community, a seminar on engaged scholarship taught by the Swearer Center and a capstone course and project that allow students to fully integrate community-based learning and more traditional learning. Through these collaborations with academic departments, we are able to reach many more students and to build a new understanding of the resources community partners bring to the table.
Q: How is the Swearer Center adding to the broader field of engaged scholarship?
The Swearer Center really has emerged as a powerful national leader. And that is signified both in our becoming the home of the Carnegie Community Engagement Classification and the home of the Lynton Award. But it's also signified in the invitations we continue to receive to be at the table for very significant national convenings about the field of engaged scholarship and community engagement in higher education. And now that national leadership is becoming global with new partnerships we are forming with institutions in Australia, Canada, Hong Kong and Lebanon, Israel and elsewhere.
Q: How does the work of the Swearer Center complement and support the mission of Brown?
Brown's fundamental mission is to create and disseminate knowledge. As an institution, we want to do so in a way that is just, equitable and impactful. This is why we have a diversity and inclusion action plan, why we did the slavery and justice report, and why we have the integrative themes in our University strategic plan focused around enormous questions of human survival.
The Swearer Center serves these core aims of Brown by building the infrastructure for the University to partner with communities on critical issues needing change in today's communities. We build the mechanism through which non-academic partners can participate as co-creators in the creation and dissemination of knowledge. We assist students and faculty members with developing an engaged scholarship approach to their research and an appreciation for the value of community knowledge. In a way, we are network administrators coordinating and building interconnectedness between students, faculty and community members.  
Q: What are you most looking forward to in this academic year that's just begun?
With our increased staffing and funding from donors and foundations alike, I am looking forward to deepening our partnerships and connections with faculty. This year, we will have our first class of faculty fellows, we will be better able to respond to faculty research agendas, and we'll be able to provide new faculty learning communities around engaged scholarship.
We are also increasing our capacity to generate our own research. We've already had a couple of scholarly publications this year, and next year there will be more studies authored by Brown Ph.D. students involved in our work. Additionally, we will make available four of the largest national data sets related to community engagement in higher education, to which we will welcome scholars across the world to access.  
And last, I am really excited about the scalability of what we are doing to reach more students, through new strategies like the Global Sports Leadership Initiative, the Brown in Washington and Tulsa programs, and new partnerships with the medical and graduate schools.
Q: How do you envision the Swearer Center evolving over its next 30 years?
Brown has the potential over the long haul of being an institution that significantly contributes to the rethinking of higher education and its relevance to urgent needs in the world. There are hugely important issues that universities need to be a part of solving, from climate change to health care to brain disease. We're already taking on these complex issues, and I think that 30 years from now, the Swearer Center and Brown need to be — and will be — leading higher education as relevant public problem solvers.