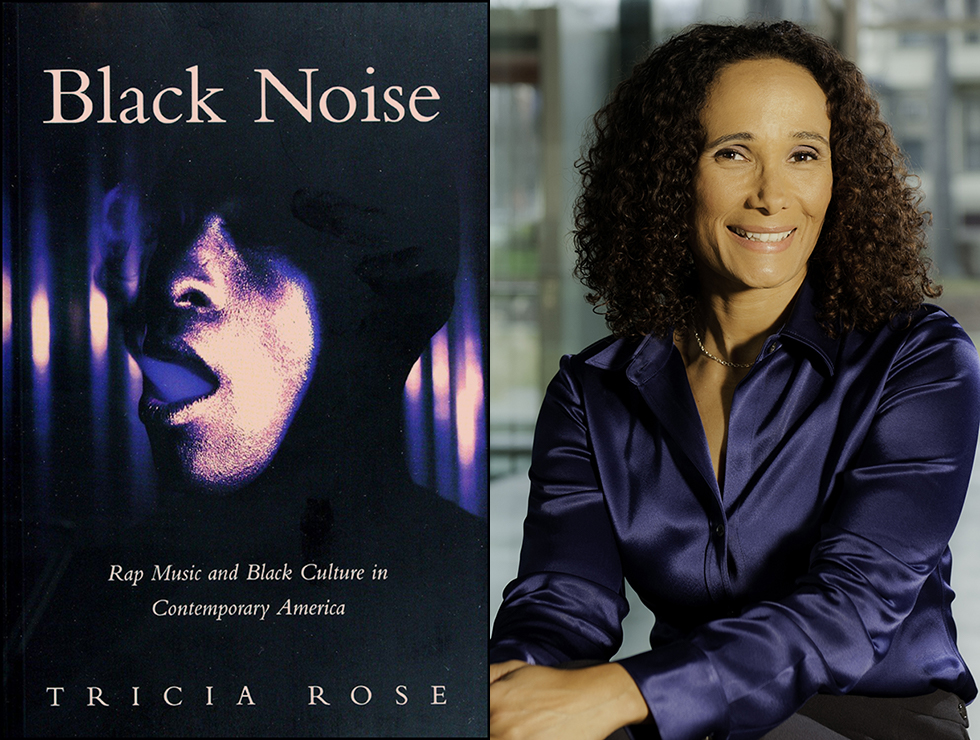 PROVIDENCE, R.I. [Brown University] — A quarter century ago, Tricia Rose quite literally wrote the book on hip hop.
Rose — then a doctoral candidate at Brown University, now a professor of Africana studies at the University and director of the Center for the Study of Race and Ethnicity in America (CSREA) — was the first in history to dedicate a dissertation to the burgeoning musical genre. At a time when artists such as Public Enemy, L.L Cool J, Tupac Shakur and Salt-N-Pepa were just beginning to capture the attention of millions, Rose conducted a comprehensive survey of hip hop's lyrics, beats and styles — and drew a direct line from the systemic oppression of African Americans to the birth of the genre.
"I feel certain that much of rap's critical force grows out of the cultural potency that racially segregated conditions foster," Rose wrote. "However, the same segregated conditions, whether by choice or by design, have been instrumental in confining and oppressing African Americans."
Rose's dissertation-turned-book, "Black Noise: Rap Music and Black Culture in Contemporary America," has since become a seminal text, a crucial starting point for those who study the intersection of art and society.
As the book marks its 25th anniversary, Rose and CSREA launched a spring Hip Hop Lecture Series at Brown. According to Rose, the guest lineup, which features researchers, emcees, educators and performers, demonstrates just how far the field of hip hop scholarship has come since "Black Noise."
Ahead of the last two events in the series, Rose answered questions about her first book and the state of hip hop today.
Q: What compelled you to write "Black Noise" 25 years ago?
I was compelled to write on hip hop at an early stage in its development first and foremost because it was an exciting musical, social and political phenomenon. There had been no lengthy scholarly writing about it; it was an amazing new territory to me, and it was fascinating.
Second, I felt that hip hop gave voice to young people whose voices we had not been hearing and whose stories were being told by others in ways that didn't quite square with their experiences.
Third, I'm from the Bronx, so I had experience with hip hop before it had a national and international profile. How amazing it was to see something develop so early and to shed some serious light on it.
Q: How has hip hop music changed in the last 25 years?
It's changed an awful lot. It's grown very mainstream, very commercial and extremely stereotypical in terms of what kind of African Americans are promoted and marketed. One of the results of that commercialization and stereotyping has been an increase in misogyny in hip hop. Of course, there's still amazing young talent — the rapper Kendrick Lamar, for example, is truly creative — but the concern I have is that so much of the catchiest, most popular hip hop music features narratives that double down on racist stereotypes.
Q: What stereotypes do you wish were less pervasive in hip hop?
Probably the biggest one is the notion that black people are fundamentally criminal. I wish there were a greater understanding that growing up in a very tough neighborhood really creates the context for a certain set of choices and actions — and that we'd all choose and do the same things if we were in a similar situation.
The other is the hyper-sexualization of black women. Hip hop makes women's self-exploitations look like freedom and autonomy and sexual agency. But portraying black women as sex-starved and aggressive not only supports sexual violence but also makes it hard for people to see the full humanity of black women.
Q: You wrote "Black Noise" at a time when hip hop scholarship barely existed. How has the field changed since?
It's exploded. There are many, many books on a wide range of topics related to hip hop. Some are historical narratives; others touch on gender. Some of it is about the technology used to make the music; some is about harnessing hip hop for educational purposes. It's a massive field, but still an uneven one, and one that I don't think has reached its peak yet. It takes a while for academic fields to develop a set of sharp questions and deep answers.
Q: What inspired you to create a hip hop lecture series at Brown this spring?
I teach a hip hop course here at Brown, but I do it infrequently. I decided that since this spring marked the 25th anniversary of my book, I would take the opportunity to teach the class again and enhance the curriculum with a series of guest lectures. The speakers come during our class time, but the public is invited, which I think enriches the conversation.
So far, we've been able to bring in a pioneering writer and journalist, Bakari Kitwana, and an alumna of Brown who has a fantastic aptitude for hip hop pedagogy, Amanda Boston. Next week we'll have another special guest, Akua Naru; she's an emcee and a rapper who performs around the world, and she's a hip hop fellow at Harvard this year. And in April, we're bringing Austin Martin, another Brown alumnus, who founded a company that uses hip hop to teach vocabulary to kids. We're covering a wide range of subjects to show how diverse the field is.
Q: Why is it important that this diverse field continues to grow?
Any time you have an expressive cultural form that a group of people are extremely invested in — and any time that cultural form is also widely marketed and doing a certain kind of work in society to translate culture and racial ideas — then it's important that there are people to study what's going on. You'd be surprised how influential American hip hop is around the world. It's shaping so many people's social, intellectual and cultural views. It's important to engage seriously with this phenomenon that has changed people.