PROVIDENCE, R.I. [Brown University] — On May 7, 1969, students converged on Brown University's College Green to listen to a live radio broadcast of faculty deliberating on and voting in favor of curricular changes that ultimately paved the way to establishing the University's innovative, student-centered "New Curriculum."
Fifty years later, Brown students, faculty and staff will gather in the same place on May 7, 2019, to commemorate that historic moment and launch a yearlong celebration of Brown's distinctive approach to teaching and learning — now most commonly called the Open Curriculum.
"In 1969, Brown students and faculty envisioned a university where students could enjoy the freedom to take intellectual risks and mix ideas in deliberate and interesting ways of their own making," said President Christina Paxson. "Today, Brown's academic excellence is rooted in its Open Curriculum. In the year ahead, we will celebrate the legacy of those who propelled its creation and explore new ways in which Brown's innovative education can continue to prepare graduates for successful, high-impact lives and careers."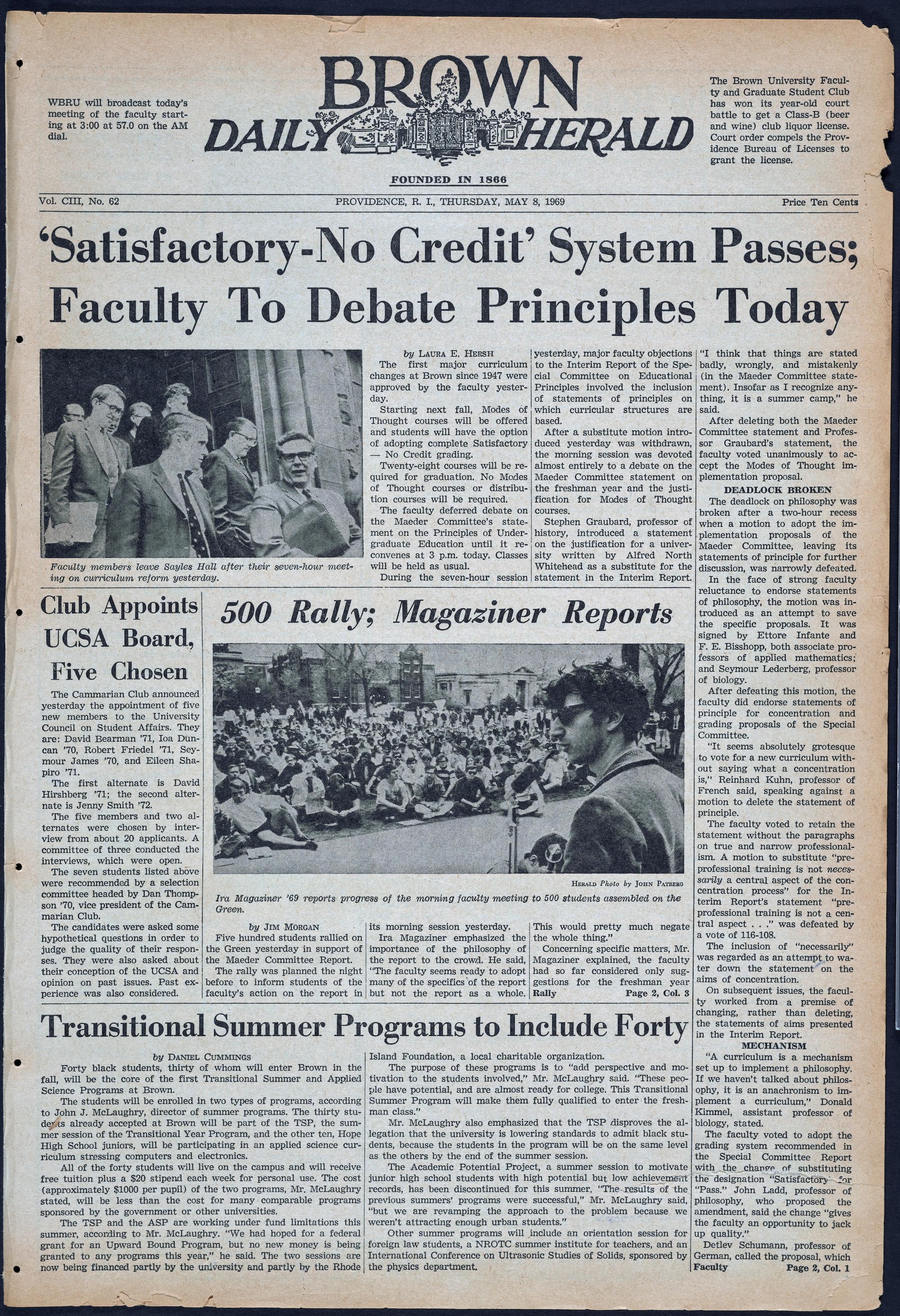 With student performances, a picnic and a brief speaking program, the May 7 event will mark the pivotal moment when students rallied on the green to support a new philosophy for undergraduate education at Brown, which provided the foundation for a new curriculum that eliminated general education courses and enabled students to take a more active, personalized approach to their education.
On May 7, 1969, after years of student advocacy and faculty dialogue — and inspired largely by a student-authored report — students and faculty drafted a new statement of academic principles that continues to serve as the foundation of undergraduate education at Brown 50 years later, said Dean of the College Rashid Zia.
"The Open Curriculum is defined by a purpose — that the pathway to personal and intellectual development requires active participation and continuous reflection," said Zia, a Class of 2001 graduate who took advantage of the Open Curriculum as a Brown student with concentrations in English and American literature and engineering. "This purpose has, in turn, come to define our community. This anniversary presents an opportunity to celebrate and reflect upon the defining principles of our distinctive approach to undergraduate education — and also to advance the relationships between students, staff and faculty and the material we approach together."
With no required set of core courses at Brown, students devise personalized academic journeys, exploring a range of topics before diving into an academic concentrations for in-depth, focused study. The expansive curricular freedom enables students — with guidance from faculty, staff and peer advisors — to pursue their own curiosities and make connections across disparate fields of study, preparing them to thrive as independent, innovative problem-solvers.
Part of the yearlong celebration will include showcasing the impact of Brown's approach to education through the stories of decades of graduates who are pioneers and leaders in medicine, business, law, entrepreneurship, the arts, engineering, public health, government, education, policy and other fields. A project with outreach to alumni around the globe is being planned to reflect how graduates educated in Brown's Open Curriculum are shaping their communities, the nation and the world.
Yearlong celebration to engage the full Brown community
On campus, a series of events and milestones throughout the year, from First Readings and Opening Convocation for new students, to Commencement and Reunion for new graduates and alumni, will offer opportunities for the Brown community to engage in the celebration. All who live and work at Brown will be able to participate in commemorating the impact of the students and faculty who envisioned the Open Curriculum and join in exploring how it is and should be embodied today and into the future. Monthly student-centered conversations will focus on topics related to the Open Curriculum, ranging from concentration exploration and course selection to research and engaged scholarship.
Brown alumnus Ira Magaziner — one of the student authors of the Magaziner-Maxwell Report, which inspired the curricular changes of 1969 — said those who advocated for curricular change wanted to encourage students to take responsibility for their own educations. They wanted students to be independent thinkers who acquainted themselves with different fields of study, not because they were required to do so, but because they chose to do so. They also wanted the University to help create future leaders who retain fundamental human values throughout their lives but who are rebellious thinkers in whatever they do.
"Those of us who helped frame the 'new' Brown curriculum had ideas," Magaziner said. "Thanks to the many student, faculty, administration and alumni leaders who came after us, Brown has been largely successful in fulfilling these intentions over the past 50 years. There are tens of thousands of Brown graduates in leadership roles in the sciences, arts, media, business and in governmental institutions around the world who are living the values, challenging established authority and advancing human knowledge and accomplishment as a result."
Fellow student leader and report author Elliot Maxwell said he hopes the year ahead will mirror the process in which he and his peers engaged when reimagining the University's approach to undergraduate education. He said the curriculum was never intended to institutionalize rigid academic rules to exist in perpetuity, but rather to serve as a framework for students to actively construct their own education.
"The challenge this year will be for people to step back and ask themselves what they would like their education to look like and to put themselves at the center of this process," Maxwell said. "That's the lesson we learned from the process of developing the curriculum — that it is important to be continually thinking and talking and reflecting on the process of teaching and learning if it is to be lifelong."
One student already deeply engaged in that process is junior Aliosha Bielenberg. He sits on Brown's Open Curriculum at 50 steering committee, which is guiding the year's celebration.
Bielenberg said in his three years at Brown, he has fully embraced the opportunities presented by the Open Curriculum. He is concentrating in archaeology and the ancient world along with a second independent concentration of his own design — critical thought and global social inquiry — and said he will likely pursue a graduate degree after leaving Brown. He is also a member of the College Curriculum Council, an elected body of faculty, staff and students charged with overseeing undergraduate curricular offerings at Brown.
"This 50-year mark is a great time to bring together the Brown community around something that makes Brown Brown," Bielenberg said. "This is the perfect moment to celebrate the ideals that make us distinctive and then to critically reflect on those ideals in light of what has changed over half a century."