PROVIDENCE, R.I. [Brown University] — With a distinguished record of innovation in the arts and a conviction that the arts are fundamental to creative problem-solving, Brown University is a leader in positioning the arts as a catalyzing force for discovery.
College Hill abounds with artists and scholars of exceptional talent whose creativity transcends the arts and influences other fields of study, from climate science to robotics. Some 60 percent of undergraduates say the arts are their principal co-curricular interest, and 20 percent declare a primary concentration in the arts or humanities.
"The arts are vital, powerful and provocative — and at Brown, they are paramount," said Butch Rovan, faculty director of the Brown Arts Initiative. "They teach imaginative thinking, foster empathy, champion experimentation and inform new ways of questioning, collaborating and seeing — vital elements for the future of innovation, humankind and the planet."
Brown is advancing a plan to fully integrate arts practice, theory and scholarship into intellectual activity across campus.
Through new funding for students, new partnerships with artists and scholars, and new investments in arts programming and facilities, Brown is engaging the public, incorporating global perspectives and supporting all that is experimental and forward-thinking in the arts.
Catalyzing intellectual inquiry
In 2017, Brown established the Brown Arts Initiative (BAI), a campus-wide effort to make the University a vibrant laboratory for inventive arts practice and scholarship. Two years later, the BAI has succeeded in creating a wealth of new opportunities for student and faculty collaboration and experimentation.
In association with its launch, the BAI unveiled an inaugural three-year programming theme of Arts and Environment, which has given rise to a wide array of programs, from exhibitions to talks to performances, focused on this timely issue.
In 2018, the BAI convened artists, scientists, researchers and policymakers to imaginatively address the impact of climate change, particularly in polar regions. The symposium partnered with a larger University initiative, "WeatherProof: Arts, Humanities and Sciences Explore the Environment," which probed environmental topics from multiple academic perspectives.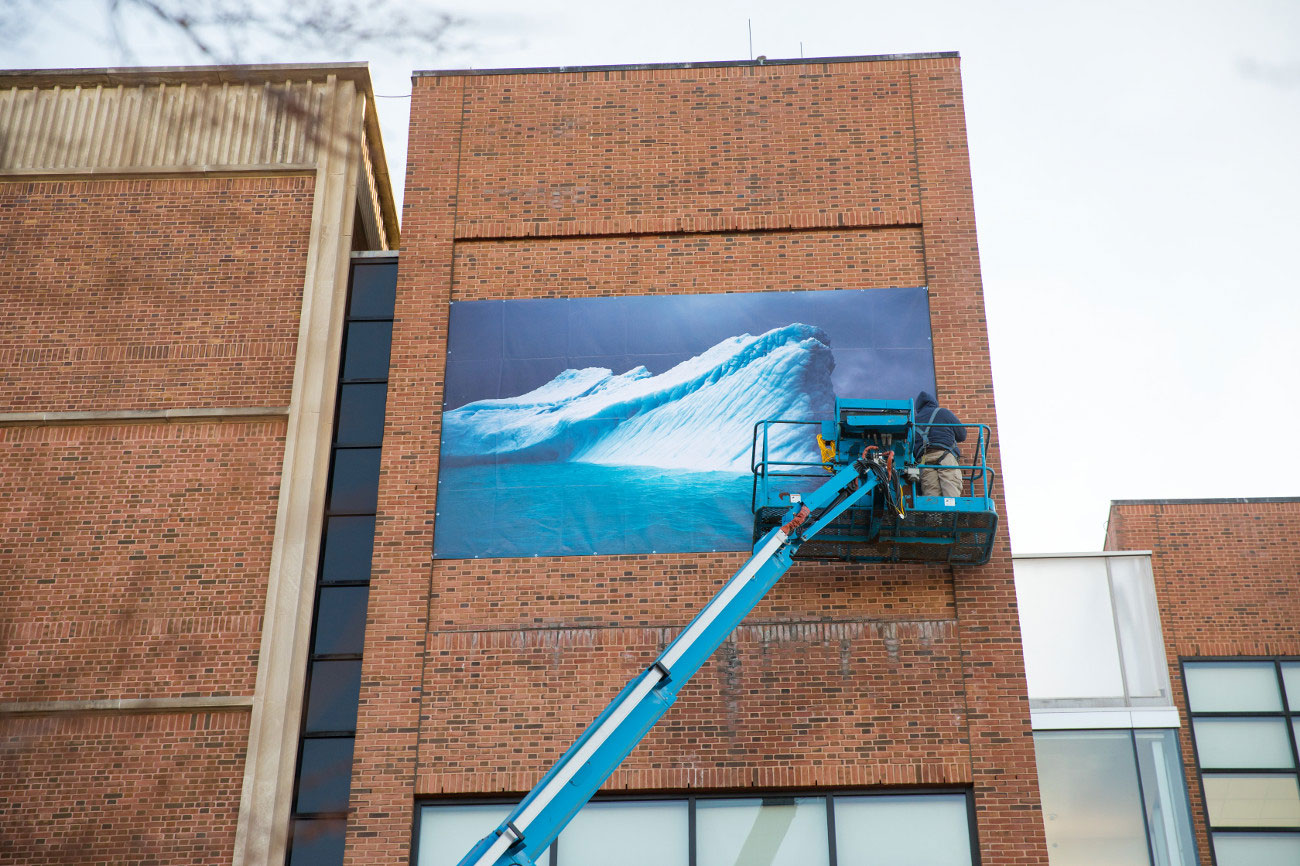 The David Winton Bell Gallery presented companion programming, including the sound installation "Isfald" (Icefall), by artist Jacob Kirkegaard, which brought the recorded sounds of melting, cracking glaciers into the gallery, and the mural project "33°," which documented the beauty and destruction of polar regions via photomurals mounted on the exteriors of Brown buildings. Like the Bell Gallery's incisive exhibitions throughout the year — ranging from photographer Carrie Mae Weems' self-portraits to Pierre Huyghe's film set in devastated post-Fukushima Japan — both projects were captivating, standalone experiences and important means of fueling academic inquiry on campus.
"'WeatherProof' is a vibrant example of the BAI's core mission and Brown's ethos: to bring together artists and other creative thinkers from a diversity of disciplines to tackle contemporary challenges," said Anne Bergeron, the initiative's managing director.
Arts faculty at Brown have also partnered with the Institute at Brown for Environment and Society to present "Earth, Itself," a series designed to advance critical conversations about the environment in compelling and inclusive ways. Events have involved countless artists at Brown, from sound artist and Associate Professor of Visual Art Ed Osborn to environmental filmmaker and Ph.D. student Thomas Pringle.