PROVIDENCE, R.I. [Brown University] — The students enrolled in Elizabeth Hoover's course on Native American food movements are diverse in every sense. They represent countless undergraduate concentrations at Brown, from computer science to public health to ethnic studies. They come from major cities across the globe, rural counties in the United States and everywhere in between. And their knowledge of Native American history and contemporary life ranges from extensive to nearly nonexistent.
"Some of my students grew up in reservation communities and are looking to contextualize their experiences," said Hoover, an associate professor of American studies at Brown. "Other students are non-Native, but they're interested in health care and want to understand why so many Native people face significant health issues. The diversity really makes for interesting conversation."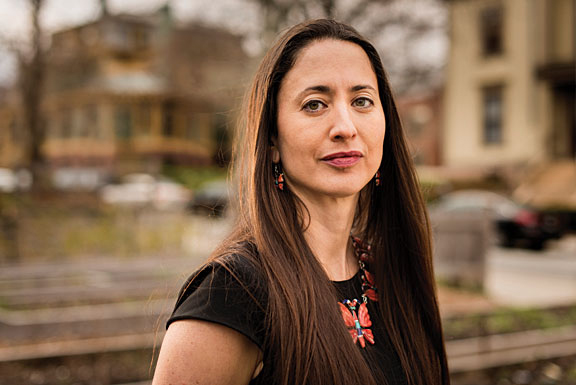 The study of Native American and indigenous history and culture, which had its beginnings at Brown decades ago with a small but passionate group of faculty and student advocates, has expanded rapidly in the last few years. In Fall 2019, Hoover's course, "Treaty Rights and Food Fights: Eating Local in Indian Country," was one of 16 Native American and Indigenous Studies (NAIS) courses offered at Brown — up from 12 in Spring 2019 and five in Fall 2018. The 17 students enrolled in Hoover's course were among 184 taking NAIS-affiliated courses that semester.
Now, on the eve of Brown's fourth-annual celebration of Indigenous People's Day on Monday, Oct. 14, the three-year-old Native American and Indigenous Studies Initiative is gearing up for even more growth — its leaders are taking steps toward making NAIS an official undergraduate concentration at the University.
Enabling the development of the proposed concentration is a $750,000 grant from the Andrew W. Mellon Foundation, which will be distributed over three years beginning in January 2020. As envisioned, the concentration would comprise a set of introductory core courses and a suite of electives spanning a wide variety of subjects, from the performing arts and religious studies to environmental science and public health.
The concentration's many potential academic paths reflect the diverse interests of students and faculty at Brown, Hoover said, and will encourage students of all backgrounds and interests to gain a more thorough understanding of the history and contemporary culture of indigenous peoples. Armed with more knowledge, she said, students could be inspired to advocate for better opportunities for indigenous communities.
"Many students will go forth and become educators, policymakers, doctors — and they'll be interacting with Native people, whether they know it or not," Hoover said. "The more information they have about why Native people are in the structures and conditions they're in now, the better they can be at addressing those things in their careers and improving those structures."
More support, more opportunities
Funds from the Mellon Foundation grant stand to benefit a wide variety of students, faculty and community members — from would-be NAIS concentrators to graduate student researchers to members of the dozen or more Native nations situated within a 50-mile radius of College Hill.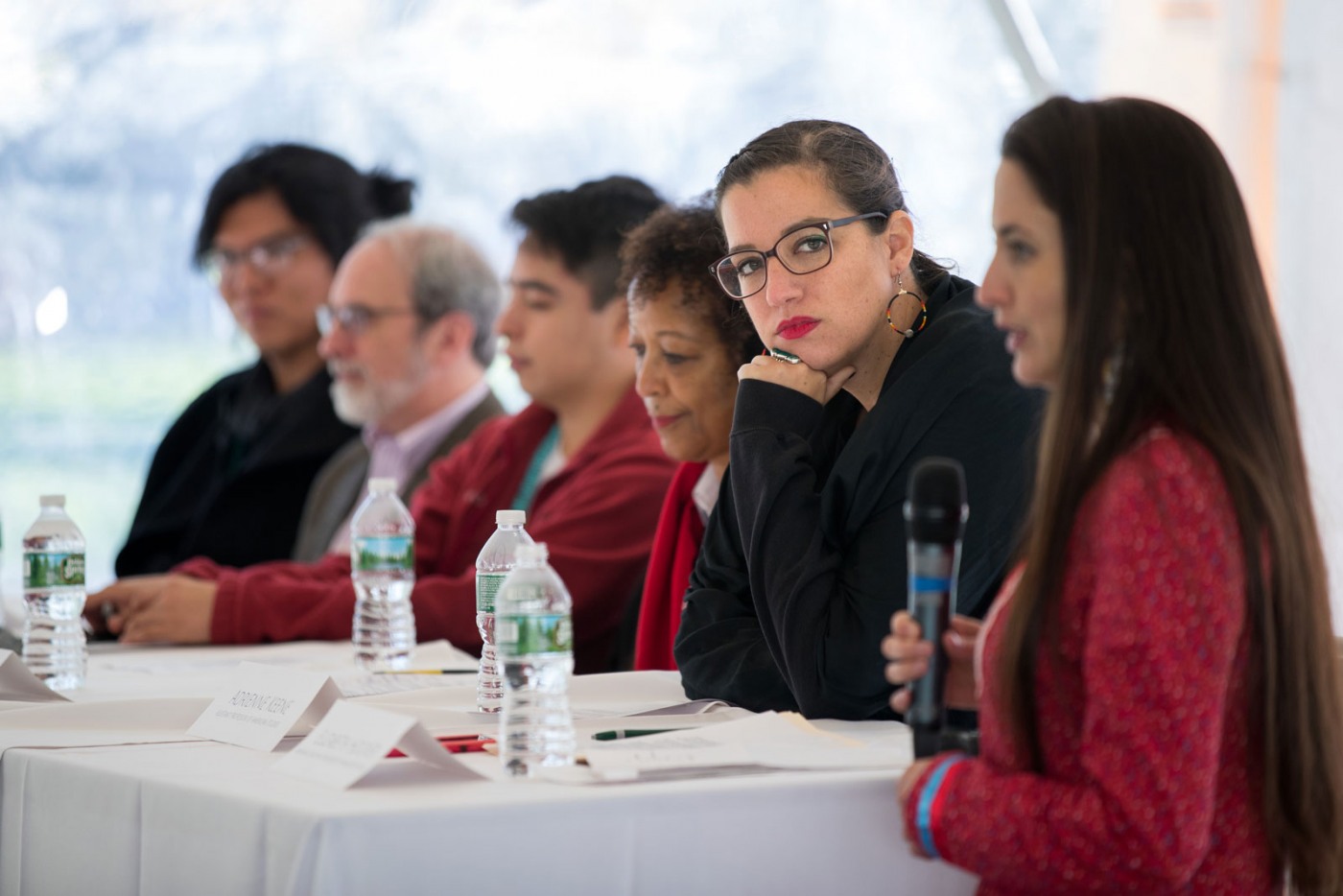 Much of the award will support further curriculum development, resulting in more course offerings and an increase in NAIS-focused faculty members, graduate teaching fellows, postdoctoral research fellows and visiting instructors. The grant will also fund relevant summer internships and work opportunities for students, driving high-impact engagement with indigenous communities and strengthening Brown's connections to local and international indigenous groups. Funds will also allow the growing NAIS initiative to hire more support staff, including a tribal community member in residence who will advise on ways to increase representation of Native and indigenous peoples across Brown's academic activity.
The envisioned NAIS curriculum, with seven thematic areas spanning the arts, humanities, social sciences and life sciences, was built with students' demonstrated interests in mind, said Adrienne Keene, who came to Brown as a postdoctoral research fellow in 2014 and is now an assistant professor of American studies.
"Our student body has a really strong interest in the intersection of ethnic studies and social justice," said Keene, who teaches courses on contemporary indigenous education, race theory and the history of Native activism. "Having a NAIS concentration allows students to dig deeper into their relationship with the land and with indigenous peoples, and to think about how to support those communities in their future social justice work."
Thanks in part to her education at Brown, Class of 2017 graduate Phoebe Young is digging into her roots today, sometimes quite literally, in a quest to restore indigenous communities' health and well-being. Young, a descendant of the Saginaw Chippewa Indian Tribe of Michigan, now works in Minnesota as the community programs coordinator at Dream of Wild Health, which teaches children and young adults traditional Native American harvesting and cooking practices.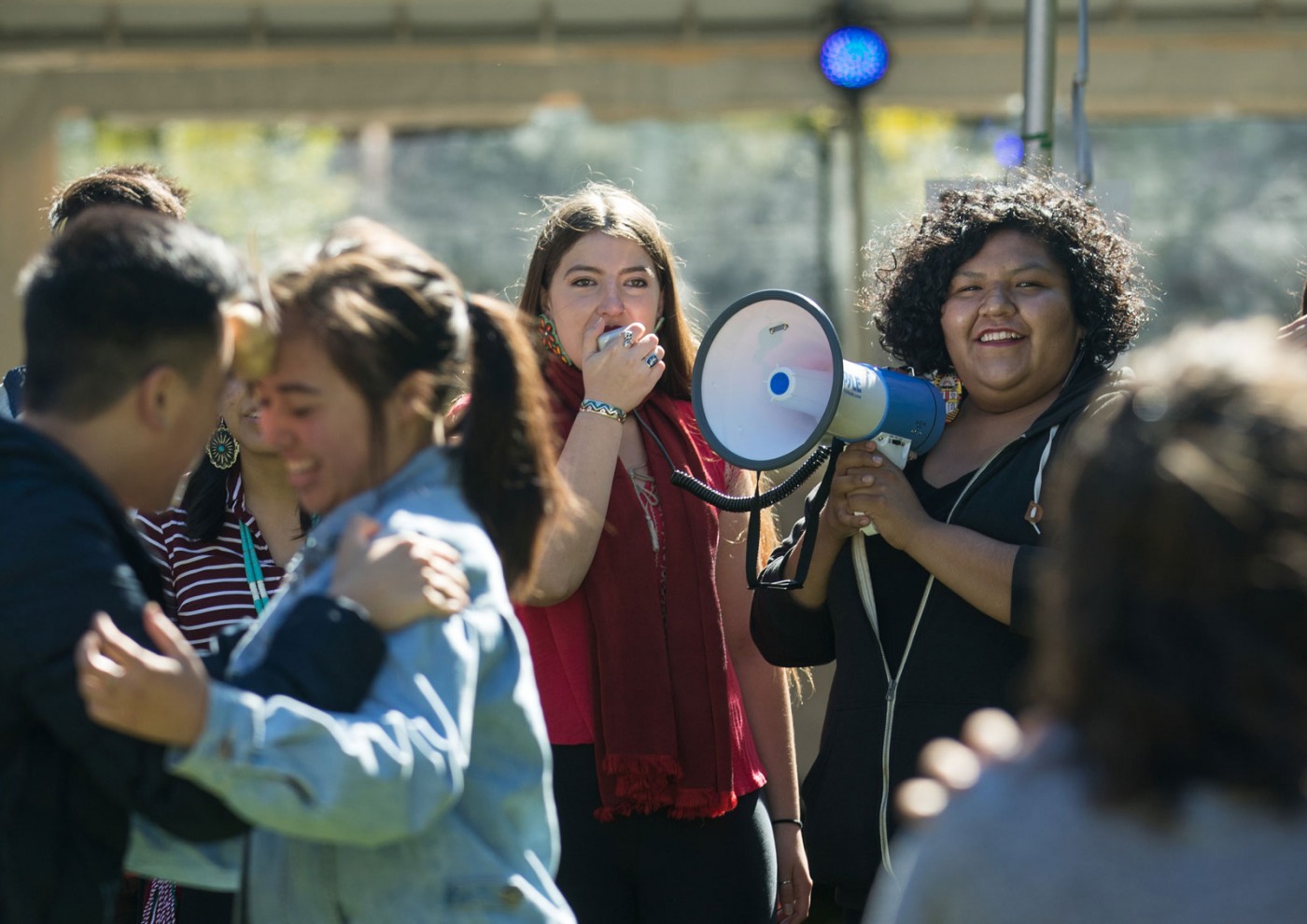 "We put a huge emphasis on teaching holistically when we work with high school students," Young said. "In Native culture, everything moves together — our bodies, our relationships to the land, our education, our food. I really saw that holistic approach to teaching in my classes with Adrienne [Keene] and Liz [Hoover]."
Young believes that as NAIS moves toward expansion into a concentration, more students will benefit not just from the historical and cultural background they'll gain but also from the unique perspective Native instructors bring.
"Both Liz and Adrienne helped me think more critically about the land we're on — how to treat it well, how to treat plants not just as nourishment but as living beings, how to restore our relationship with the land," she said. "They drive home that we can only move society forward if we take the time to understand our past."
Young's work demonstrates a point Keene often conveys to her students — that even given humans' collective cultural and technological advancements, the world has much to learn from millennia-old indigenous practices and traditions.
"People come to Wisconsin from all over the world to learn from the Menominee Nation's sustainability practices," Keene said. "Tribes in California have used natural fire-management methods for thousands of years that could be useful in preventing future wildfires. When people have been living in a place for thousands of years, the knowledge they have can still be enacted, even though the world around them has changed."
Humble beginnings
The world around Hoover has changed — for the better. Today, she and Keene are two of nearly 30 faculty members whose teaching and research somehow involves Native American and indigenous studies. But things were different when she first came to College Hill as a graduate student nearly two decades ago.
At that time, she said, a handful of faculty members taught and researched indigenous topics: The late Craig Love, a cognitive psychologist and member of the Southern Arapaho tribe, hired Native students as lab assistants in his research on alcoholism in indigenous communities; the late William Simmons studied and taught Native American folklore; and Professor of Anthropology Patricia Rubertone still incorporates indigenous studies into her archaeology-focused courses today.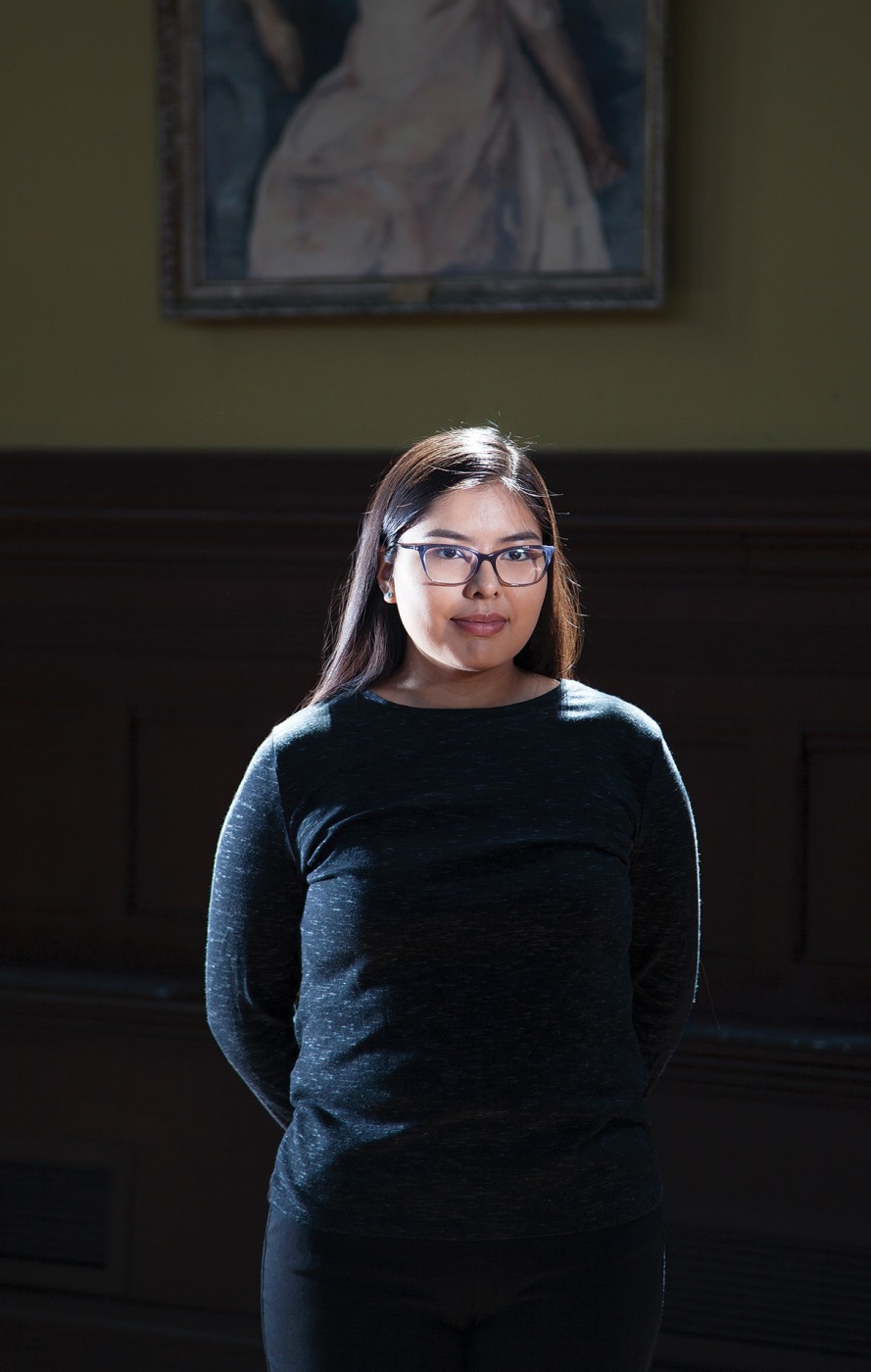 Students, too, began to build momentum for indigenous studies at Brown. In 2001, Hoover and other members of the student organization Natives at Brown (NAB) hosted a powwow and opened it to the general public. Event attendees packed Sayles Hall.
"It was a way to bring people in the wider community to campus," Hoover said of the powwow, now an annual tradition. "It was a way to show the Native nations in the area that we wanted them to be a part of this effort."
Hoover returned to the University in 2012 as a visiting professor, the first dedicated Native American studies faculty member at the University. She joined together with a working group of faculty members who were passionate about expanding NAIS — among them Professor of History and American Studies Evelyn Hu-Dehart, Associate Professor of History Linford Fisher and Associate Professor of Anthropology Paja Faudree.
"We hosted a lecture series, and then a series of brown bags, where faculty members would give presentations about their research," Hoover said. "We found creative ways to leverage the resources we had."
Among the institutional partners Hoover and her colleagues continue to engage are the Haffenreffer Museum of Anthropology, which houses hundreds of thousands of artifacts that bring global indigenous history to life; the John Hay Library, home to a large collection of Native American literature; and the John Carter Brown Library, where exhibits and guest talks often shed light on little-known aspects of North American indigenous history and colonization.
Beyond the University, NAIS faculty and students have worked hard to build relationships with local and national Native communities. In summer 2019, the initiative hosted College Horizons, an intensive pre-college program aimed specifically at Native American high school students. In the 2017-18 academic year, many students participated in a retreat in the Wampanoag community, where they made connections with Wampanoag language, medicine and food specialists. And Hoover has collaborated with University of Rhode Island faculty and members of the Narragansett Tribe on the Namaus Project, which aims to conduct environmental health research using both scientific knowledge and tribal community knowledge.
NAIS' presence on campus continues to grow: In the last year, it hired Associate Director Rae Gould, who will play a crucial role in developing an academic concentration; it hosted or co-hosted 20 events; and it advocated for the addition of a Native student house, the House of Ninnuog, which opened in fall 2019.
As the presence of NAIS has grown, so too has interest from Brown students, both Native and non-Native. For the last few years, several students — including Young and Class of 2018 graduate Sierra Edd — have opted to concentrate in ethnic studies with a focus in Native American and indigenous studies, drawing from courses in anthropology, history, religion and more.
Edd, a Class of 2018 graduate, was among the ethnic studies concentrators and NAB members who in 2015 led an effort that called on the Brown faculty to designate the second Monday of October as Indigenous People's Day. The students also advocated for the recruitment of more faculty who would teach courses on Native American and indigenous topics.
"I think indigenous studies, and ethnic studies more broadly, can be beneficial for everybody in every discipline," Edd said. "You can't look at history or sociology or economics without considering indigenous peoples or issues of colonialism."
In February 2016, a majority of Brown faculty voted to change the name of Fall Weekend to Indigenous People's Day. Not long afterward, the University built the creation of a Native American and Indigenous Studies initiative into Pathways to Diversity and Inclusion, Brown's action plan toward becoming a more fully diverse and inclusive community.  
Edd, who is now pursuing a Ph.D. in ethnic studies with a focus on indigenous studies at the University of California-Berkeley, said she believes the anticipated expansion of NAIS is evidence that the University's 50-year-long focus on building a student-led curriculum lives on.
"Brown wants the curriculum to serve their students, so they really let their students take the lead," Edd said. "I think an NAIS concentration will not only benefit students who want to explore their own heritage but will also benefit non-Native students, who can gain so much from an indigenous perspective."