PROVIDENCE, R.I. [Brown University] — At a rural excavation site in Central Greece, archaeologists from Brown University have spent the last decade unearthing new discoveries about the Neolithic period of human history.
The Koutroulou Magoula, a site that was settled in about 6,000 B.C. and is now being excavated by both the Brown team and the Greek Archaeological Service, has become one of the most well-preserved and well-studied settlements from the era in Greece and Southeastern Europe. Since 2009, discoveries from the site have prompted scholars to reconsider their assumptions about that time period.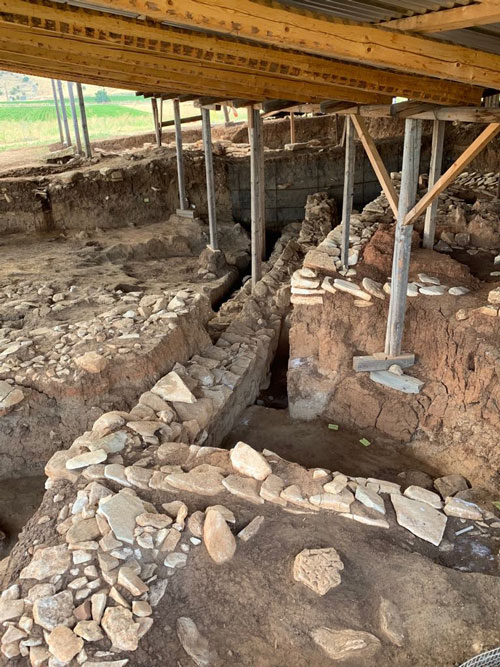 "Beyond the fact that they were farmers, we know very little about how people in this time organized their communities," said Yannis Hamilakis, a lead archaeologist at the site and a professor at Brown's Joukowsky Institute for Archaeology and the Ancient World. "The things we've found at the Koutroulou Magoula have led us to pursue important questions about how they lived their lives, perceived the world, how they related to animals and how they related to each other socially."
Hamilakis said it has been widely assumed that society in the Middle Neolithic was mostly egalitarian and family-focused, rather than hierarchical and community-focused. But recent discoveries at the Koutroulou Magoula site may suggest otherwise. 
Earlier this summer, Hamilakis and his colleagues unearthed the foundation of a buttressed building that they later realized was one of the largest Middle Neolithic structures to be excavated in Greece. The building sits at the very top of the dense settlement, suggesting it may have served as a communal space or as a home for someone with more power than other residents. 
The archaeologists also discovered that the entire settlement was surrounded by a system of deep perimeter ditches. Whether they were used for flood prevention or water storage and management, Hamilakis said the ditches show that the settlement was more than a collection of nuclear families who didn't socialize with one another.
"What I think makes this settlement distinctive is that we get a lot of information about its social organization by looking at the infrastructure," Hamilakis said. "There must have been a larger sense of community in place for these ditches to have been dug and for a large buttressed building to have been made."
Another important new find: A complex of closed pottery kilns near the edge of the settlement, demonstrating that this settlement was surprisingly technologically advanced, Hamilakis said.
Excavating alongside students
Each summer since Hamilakis began teaching at Brown in 2016, he has invited undergraduates to take part in the Koutroulou Magoula excavation. While all of the students spend at least part of the summer participating in the dig and learning about excavation, they eventually break off to pursue their own independent projects — from the artistic to the historical to the mathematical. Hamilakis said student projects have ranged from an archaeology-inspired novel to a series of collages to an analysis of Middle Neolithic culture based on the more than 400 clay figurines excavators have found at the Greek site, some with human fingerprints belonging to Neolithic people.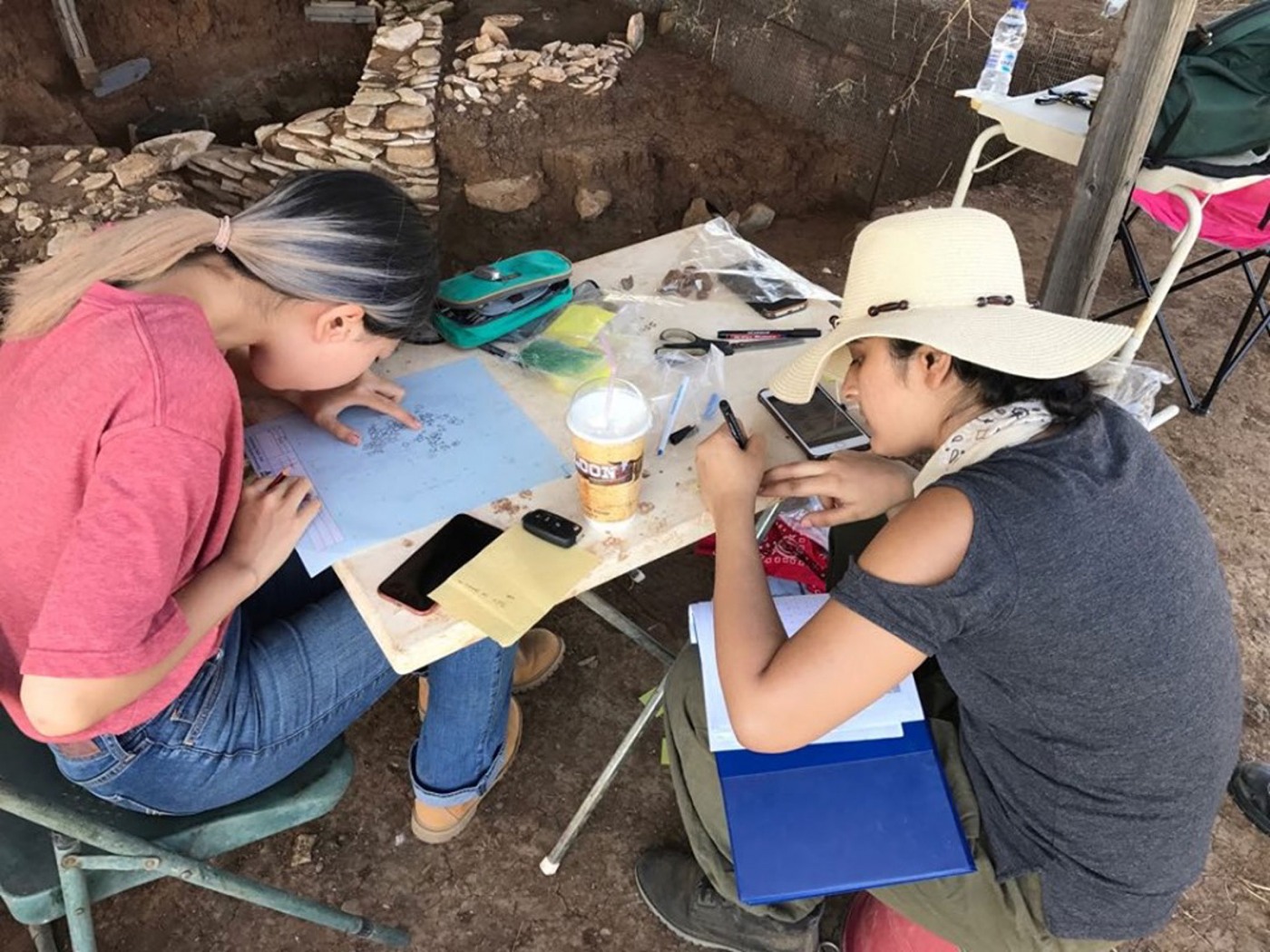 "Students come to me with different ideas and interests, and I encourage that," Hamilakis said. "It's important for the site to not only produce archaeological knowledge but to also produce cultural and artistic insights."
Eleanor Eng, a Brown junior studying computer science, spent the past summer in Greece focused on photogrammetry, the process of using photographs to create three-dimensional measurements. With guidance from two mentors at the site, Eng produced several models of trenches and other archaeological features at the Koutroulou Magoula. 
"I have a wide range of interests and am therefore very interested in the intersection of distinct fields," Eng said. "This experience was a great introduction into the world of possibilities that interdisciplinary collaboration presents."
Community engagement
The Koutroulou Magoula site sits between two rural villages — one populated by ethnic Greeks for hundreds of years, the other founded in the 1920s by Greek-speaking emigrants from present-day Bulgaria. Perhaps because the communities are made up of people from different ethnic groups, "they don't interact much," Hamilakis said.
Despite their differences, Hamilakis and his colleagues made it their goal to engage both towns in the work they were doing. For the better part of a decade, his team has collaborated with professional actors and other archaeologists to conceive and perform an original play that incorporates some of the latest discoveries from the site. 
Residents of the nearby towns don't just come to watch, he said. They also come to perform their own music or dances, adhering to a different overarching theme each year.
"This year, the theme was relationships between women and men," Hamilakis said. "We had groups of women from both villages perform songs from their own cultures. We learned a bit about these communities, and they learned a bit more about each other."
Hamilakis said the annual event attracts hundreds and has become an increasingly popular attraction among locals — perhaps because it's a rare opportunity to compare their own contemporary lives with those of the settlers who predated them.
"We want the site to be a lively presence for them — a living, breathing cultural space as opposed to something historic and untouchable," Hamilakis said. "It gives them a chance to hear echoes of their own lives when they learn about the lives of people who lived here thousands of years ago."