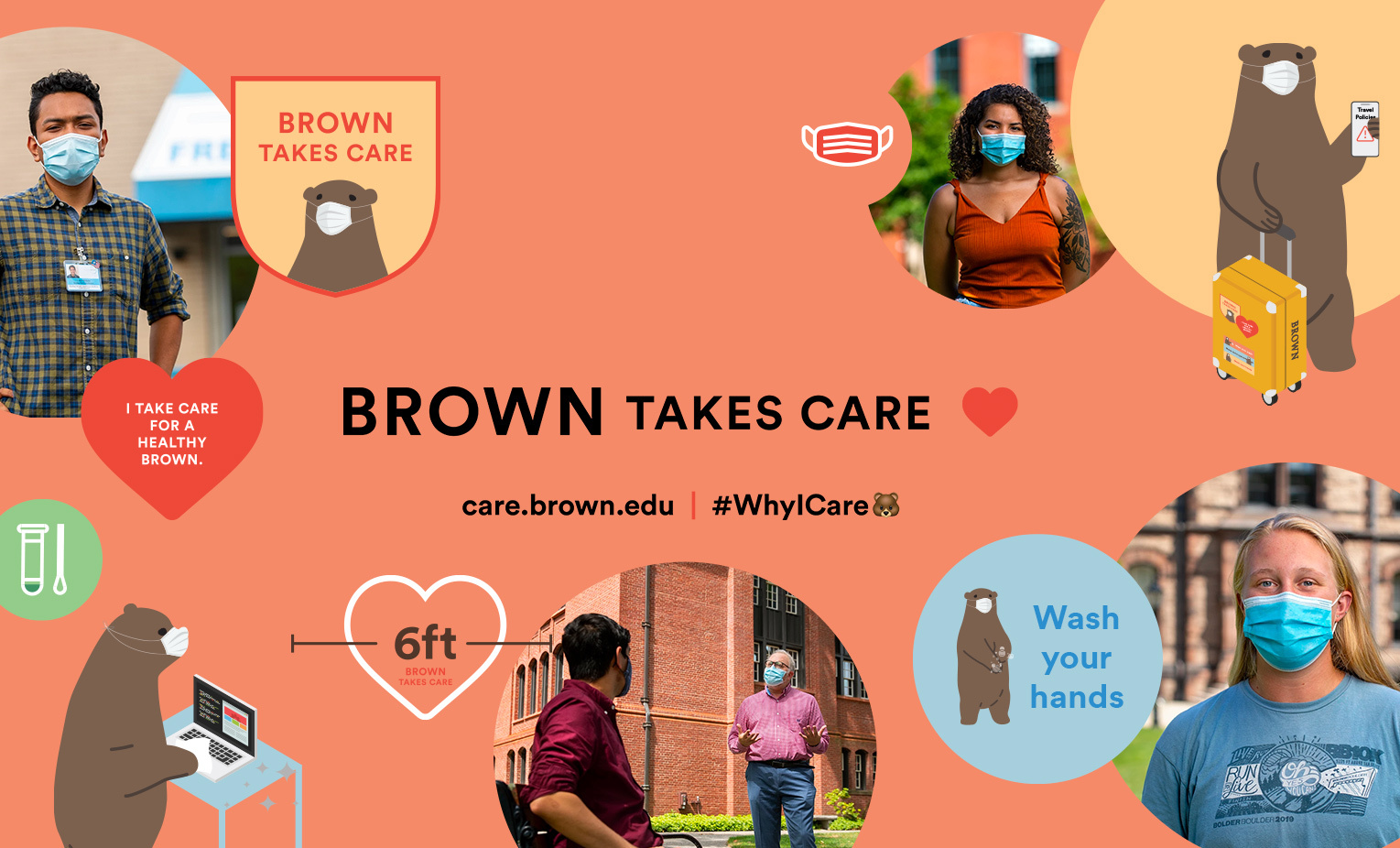 PROVIDENCE, R.I. [Brown University] — In the nearly six months since the COVID-19 pandemic reached Rhode Island, Brown University leaders and campus community members have worked collaboratively to establish and adhere to essential protocols — from symptom tracking to social distancing to testing and tracing — aimed at preventing the spread of coronavirus and keeping students, faculty, staff and the greater community healthy.
On Thursday, Aug. 27, to coincide with the first stage of its phased approach to student arrivals and in-person instruction for the 2020-21 academic year, a project team of campus community members launched Brown Takes Care, a campus-wide prevention and education initiative coupled with a public health campaign to promote healthy behaviors on campus and in the surrounding Providence community.
"Amid a global pandemic that continues to create much uncertainty, many of us are thinking about what we can do to keep Brown and the families in our surrounding communities healthy and safe," the campaign's organizers wrote in a message announcing the launch of the initiative to the campus community. "Brown Takes Care is uniquely Brown, having been created by students and staff working in close collaboration to root it firmly in our University values of care for one another."
Brown Takes Care calls on everyone on campus to exercise personal responsibility to confront COVID-19 and embrace behaviors that support safe ways of studying, working, socializing and living. It will bring together social media, video, web communications, training modules, community activities, student activity kits and signage to promote well-being through open dialogue, personal stories and modeling healthy practices on and off campus.
"Each aspect of this effort is designed to focus on community needs and voices," said Amy Nunn, a professor of social and behavioral science and medicine and co-chair of the Prevention and Education Subcommittee of Brown's Healthy Fall 2020 Task Force. The subcommittee of students, staff and faculty guided the development of Brown Takes Care, working with student interns and focus groups of community members across the University.
"We know that curbing the pandemic's spread will mean reshaping the everyday interactions that occur in on-campus and off-campus spaces," Nunn said. "This requires a radical change in social norms around everything from student housing to eating to protesting — everything."
By providing guidance, but letting community members "lead," the goal is that students and Brown employees in a range of roles will motivate others in their peer groups to adopt practices known to safeguard public health.
Staff members in a new Healthy Ambassadors program will complete educational training co-developed by the Office for Institutional Equity and Diversity and BWell Health Promotion, the University's center for wellness programming. The training teaches program members how to use bystander intervention and empathetic communication skills to encourage pro-health behaviors and adherence to primary prevention guidelines.
Additionally, students in a range of leadership positions across campus will be trained by BWell to use motivational interviewing, a technique that health care professionals use with patients to promote problem-solving, to engage community members in open conversations about both the importance and the practical challenges of habits that curb the spread of COVID-19.
As Universities across the country are grappling with changing basic behaviors to ensure health, especially among students, Brown Takes Care aims to make the adoption of healthy behaviors personal and meaningful, said Tanya Purdy, director of BWell and co-chair of the subcommittee on prevention education.
"We all understand that there is no existing formula in higher education for changing student behavior during a pandemic," Purdy said. "But we do know that, when we're looking for people to adopt behavior changes, we have to help them develop the skills they need to be able to make these changes. We need to ask them: 'What does this change look like in your life? What are the challenges that are going to come up for you when trying to implement it? How do you think you might talk to a friend about following Brown's primary prevention strategies?'"
Purdy said she expects that more than 200 peer educators and over 50 Healthy Ambassadors will have participated in the training program before Oct. 5, the date the University has set for Brown to resume in-person undergraduate instruction if the public health situation allows for the return of more undergraduates.
Brown Takes Care hopes to cultivate student and employee engagement through the University's social media platforms. In addition to sharing information and updates about core COVID-19 prevention strategies, Brown's Facebook, Twitter and Instagram pages will be used to share personalized stories and calls to action generated by students, faculty and staff.
"Personal stories give the guidelines meaning," Purdy said. "It's about recognizing the person across from us, who might be struggling more than us, who might not have the same advantages, who might be immunocompromised or returning home to family members who they don't want expose to the virus — or about reading their story and realizing we're not alone."
By making space for all members of the Brown community to share their stories — with the hashtags #WhyICare and #BrownTakesCare — social media can build understanding across the University's diverse community, said María Guerrero Martínez, a rising senior and member of the Healthy Fall 2020 Task Force.
"Everyone's experience with the virus has been very different depending on factors like their socioeconomic status, location and ethnicity," Guerrero Martínez said. "The only way to truly understand what people have been through is by letting them tell their story. By centering the public health campaign on students, we elevate students' voices while embracing the diversity of experiences we've had during this public health crisis." 
Promoting safety in Providence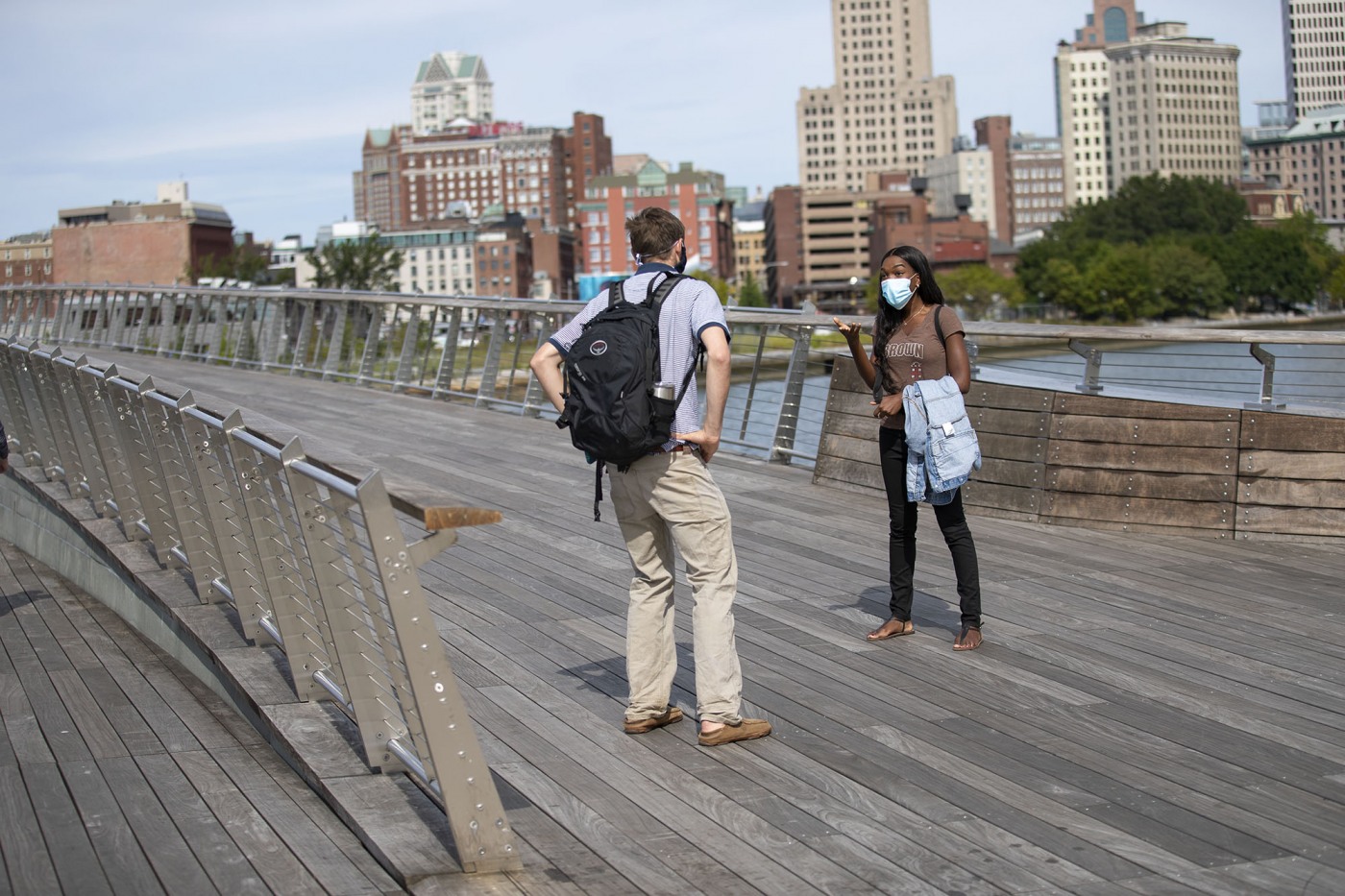 By empowering students, faculty and staff to become partners in the University's public health education and prevention efforts, Brown Takes Care also aims to maintain the health and safety of the Providence community in which the University is located, including in local neighborhoods where some students reside.
Brown Takes Care safety messaging will appear in Providence with ads placed in city spaces and signage posted outside of University buildings embedded within surrounding neighborhoods.
Brown has also created opportunities to keep its Providence neighbors informed of its plans for fall term. Residents heard directly from University leaders about the University's phased plans for the return of students during a virtual forum held by the Office of Government and Community Relations on Aug. 20.
The office also has established an email address for neighbors to ask questions and offer feedback about how the University's prevention and education efforts impact the surrounding community, and it distributes a neighborhood newsletter to coincide with major University announcements.
For Alexis Jackson, a rising Brown senior who helped to develop the University's COVID-19 prevention education initiatives this summer, the campus-wide, inclusive prevention and education efforts offer students, faculty and staff the opportunity — both at Brown and within Providence — to demonstrate the value they place on community engagement and care.
"[W]hile it is very easy to use the word 'community' and talk about being a collective, it is much more difficult to act like that," Jackson said. "And so this is really our big chance to show that we mean what we say when we say that this is a community."
Brown Takes Care is one part of Brown's overall approach to COVID-19 education and prevention. Other elements include the University's COVID-19 Campus Safety Policy; targeted online training modules for students, staff and faculty; a robust testing and contact tracing program; and a Student Commitment and Employee Acknowledgement that outline each individual's responsibilities to safeguarding the well-being of the Brown campus and surrounding communities.
A website for Brown Takes Care provides access to a range of resources, including digital posters, tip sheets and social media assets, that community members can share and adapt when creating their own social media content.