Date
October 26, 2020

2020-10-26
PHOTOS: Some in-person activities resume at Brown, with creative twists to maintain health and safety
With the second phase of the University's return to fall term in-person operations underway, students have more opportunities to engage in campus activities that have been modified to meet health guidelines.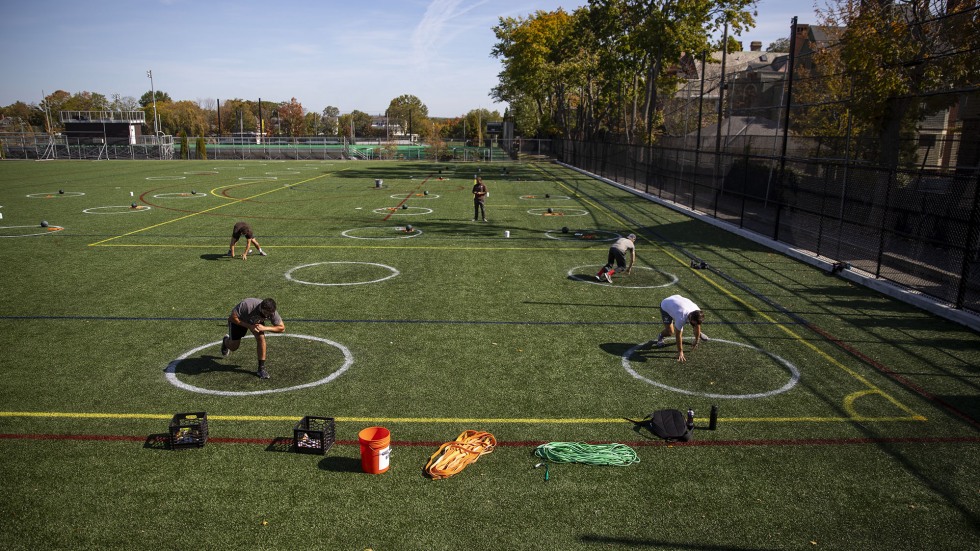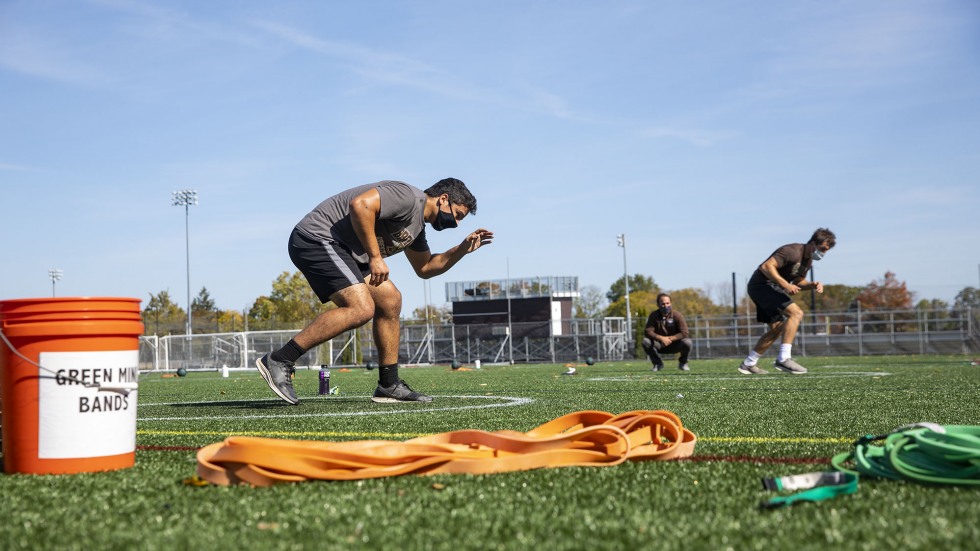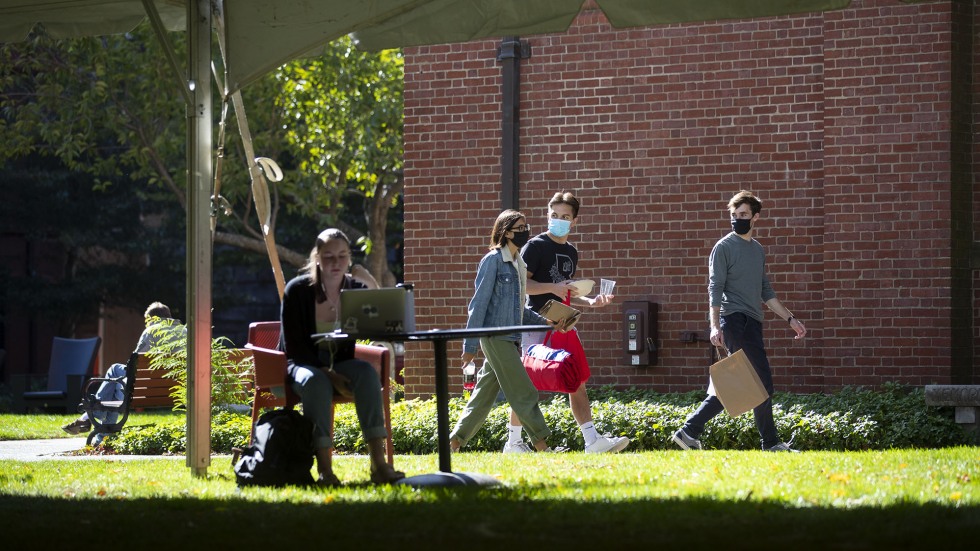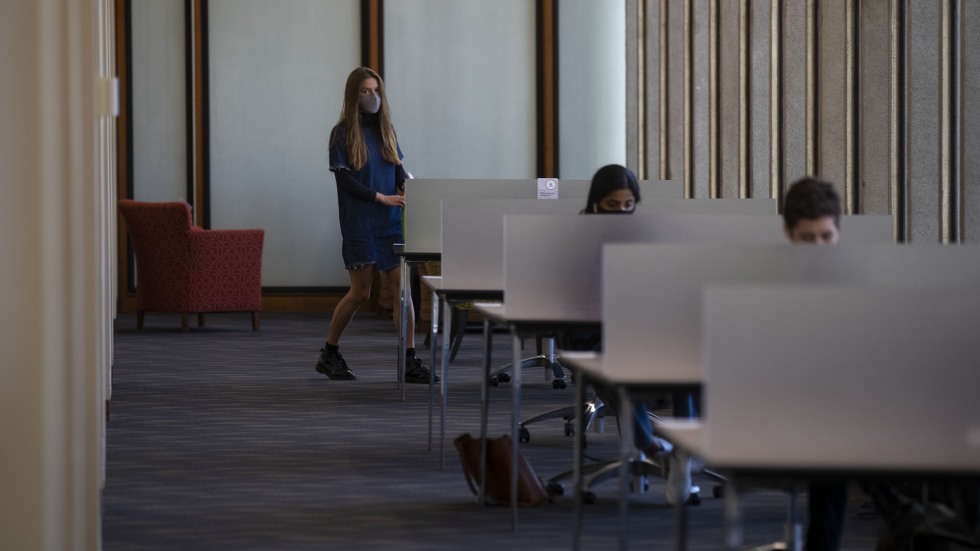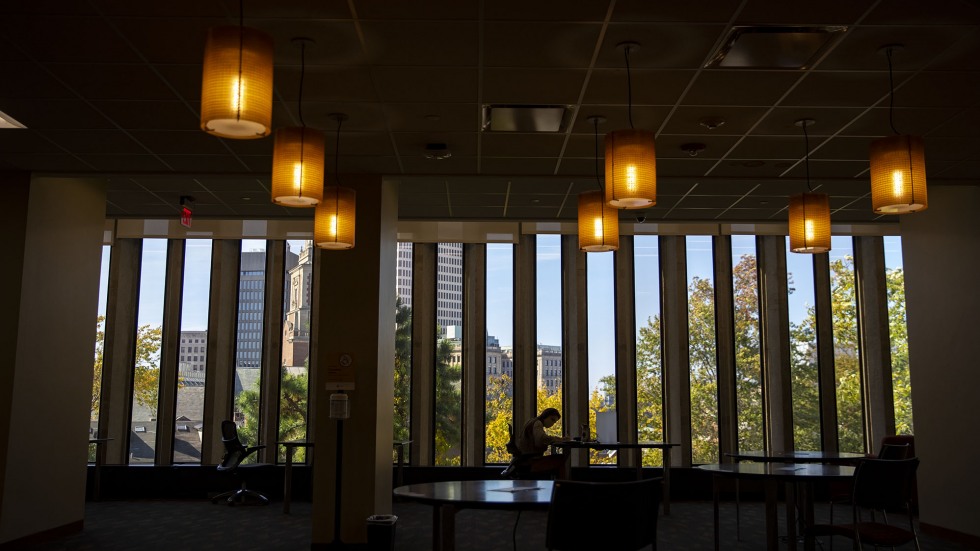 PROVIDENCE, R.I. [Brown University] — In late September, Brown welcomed approximately 700 additional undergrads to campus as part of its phased return to in-person operations. In the weeks since, those and other students have had increased opportunities to join some of the in-person activities — creatively modified to meet the health and safety needs presented by the pandemic — that are synonymous with life of Brown's campus.
Students now have more spaces to spend time on campus, whether studying for midterm exams or catching up, at a safe social distance, with friends. Large tents on Pembroke Green and Pembroke Field and on Simmons and Ittleson quads have offered a sheltered, outdoor space for impromptu socializing, while study spaces such as the Rockefeller and Hay libraries have begun allowing students to reserve study nooks — spaced according to public health guidelines — for two hours at a time, with time between sessions for disinfecting.
Some athletics teams — from swimming and water polo to basketball and soccer — have begun workouts, making adjustments to ensure the health and safety of student athletes. One example: Rather than have students spar with each other, wrestling coach Todd Beckerman has focused workouts on "shadow wrestling," an exercise in which a single wrestler practices their stance and footwork while visualizing a prospective partner.
"Because of current safety guidelines at Brown, we have been able to focus more on shadow wrestling than we have done in previous preseason training phases," Beckerman said. "A lot of the time, you're on your feet throughout a wrestling match, so this type of practice is a key to success."
Beginning on Oct. 5, faculty members leading hundreds of small classes also had the option to start in-person instruction for students who are on campus. Some professors opted to continue running courses remotely, while others transitioned either to fully in-person instruction or hybrid instruction, which combines in-person and virtual learning so that all students can participate in a way that accords with their needs.
Erica Durante, a visiting associate professor of Latin American and Caribbean studies, posed the question of whether or not to shift to hybrid class meetings to her students. When many said yes — with the request to meet outdoors, where, Durante said, "they felt the risk of COVID-19 was reduced" — she moved to create a productive learning experience for students learning both in person and remotely.
Some accommodations were easy. With the weather getting cooler, Durante said, "I encouraged students to bring along whatever would make them comfortable — sleeping bags, blankets, warm drinks."
Other accommodations took more ingenuity. To virtually integrate remote students into Durante's discussion-centered classes, students meeting outdoors bring headphones to class, enabling them to simultaneously engage with remote classmates on Zoom and in-person classmates on the campus green.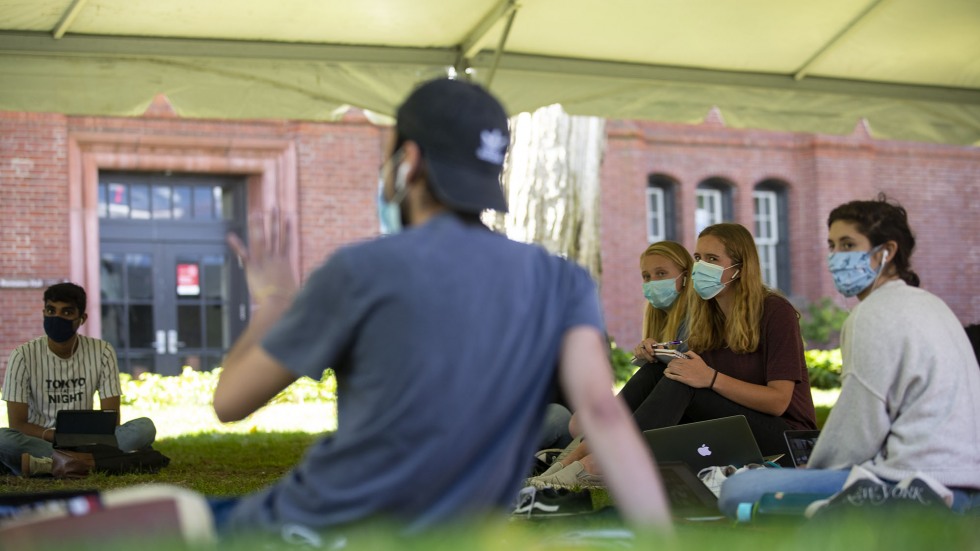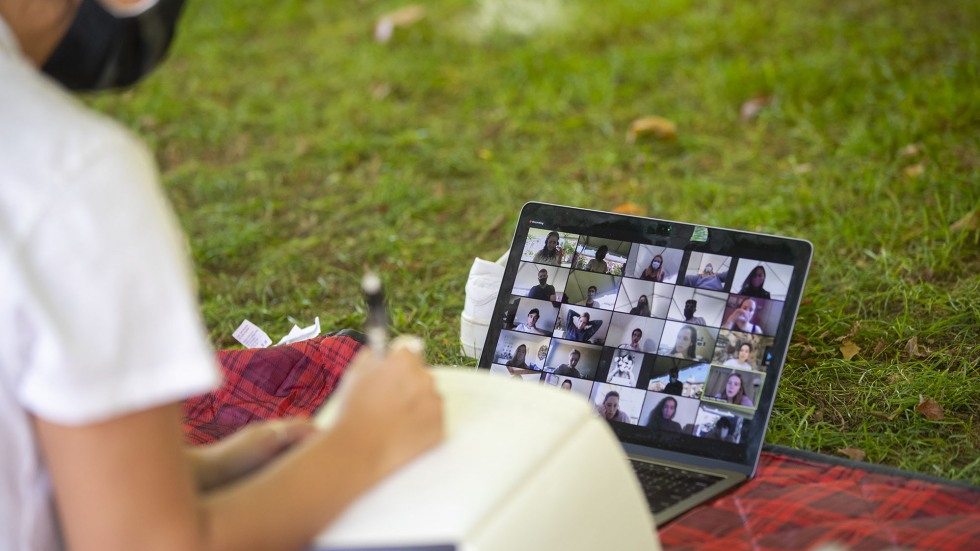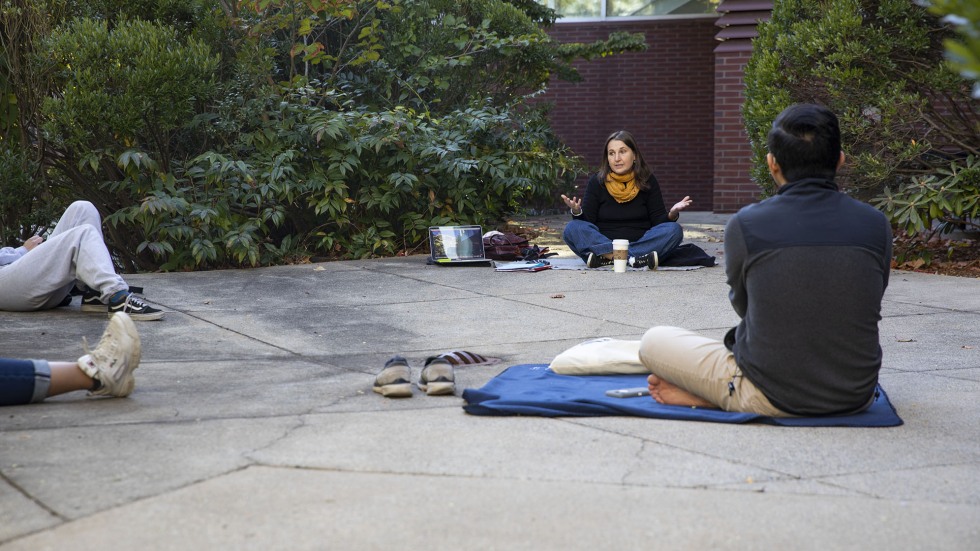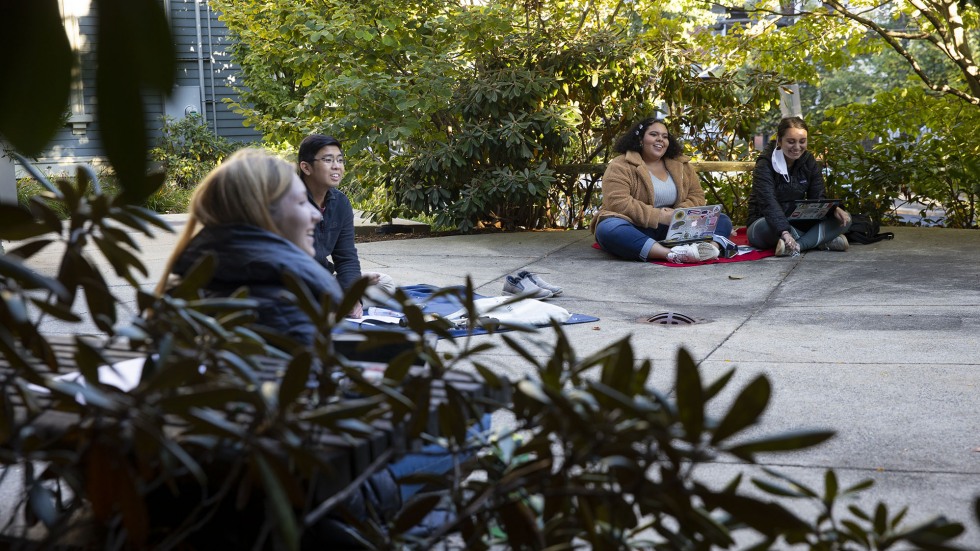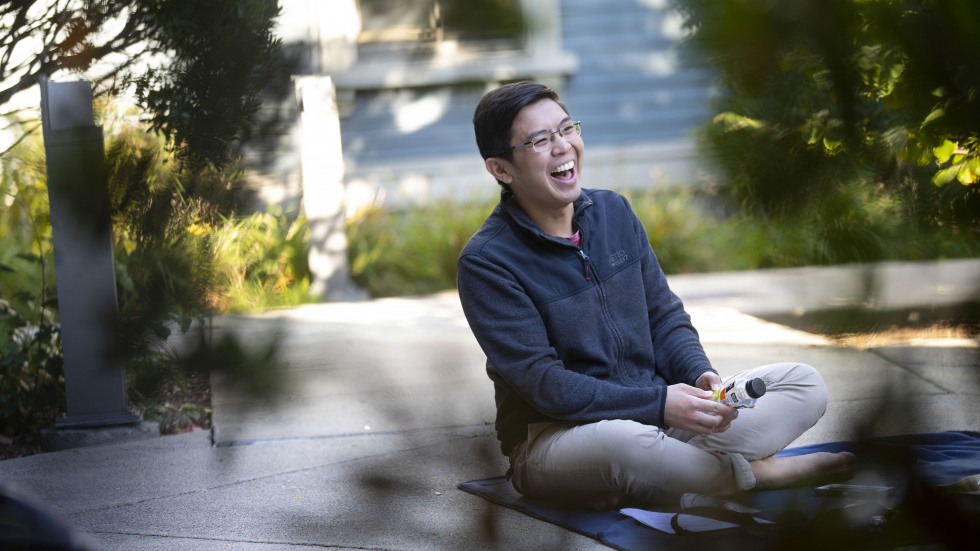 This hybrid model has enhanced the remote learning experience for Miriam Rice, a sophomore in Durante's introductory course, Around Latin America in 80 Days.
"Even though you are not there, witnessing fellow students sharing space is reassuring and comforting," said Rice, who intends to concentrate in Latin American and Caribbean studies and architecture. "You get a semblance of the normality that you used to have."
Heidy Mejia-Puerta, a junior Latin American and Caribbean studies and education concentrator who is remotely attending Durante's upper-level course — which prepares juniors and seniors to write honors and capstone projects in Latin American and Caribbean studies — agreed: "Having the sort of environment where we're all still a little together has been nice."
The transition to hybrid instruction has also impacted students attending class in person.
"When we have discussion sections in person, you can read people's cues, you can tell that they are enthusiastic," said Anoop Gurram, a senior public health and biology concentrator who is taking three hybrid classes. "It brings new life to the material."
Max Harris, a junior political science concentrator, was struck with a "strange realization" when attending Durante's Around Latin America in 80 Days course in person for the first time.
"Finally seeing in person so many of the people we had seen over Zoom — it felt like this thing we had been leading up to came to fruition," he said.
Students have not been the only ones feeling the positive effects of the increased activity on campus.
"All of the Zoom meetings and calls we've been doing to stay connected since March — that goes a long way, but it's not the same as seeing them in person," Beckerman said of his wrestling team. "Seeing these guys again in person has been such a breath of fresh air. We're all excited to get back to work."