PROVIDENCE, R.I. [Brown University] — When Rhode Island Gov. Gina Raimondo convened a team of volunteers this fall to curb the exponential rise of COVID-19 infections among the state's young adults, a Brown senior led the group's work.
In October, María Guerrero Martínez — a biochemistry and molecular biology concentrator — co-chaired the Young Adult Task Force of Rhode Island as it developed recommendations on how the state could best engage young adults in the fight against the pandemic's spread.
After an intense two weeks of virtual meetings, the group — which included students from each of Rhode Island's colleges and universities, as well as representatives from local youth-focused organizations — presented the governor a detailed strategy for delivering public health messaging to this critical demographic.
The plan? To use social media to provide the Rhode Island Department of Health's pandemic-related public health guidance in a form that is interactive, accessible and focused on personal action.  
"Social media is a great tool to get information to people easily — and for people to share why they care about following these guidelines," Guerrero Martínez said.
Raimondo quickly signed on, and Guerrero Martínez and her task force co-chair, Matthew Mills from the Community College of Rhode Island, set to work establishing presences for the campaign on Facebook, Instagram and Twitter. Since establishing the pages in late October, Guerrero Martínez has seen daily views rise steadily, from 20 a day when the pages debuted to close to 5,000.
Guerrero Martínez and Mills also successfully applied for federal funding through the CARES Act to expand their messaging through paid advertising and in-person outreach aimed at communities of young people within Rhode Island who, according to state data, are most vulnerable to infection. They will continue to work with the state as the grant's co-managers.
"We want to make sure we are making the best use of the grant that we can," said Guerrero Martínez.
When the state issued its call for task force nominees in early October, multiple members of the Brown community suggested Guerrero Martínez. It is easy to understandable why: As the undergraduate member of both the Healthy Fall 2020 Task Force and the Brown Takes Care prevention and education initiative, Guerrero Martínez had significant experience developing public health campaigns designed to provide young people with the information and motivation to practice behaviors proven to reduce COVID-19's spread.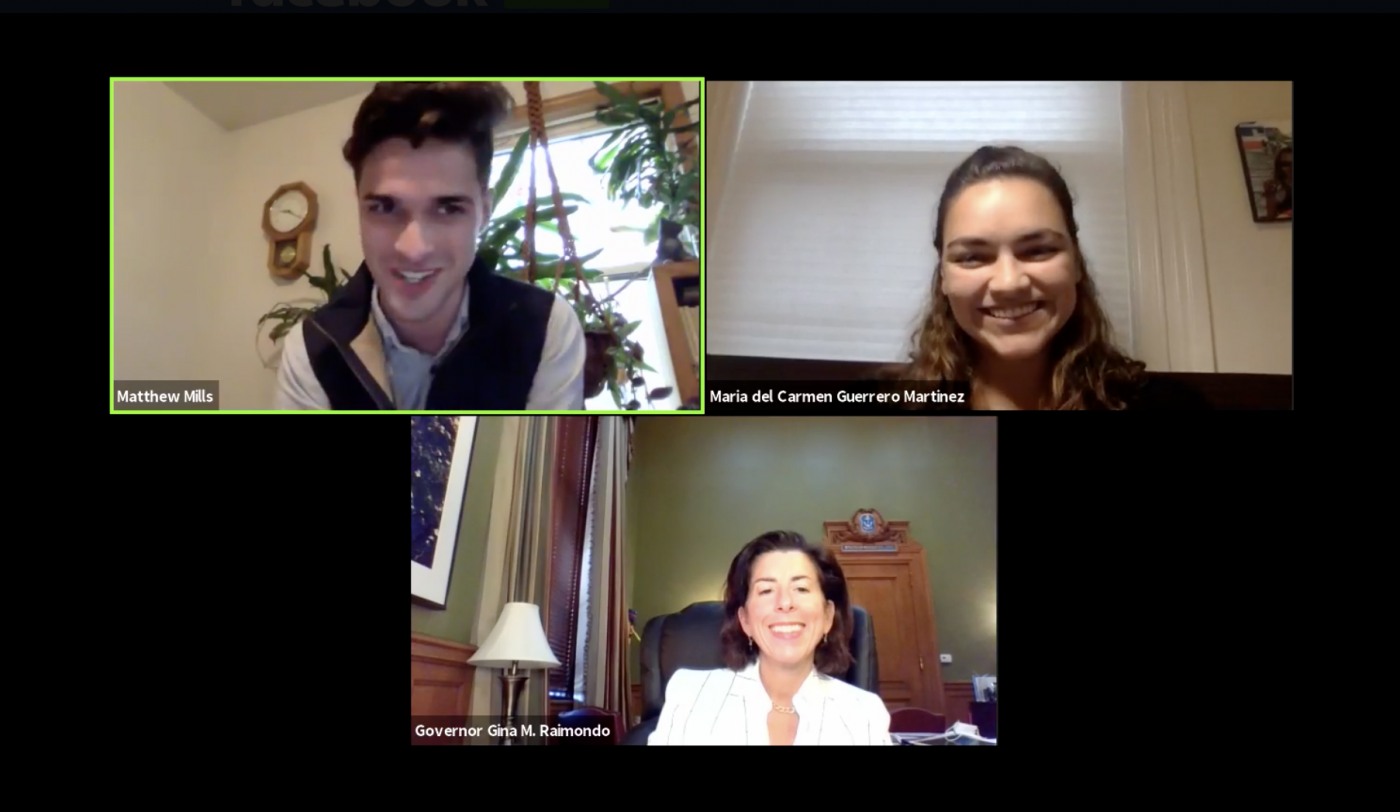 In leading the state task force, Guerrero Martínez drew upon successful strategies that she helped to develop at Brown, including using social media to reinforce simple actions that reduce people's likelihood of infecting themselves and others.
"Much like with Brown Takes Care, we really wanted the messaging to motivate people by focusing on the things they have control over," she said.
Her Healthy Brown committee work and the Brown Takes Care campaign also allowed Guerrero Martínez to develop a deeper understanding of COVID-19 in particular and public health broadly — as well as the confidence to actively collaborate with others to address these challenges with pragmatism and creativity, she said.
"Everything I've done with these initiatives at Brown has helped prepare me to work with this government task force," she said.
But creating messaging that would resonate with young people across Rhode Island also presented new challenges.
"There are so many more stakeholders now — insured and uninsured, enrolled in college or graduate school and not enrolled, living on a campus or commuting every day to class or work," she said. "There's a lot of variability in behavior, travel patterns and living situations that we had to keep in mind when creating strategies."
The governor's task force, formed in response to a fall spike in COVID-19 cases among young people, also carried a higher degree of urgency, she said.
"We developed Brown Takes Care throughout the summer, thinking about how best to share our public health messages when everyone came back," Guerrero Martínez said. "This was very different in the sense that we were in the thick of it from the start. It was a real time crunch."
The work of the task force has ended for now, but its lessons continue to be felt for Guerrero Martínez.
Co-chairing the task force has provided her with the opportunity to hone a leadership style that encourages collaborators to share their perspectives: "I've learned how to adapt my communication style to draw out different voices in the room — to get everyone to engage while still being genuine in how I present myself."
It has also has given her the chance to apply her science coursework to a pressing public health problem.
"Studying biochemistry helps me understand how the virus works," she said. "Having this understanding helps when you're trying to decide the best way to tell people how to stay safe."
An aspiring physician, Guerrero Martínez said that these experiences on the public health task forces for both Brown and the State of Rhode Island have helped her see the many shapes a physician's career can take.
"Before, when I thought about being a doctor, I thought just about seeing patients and conducting clinical research," she said. "But this work has made me more aware of how deeply related medicine and public health are. I see all of these intertwined layers to health care — and all the possible paths I can take after medical school."
In addition to illuminating new paths for her future, working at the intersection of medicine and public health has inspired Guerrero Martínez to pursue positions as a public health consultant while she completes her medical school applications next year.
"COVID-19 has made me reorganize my priorities," she said. "There's a lot to be done."