PROVIDENCE, R.I. [Brown University] — Life on the Brown campus has changed considerably since March, when the COVID-19 pandemic arrived in Rhode Island in full force.
For students and others who live, work or study on campus, understanding how to successfully navigate public health protocols in a way that promotes a healthy and safe community has come with a steep learning curve. And for some staff members whose ability to work remotely is limited, day-to-day demands have been reduced, even as the University continues to avoid layoffs in the face of the pandemic's financial impact.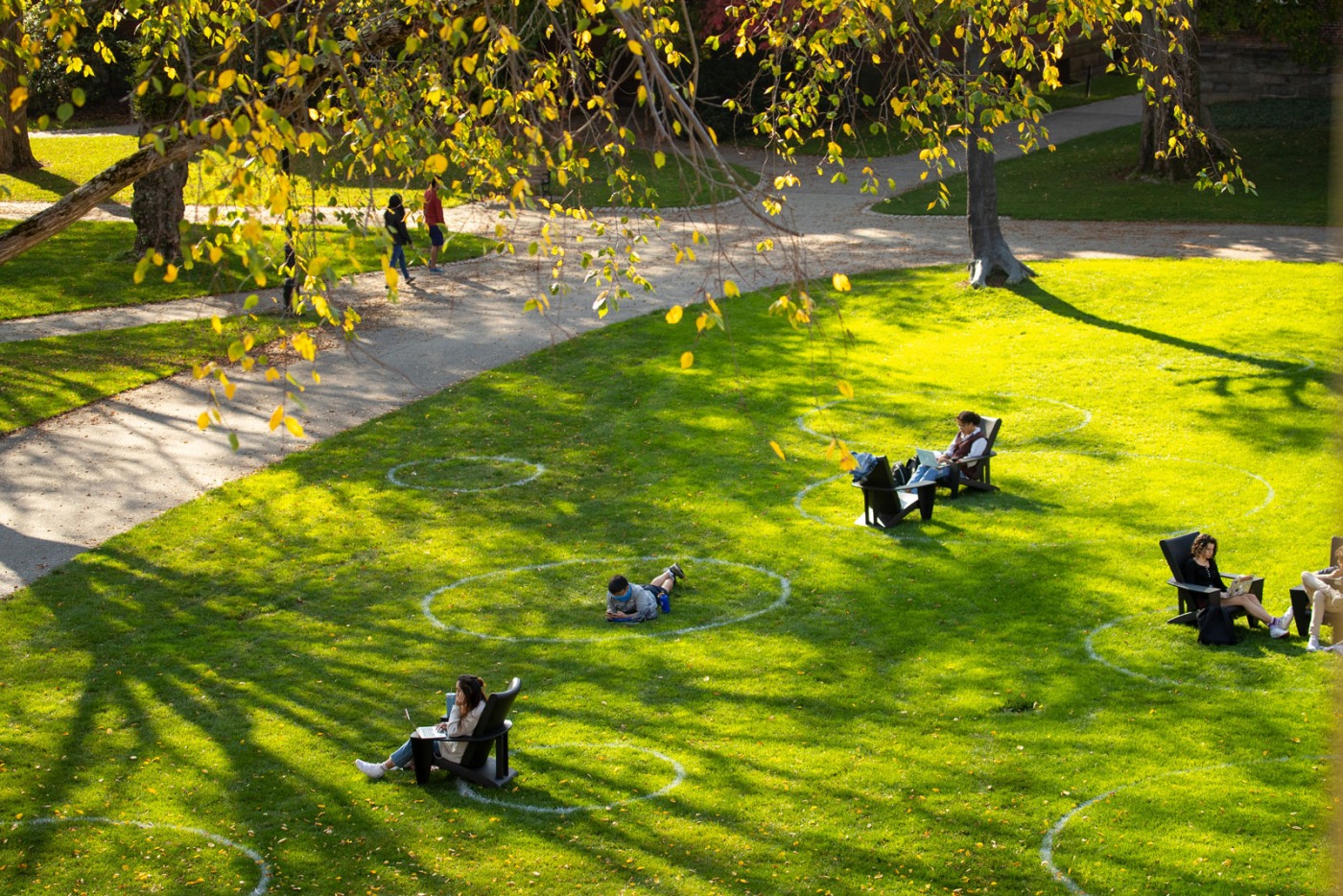 This fall, a new Healthy Ambassadors program has addressed both of those challenges concurrently as one element of Brown's COVID-19 prevention and education initiatives.
The idea was generated by the University COVID-19 personnel working group and developed by the Office of Institutional Equity and Diversity in collaboration with BWell Health Promotion. The program trains employees whose daily work responsibilities have been considerably altered since the beginning of the pandemic and redeploys them as Healthy Ambassadors for some shifts each week, with the rest of their time devoted to regular work responsibilities.
In a global pandemic where isolation, anxiety and frustration are all too common, the Healthy Ambassadors have worked to bring some sense of normalcy to campus by making COVID-19 prevention protocols clear-cut, cheerful and community-oriented.
"What's great is the community members in our Healthy Ambassadors program are in the same community that our students and faculty are — we all want the same thing," said Andrew Goodman, a Healthy Ambassador and director of football operations in Brown Athletics. "When you have people with similar interests who are aligned in what they want to return to normal, there is a lot more positive momentum."
Goodman, like the nearly 70 other ambassadors in the program, performs his shifts stationed at high-traffic sites on campus — the College Green, Simmons Quad, Friedman Hall and the Rockefeller Library, among others.
Responsibilities vary from one day to the next, but Goodman spends most of his time guiding students to building entrance and exit pathways designed to minimize congregating, providing masks and hand sanitizer to those who may not have any, and reminding students about social distancing guidelines.
But more than anything, he says, he's dishing out positive reinforcement and compliments to those he sees following public health guidelines — part of the University's overall effort to motivate healthy behaviors for the good of the community, rather than enforce compliance when that's avoidable.
"The students have been really great," Goodman said. "They've been our allies, we've been their allies, and they understand what's at stake."