PROVIDENCE, R.I. [Brown University] — Brown University Chancellor Emeritus Artemis A.W. Joukowsky Jr. — a Brown alumnus, longtime Brown Corporation member and steadfast supporter of academic programs in archaeology and medicine, public art on campus, Brown Athletics and other University priorities — died on Friday, Dec. 11, at age 89.
Brown President Christina H. Paxson shared the news in a Dec. 16 letter to the University community.
"An 'ever-true' member of Brown's graduating Class of 1955, Chancellor Joukowsky's decades of leadership, loyalty and unwavering support across a wide variety of initiatives have been instrumental in continuously elevating Brown's reputation for excellence," Paxson wrote. "His vast impact is manifested through nearly all aspects of University life... Together with his wife, Martha Sharp Joukowsky, the Joukowskys' devotion to Brown has been nothing short of remarkable."
After an accomplished career as a global business leader, Joukowsky joined the Corporation's Board of Trustees in 1985, served as vice chancellor from 1988 to 1997, and began a two-year term as chancellor in 1997. After leaving the chancellor's role in 1998, he continued to serve on the Corporation's Board of Fellows until 2009.
Samuel M. Mencoff, Brown's current chancellor and a Class of 1978 graduate, was one of many University leaders, past and present, to extol the immense contributions of Joukowsky and his family. He called Joukowsky a cherished friend, mentor and exemplar of the highest service to the University that he loved deeply.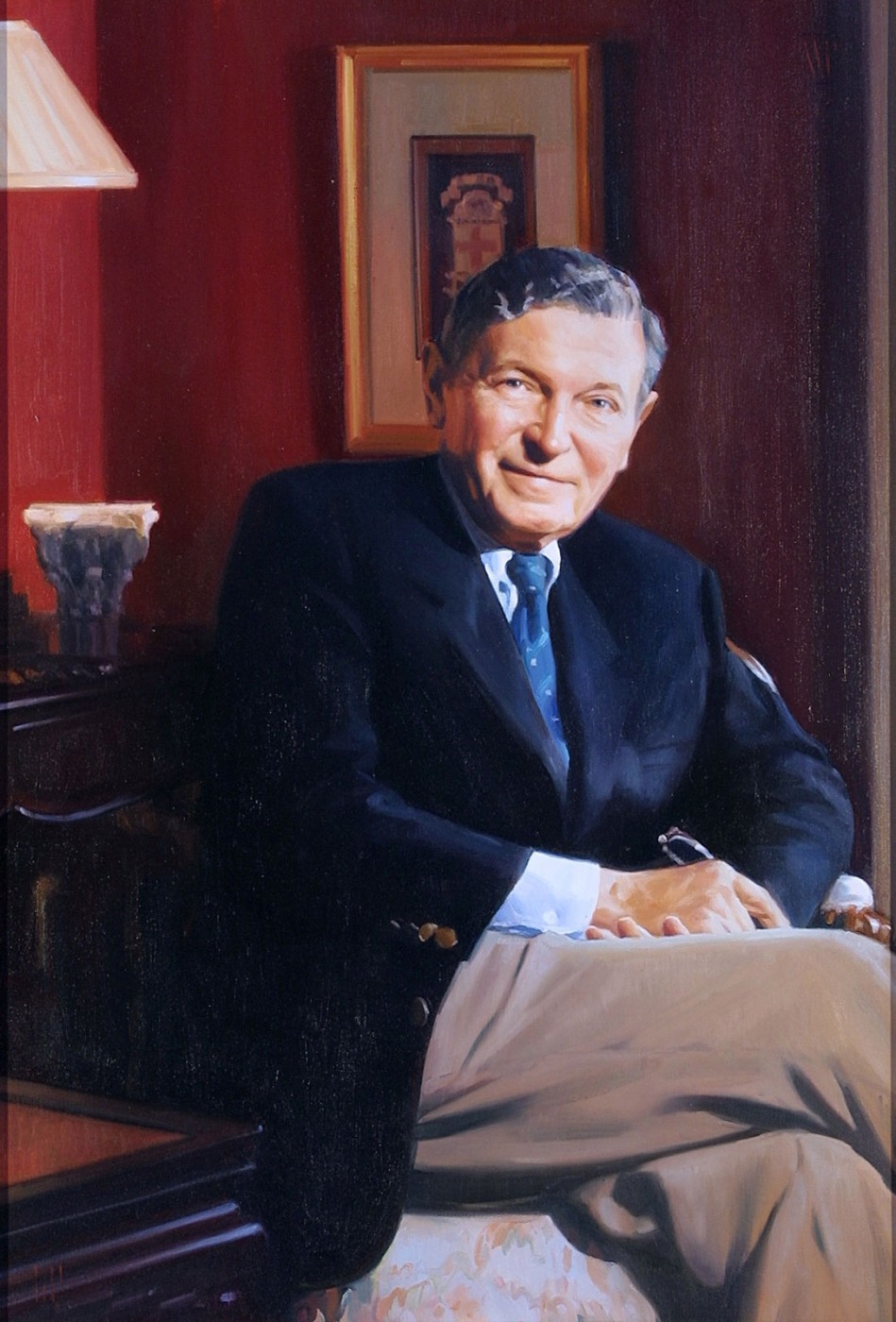 "By the time I joined the Brown Corporation in 2003, Arte was a legend, many times over," Mencoff said. "He was absolutely uncompromising and unrelenting in insisting that Brown always aim higher in its pursuit of truth, excellence, opportunity and knowledge in service to society. His leadership was deeply grounded in virtue, character and values, and he made every one of us who served with him on the Corporation the better for it. He elevated the University, and each of us along with it."
Chancellor Emeritus Thomas J. Tisch, a Class of 1976 Brown graduate, said that Joukowsky served as a link between multiple generations of University leaders and Corporation members. His ability to see the entirety of Brown's mission and his clarity, direction, generosity and optimism set the highest example for fellow leaders and colleagues to follow, Tisch said. Plus, there was Joukowsky's unrivaled devotion to Brown.
"Arte lived and breathed Brown University like nobody else and in the most deeply caring, loving and inspiring way," Tisch said. "Given the enormous depth of his knowledge, his history, his sensibility and his love for Brown, it was always one of life's greatest pleasures to be in conversation with him on the College Green."
Class of 1962 graduate Stephen Robert served as vice chancellor when Joukowsky led the Corporation and ultimately succeeded him in the chancellorship from 1998 to 2007. Robert said that Joukowsky was a man of enormous character. His fundamental decency and altruism were traits that Robert sought to emulate.
"If there's any characteristic that makes for a great chancellor, it's how much you care," Robert said. "Nobody cared more about the University and the people at Brown than Arte. He was indefatigable in working for Brown's success, and anything that had to do with making the University a better place, he was there to help. He was not a one-issue leader — he was ubiquitous. There are very few people in history who have done as much for Brown as Arte."
Support for understanding the ancient world
Born in Shanghai to Russian parents in 1930, Joukowsky immigrated as a child to New York with his parents. He attended the Lawrenceville School in New Jersey and subsequently Brown, where he earned a bachelor's degree in 1955. From 1958 to 1987, he led a successful international business career, serving as a senior executive at the American International Group with posts in Italy, Thailand, Turkey, Hong Kong and Lebanon. He returned to the United States in 1977, spending a decade as president of the Socialist Countries Division at AIG before relocating to Providence in 1987.
Joukowsky is survived by his wife, Martha Sharp Joukowsky, a Brown Class of 1958 alumna, professor emerita of archaeology and the ancient world, and member of the Brown faculty since 1982. Together, the Joukowskys — who met as undergraduates at Brown — have been longtime champions of archaeology at the University; in 2004, a gift from the couple established the Artemis A.W. and Martha Sharp Joukowsky Institute for Archaeology and the Ancient World.
Nearly two decades later, faculty and students affiliated with the institute are leading archaeological fieldwork in locations across the globe, including Egypt, France, Greece, Italy, Jordan, Mexico, Sudan, Turkey and the Caribbean. In 2009, following a significant renovation and restoration project, Brown rededicated its historic Rhode Island Hall as the institute's new home. 
"Both Arte and Martha have remained active friends and supporters of the institute throughout the last 15 years, including stopping by Rhode Island Hall to talk about plans for the institute and to share stories of fieldwork in Petra [in Jordan], attending all of our graduation ceremonies, and welcoming students and faculty to their home just blocks from campus," leaders from the institute wrote in a tribute to Joukowsky. "We will sorely miss Arte's friendship, while we thankfully remember his legacy to the discipline and on campus."
As a member of the Corporation, Joukowsky worked for many years to continually improve Brown's physical campus, chairing committees focused on facilities and campus planning, design review and public art. Together with Richard Fishman, a professor emeritus of visual art, he led the establishment of Brown's public art initiative in the mid-1980s. Later, he played an instrumental role in the University's decision to designate 1% of the construction budget for all new buildings and major renovations to the commission of artwork.
"He was a connoisseur of beautiful things, and he was also one of the most committed, giving and generous people I met in my 50 years at Brown," Fishman said of Joukowsky. "Both of those qualities led him to one day say, 'Richard, I think the University should collect art. And I think it should be public art.'"
A devoted patron of athletics and honored leader
A longtime champion of Brown sports who for many decades was a presence at athletic events, cheering on the Bears from the sidelines, Joukowsky co-founded the Brown University Sports Foundation in 1983. Since 1998, the Joukowsky Scholar Athlete Award has been awarded annually to two Brown student-athletes who achieve success in both the classroom and in athletic competition.
He authored books on the history of football and crew at Brown, and was inducted into the Brown Athletics Hall of Fame in 1991 in recognition of his support.
"Arte Joukowsky was a champion of Brown Athletics who understood the importance of intercollegiate athletics in the University's mission," said Brown Director of Athletics Jack Hayes. "Arte was ahead of his time, founding the Brown Sports Foundation to introduce fundraising to enhance the student-athlete experience. His generosity and extraordinary love for the University manifested itself in all areas of life at Brown. He will be remembered as someone who cared greatly for his alma mater and made a difference in the lives of all that he touched."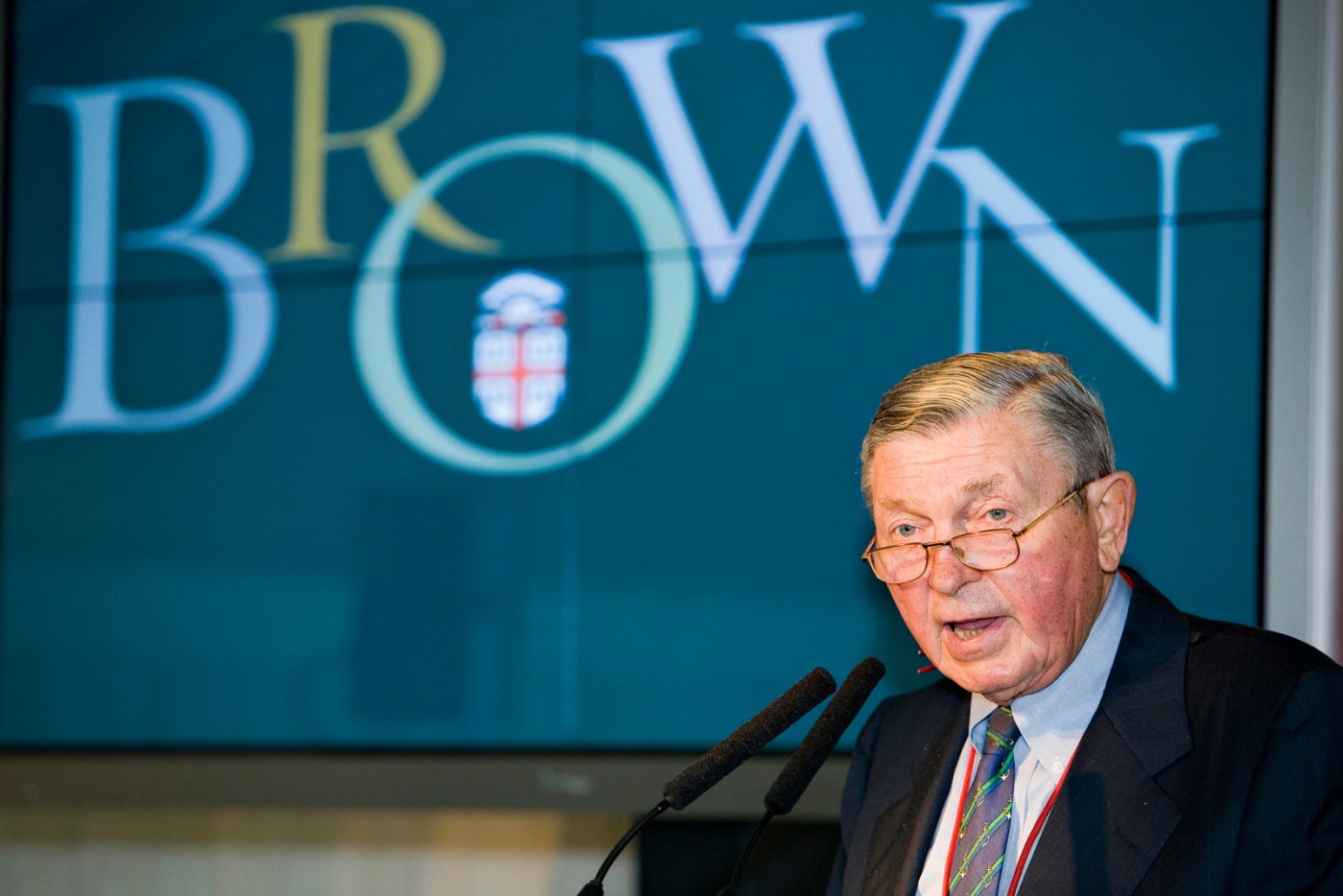 Joukowsky and his family endowed multiple professorships and scholarships at Brown, and he served frequently in leadership roles for University fundraising. He was also a fervent supporter of Brown's Warren Alpert Medical School.
In 1985, then-President Howard R. Swearer conferred honorary doctorate degrees upon both Artemis Joukowsky and Martha Sharp Joukowsky during the University's Commencement ceremony. 
Eleven years later, then-President Vartan Gregorian awarded Joukowsky the President's Medal, the highest honor a Brown president can bestow; the award came upon the successful culmination of the Campaign for the Rising Generation, a $534 million fundraising campaign led in large part by Joukowsky. 
In 2005, the Joukowskys jointly received the Rosenberger Medal, the highest honor bestowed by the Brown University faculty, awarded just 31 times since its establishment in 1919.  
An oil-on-canvas portrait of Joukowsky, commissioned by Gregorian and unveiled in 1997, hangs in Sayles Hall as part of the University's portrait collection.
In addition to his wife, Joukowsky is survived by his three children — Nina Joukowsky Koprulu, Artemis Joukowsky III and Michael Joukowsky, a Brown Class of 1987 graduate — and eight grandchildren, many of whom attended Brown.