PROVIDENCE, R.I. [Brown University] — After nearly a decade leading varsity, club and recreational sports programs as Brown University's 17th director of athletics, Jack Hayes will leave the University on Feb. 5 to pursue new opportunities — chief among them, he will become senior advisor to Bruin Sports Capital beginning on March 1. Colin A. Sullivan, deputy director of athletics, will serve as interim athletics director while Brown conducts a national search for Hayes' successor.
Hayes leaves a legacy of success by Brown student-athletes, both on the field and in the classroom. His tenure includes Ivy League championship and school-record seasons, team and individual NCAA tournament appearances in multiple sports, a National Player of the Year award to a Bears lacrosse player, and two Senior CLASS Awards for most outstanding seniors in a given sport.
Over the same span, a total of 26 student-athletes have been named Academic All-Americans, a clear demonstration of the belief in Brown Athletics of the importance of the balance between academic and athletic achievement.
"Jack truly embraces the ideal of the scholar-athlete," President Christina H. Paxson said. "Brown Athletics under his leadership has embodied a commitment to cultivating a climate where athletic competition and academic achievement form the core of the student-athlete experience to promote real personal growth and leadership."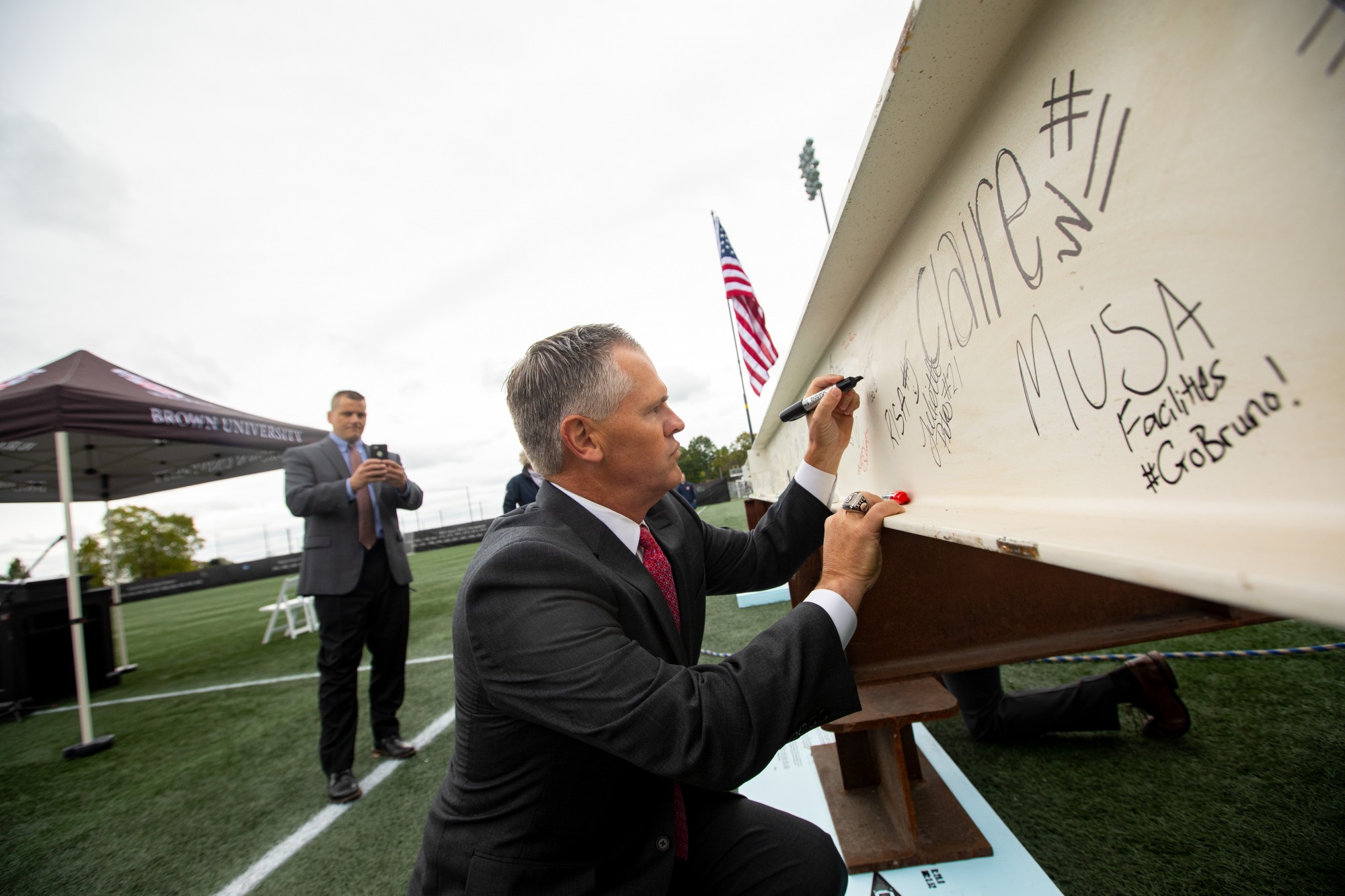 As director of athletics, Hayes leads a department that includes 34 Division I varsity teams, hundreds of student-athletes and a robust lineup of competitive club sports programs. Brown Athletics is home to more than 150 coaches and staff members who — as part of the Division of Campus Life at Brown — support an extensive intramural sports and fitness program, manage the University's athletic facilities, and promote a wide-ranging portfolio of leadership opportunities for students and service efforts in support of the local community.
The positive contributions that Hayes has made to the athletics program in all of these areas will be long-lasting, said Eric Estes, vice president for campus life. 
"Jack led robust fundraising that enabled $50 million in important facilities upgrades during his time at Brown, which will benefit our student-athletes for generations to come," Estes said. "Men's lacrosse went to the 2016 Final Four, women's soccer won a conference championship in 2019, and other programs competed in the NCAA postseason. As important, student-athletes achieved great accomplishments as scholars inside the classroom. There have been 26 CoSIDA Academic All-Americans during his tenure, and Brown is routinely among the very top schools in the country in terms of the number of teams receiving NCAA APR public recognition awards." 
Hayes developed a strategic plan for athletics after arriving at Brown in 2012 and last year played a lead role in launching the Excellence in Brown Athletics Initiative, a bold plan to reshape the program by boosting the competitiveness of varsity teams, enhancing the strength of club sports and upholding Brown's commitment to providing equal opportunities in athletics for women and men.
In departing, Hayes said he will treasure the relationships he built with student-athletes and many other members of the Brown community who supported the important role of athletics on campus.
"Our student-athletes, coaches and athletics department staff do an outstanding job representing Brown University, not only through performance in their sports, but also through the excitement they create on campus and their commitment to the greater community," Hayes said. "I've sincerely enjoyed working with our students, alumni and friends, and I'm deeply appreciative of the opportunity I've had to be a part of Brown Athletics.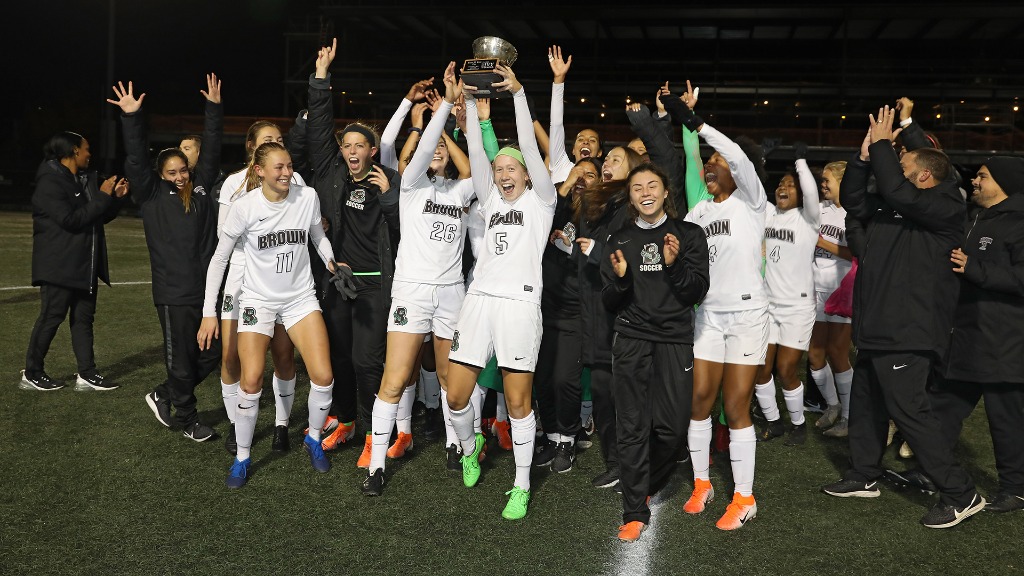 "At the same time, I'm ready to explore new challenges and opportunities, and that includes working with the team at Bruin Sports Capital to help achieve their ambitious vision, which I'm very excited about," he added.
As a senior advisor at Bruin Sports Capital, an investment and operating company that specializes in building global sports, media, entertainment and technologies companies, Hayes will advise on and analyze new ventures and investment opportunities across all levels of sports, health and fitness, and education.
Leadership during standout moments in Brown Athletics
Hayes said that he will forever recall a number of specific moments from his tenure. Among them is the game when men's basketball player Cedric Kuakumensah — the first student-athlete who Hayes met at Brown — set the Ivy League record for career blocked shots. Another standout is the November 2019 game in which the women's soccer team beat Penn in double-overtime to win the Ivy League championship and advance to the NCAA Tournament.
He'll remember the 2015-16 year in particular, when the Bears defeated teams ranked No. 1 nationally in men's ice hockey, men's lacrosse and women's crew, Hayes said. Women's crew placed sixth at its NCAA Championship, men's crew finished sixth at its Intercollegiate Rowing Association national championship — and men's lacrosse won an epic game over Navy, sending the team to the NCAA Championship Final Four.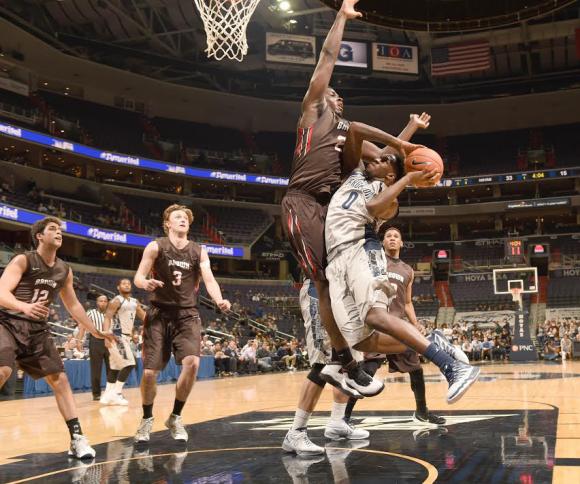 "We had 11,700 fans in Brown Stadium and the game was televised live on ESPN," Hayes recalled. "When it ended, I met senior All-American John Yozzo-Scaperrotta on the field, and we just turned around and watched everyone celebrate in the stands. I just said, 'John , look at this place. This game has truly been one of the great ones.'"
Future lacrosse games will be held in the new Center for Lacrosse and Soccer, completed in Spring 2020, as a major priority for Hayes has been building and maintaining athletics facilities to support Brown's student-athletes. He spearheaded $50 million in new construction, facilities upgrades and renovations. He played a lead role in the renovation of Brown's interior football suite, complete with new locker rooms, offices and meeting space — as well as a state-of-the-art medical rehabilitation and training center for all varsity student-athletes — and led the effort to create Brown's baseball and softball complex, which opened in 2017.
Hayes has served on various NCAA and conference committees throughout his time at Brown, including a term as chair of the NCAA Men's Lacrosse Championship Committee. He also successfully led Brown's effort to host the NCAA Men's Ice Hockey Regional Championship (in 2013, 2015, 2017, 2019) and the 2016 and 2020 NCAA Men's Lacrosse Quarterfinal.
An athletics program that gives back
Hayes also ensured that all athletics teams brought a deep commitment to the greater community. Each year, student-athletes and coaches spend hundreds of hours visiting schools, hosting young athletes and partnering with organizations such as Team IMPACT, which works to improve quality of life for children facing life-threatening and chronic illnesses via team-based support networks. He also established a relationship with the Rhode Island Interscholastic League to bring many of its high school championship events to the Brown campus.
Hayes joined Brown in April 2012 following an eight-year tenure as athletic director at Hofstra University in New York. Under his leadership, the Hofstra Pride earned 10 Academic All-American honors and 16 conference scholar-athlete of the year awards. The program's varsity teams captured 21 Colonial Athletic Association championships and made 35 postseason appearances, including 26 NCAA tournaments.
Previously, Hayes held positions at Fairfield, St. John's and Fordham universities before serving as associate director at the University of Connecticut from 2001 to 2004.
A native of Providence, Hayes graduated from Providence Country Day School, where he was inducted into the school's Athletics Hall of Fame (football, basketball and lacrosse) in 2019. A 1989 graduate of Providence College, he was a three-year starter as a long-stick midfielder on the Friars lacrosse team. He earned a master's degree in education from the University of Connecticut in 1992.