PROVIDENCE, R.I. [Brown University] — The David Winton Bell Gallery at Brown University is gearing up to present its first fully public exhibition in 18 months — and it promises to be a sight for screen-sore eyes.
Opening on Thursday, Sept. 9, "Arrows of Desire: Harry Gould Harvey IV and Faith Wilding" will feature the work of two influential New England artists who bonded over a mutual love of poet William Blake in the midst of the COVID-19 pandemic. 
Kate Kraczon, director of exhibitions and chief curator for the Bell Gallery and for the University's Brown Arts Institute, said the exhibition will provide a powerful antidote to the technology-driven, indoor-focused world many have inhabited since March 2020, when the spread of the novel coronavirus shut down workplaces, in-person gatherings and art displays across the world.
"We're coming out of a period of screens and flatness and slickness and editing," Kraczon said. "By contrast, Harry and Faith's work is all handmade. The wood is carved. It's all a little wonky and curved. You can see pencil marks and fingerprints in the works on paper. And I think people will be absolutely enthralled by those human touches after being stuck inside, and in front of screens, for a year and a half."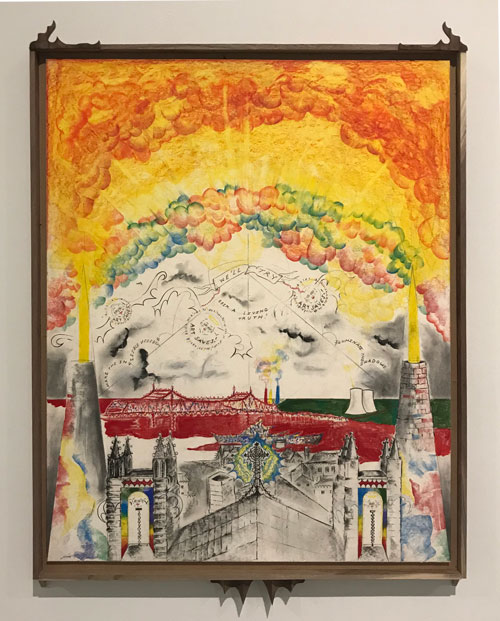 Kraczon said both artists' pieces — which range from drawings in handmade wooden frames to works made of metal and wax —  embrace the apocalyptic language and imagery in Blake's work, particularly his epic illustrated poem "Milton" from the early 19th century. In the preface, Blake condemned the Industrial Revolution and organized religion, offering "arrows of desire" to combat the "dark Satanic Mills" that he felt had blighted England's green, peaceful pastures. 
More than 200 years later, Harry Gould Harvey IV is following in Blake's footsteps, creating art that ruminates on the complex legacy of the factories and textile mills in his hometown of Fall River, Massachusetts. In the early 20th century, Fall River became one of the world's largest centers of cotton textile manufacturing. At one time, there were more than 100 mills in the city, where residents worked long hours for low pay producing textiles that would become sheets, curtains and clothing in the homes of the American elite — from residents of Gilded Age mansions in Newport to the wealthy, educated classes living in Boston and Providence.
"His work engages with social inequality and the experience of growing up in an economically struggling post-industrial city," Kraczon said.
Today, most of those mills and factories are no longer in business. Some have been converted into offices and apartment complexes, while others sit empty, still soaked in the flammable whale oil that once lubricated the hulking machinery. From these and other abandoned buildings, Harvey has foraged wood beams, metal heaters and more, turning those reclaimed materials into art.
Kraczon said Harvey's art featured in "Arrows of Desire" includes delicate works on paper framed in elaborate, hand-wrought wood; a series of four sculptures made from century-old industrial heaters, candle-like wax structures and bronze; and a massive wooden wall piece that reproduces a famous quote from anarchist Emma Goldman in red casting wax: "Ask for work. If they don't give you work, ask for bread. If they do not give you work or bread, then take bread."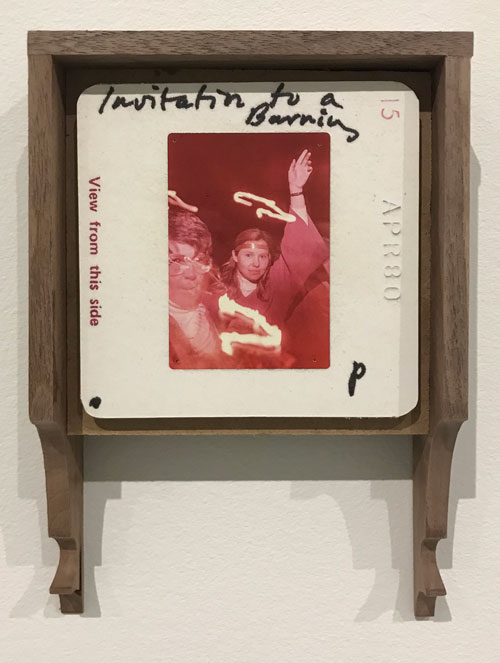 Works by Faith Wilding — an influential feminist artist and activist, Rhode Island resident and visiting scholar at Brown's Pembroke Center — include watercolors that pay homage to women writers, poets and theorists who influenced her own feminist organizing; a series of 10 archival images of Wilding's radical feminist performances from the 1970s and 1980s, framed in Harvey's reclaimed, hand-wrought wood; and the installation "Flow," in which ink-filled glass beakers sit atop wooden pedestals made by Harvey.
"Faith became a mentor and a kind of spiritual guide for Harry in the last two years," Kraczon said. "When they first met to collaborate on this exhibition, they connected immediately. Now they're in each other's studios all the time, they're texting each other constantly, and they go on hikes together."
Kraczon said she hopes the Bell Gallery's first fully public exhibition since the beginning of the COVID-19 pandemic — and its first since becoming part of the Brown Arts Institute, the University's hub of rigorous art-making, scholarship and experimentation — highlights the depth of artistic talent in Rhode Island and Southeastern Massachusetts. The curator, who came to Brown from the University of Pennsylvania's Institute of Contemporary Art in 2019, said she plans to shine a bright spotlight on local artists in the years to come, one of many initiatives that aims to draw more students and local residents to the gallery and emphasize Brown's essential role in the greater Providence area's visual art scene.
"I want the Bell to be a more accessible and enticing destination for everyone," Kraczon said. "I want the creative communities across the Providence and Boston areas to descend on the Bell for opening parties and events, knowing the Bell is a space where they can meet their favorite — or soon to be favorite — artists, see provocative shows and connect with one another."
"Arrows of Desire" opens on Thursday, Sept. 9, and closes on Sunday, Nov. 28. Admission and events are always free. The Bell Gallery is open daily from 11 a.m. to 5 p.m. and on Thursdays from 11 a.m. to 8 p.m. The gallery will host a conversation with the artists and a reception on Friday, Sept. 24, at 5 p.m.