PROVIDENCE, R.I. [Brown University]  — A $25 million gift from accomplished life sciences entrepreneur and investor Pablo Legorreta and his wife, Almudena, will advance a plan to transform Brown University's recently launched cancer center into a world-class cancer center located in Rhode Island.
The gift will rename the Cancer Center at Brown University, established in 2020 to build on the strengths of the Joint Program in Cancer Biology at Brown and Lifespan, as the Legorreta Cancer Center. It will also position the center to work toward National Cancer Institute designation, the highest federal rating a cancer center can achieve. NCI designation recognizes centers across the nation that meet rigorous standards for state-of-the-art research focused on developing new approaches to preventing, diagnosing and treating cancer.
The $25 million investment in the center will enable its leaders to recruit world-class physician-scientists, leading investigators and other experts, launch pilot research projects, and build an infrastructure that includes the expertise, equipment and support to bring basic science discoveries, new technologies and other innovations to clinical therapies and interventions to patients facing cancer diagnoses.
University President Christina H. Paxson said the Legorreta family's generous gift will support Brown's goal for the center to advance innovative cancer research that ultimately leads to treatments for people in Providence, across the region and well beyond.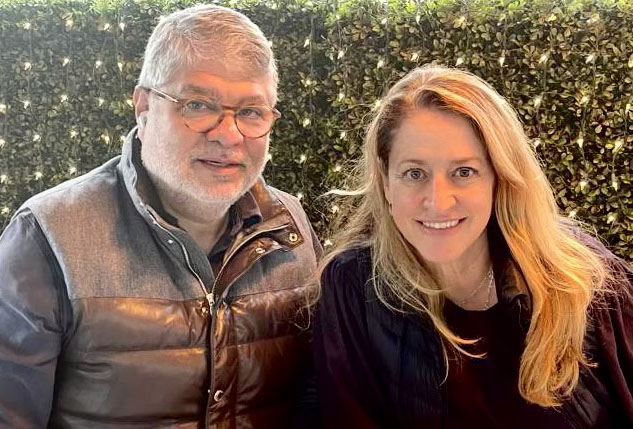 "In providing the funding to bring aboard first-class talent and launch promising new research programs, this gift brings us closer to realizing the dream of a world-class, federally recognized cancer center right here in the state of Rhode Island," Paxson said. "We are deeply grateful to Pablo and Almudena Legorreta for their generous investment in the potential for cancer research at Brown to transform into treatments that will one day make a positive impact on patients and their families."
Pablo Legorreta is the founder and chief executive officer of Royalty Pharma — the largest buyer of biopharmaceutical royalties and a leading funder of innovation across the biopharmaceutical research and development ecosystem — and a trustee of Brown's governing body, the Corporation of Brown University.
"I'm a passionate believer in the ability of science to advance progress and facilitate change," Pablo Legorreta said. "It's a privilege to be able to support the Brown cancer center's mission of advancing scientific research to find better ways to treat cancer and improve patient care."
Dr. Wafik S. El-Deiry, an accomplished physician-scientist with deep expertise in cancer biology and clinical training in oncology, joined Brown in 2019 as director of the Joint Program in Cancer Biology at Brown and Lifespan and associate dean for oncologic sciences at the University's Warren Alpert Medical School. He became inaugural director of the cancer center upon its 2020 launch and has worked to build new research collaborations across the medical school and its affiliated hospitals with a particular focus on developing novel insights on the types of cancer most prevalent in Rhode Island.
"The gift will accelerate basic and translational research at Brown and expand the pool of world-class cancer expertise in Providence," El-Deiry said. "The center will build a critical mass of investigators to do larger, more collaborative cancer-focused projects and bring in additional funding for cancer research."
Building a world-class cancer center
Brown launched the cancer center in 2020 to harness the cancer research, translational science and clinical trials happening at the University and its affiliated hospitals, and to encourage new collaborations with the potential to produce breakthroughs. The center builds on Brown's scholarship and clinical strengths across multiple fields of study, taking a broad approach to research — from working to understand how cancer develops, grows and metastasizes, to developing new therapeutics for patients in a personalized way.
The center in its first year became a member of the Association of American Cancer Institutes, which comprises 103 premier academic and freestanding cancer research centers in the U.S. and Canada. The larger goal is to gain designation by the National Cancer Institute (NCI), which supports the research infrastructure for cancer centers to advance scientific goals and facilitates cancer programs that bring together investigators from different disciplines.