PROVIDENCE, R.I. [Brown University] — From telehealth visits to home testing kits, the COVID-19 pandemic accelerated an increase in home-based health care interventions that many experts believe is just the tip of an iceberg. McKinsey and Company estimates that by 2025, a quarter of Medicare fee-for-service spending will have shifted from traditional facilities to home-based options.
On Feb. 17 and 18, Brown University hosted a workshop to explore the technological challenges and opportunities presented by this massive shift to home-based care. Titled Home Health Technologies in 2032, the event gathered more than 90 physicians, biomedical engineers, technologists, social scientists and others for virtual meetings.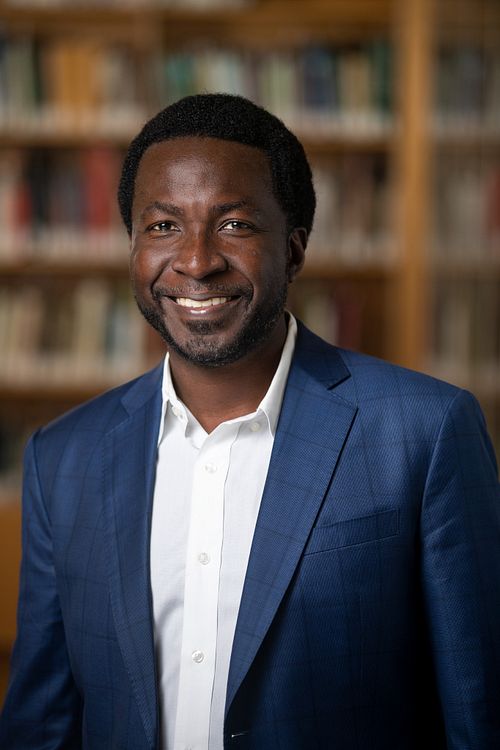 Kimani Toussaint, a professor and senior  associate dean in Brown's School of Engineering and a chair of the event's organizing committee, said the goal was to bring medical experts together with technologists to help plot the course of home health care over the next decade.
"We need to think about what kinds of technologies are needed most — whether for diagnostics or therapeutics or some combination of the two — and how these technologies could interface with the existing health care infrastructure," Toussaint said. "At the same time, it's critical that we start thinking right from the very beginning about how to make these technologies affordable and accessible to everyone, so that we're not perpetuating existing disparities or creating new ones. The idea is to develop a roadmap for how these technological changes will unfold over the next 10 years."
The workshop's organizing committee included Toussaint along with Brown engineering faculty Anita Shukla and Angus Kingon, Dr. Megan Ranney, a professor of emergency medicine, and Edith Mathiowitz, a professor of pathology and laboratory medicine. The event was supported by the National Science Foundation, Brown's School of Engineering, the Office of the Vice President for Research and the Brown-Lifespan Center for Digital Health, which Ranney directs.
In addition to presentations from experts in the field, the workshop placed participants into small groups where clinicians and technologists could exchange ideas. Clinicians presented scenarios in which home health technologies might be brought to bear, while engineers and technologists discussed what tools might be developed to address those scenarios. Discussion groups covered several key areas of health care delivery including emergency medicine, primary care, cardiovascular monitoring and maternal health.
"We wanted the technologists to hear about the challenges that clinicians are facing directly from those clinicians who understand these things better than anybody," Toussaint said. "This is about getting everybody to the table and collecting snapshots of the complex issues that are out there."
Groups discussed how technology might help primary care doctors maximize the time they're able to spend talking with each patient. Others discussed how technologies might help new mothers to navigate the complexities of the postpartum period. Still others discussed how existing technologies might be harnessed for better in-home monitoring of cardiovascular states.  
Toussaint said that several themes emerged that will factor into how the shift to home health care unfolds. What systems can be developed to help doctors to deal with the firehose of information that constant home health monitoring would inevitably create? How can patients and physicians be assured that data is kept secure and private? How might issues like broadband access affect the equitable deployment of new technologies?
The idea wasn't to solve these challenges in a single workshop, Toussaint said, but to reveal what the pertinent issues will be moving forward.
"The challenge of both delivering remote health technologies to the home and connecting it to the broader health care system is very complex," Toussaint said. "I think that our workshop really revealed the myriad of challenges that would have to be addressed to do this effectively."
Edel Minogue, director of research strategy and analysis in the Office of the Vice President for Research and a member of the workshop's planning committee, said the event embodied a thoughtful approach for establishing research programs in the home health care space.
"It is imperative as a first step to put the time into identifying the key scientific or societal problems before developing a research plan for a technology to address them," Minogue said. "You need to understand the problem in order to propose a potentially viable solution. The Office of Research Strategy and Development works with faculty early in the process to design, develop and facilitate research endeavors with global impact."
Toussaint says a follow-up workshop in early summer will drill deeper into the issues that arose this month. Moving forward, Toussaint and his colleagues plan to explore how Brown can continue to make contributions in this area, potentially through a new research center or other initiatives.