WASHINGTON, D.C. [Brown University] — After years of leading a university focused on making a positive impact in the community, creating a more equitable campus and supporting students from a wide range of socioeconomic backgrounds, Brown University President Christina H. Paxson is the recipient of the 2023 TIAA Institute Hesburgh Award for Leadership Excellence.
Sponsored by the TIAA Institute and administered by the American Council on Education, the award is named after the former president of the University of Notre Dame, Rev. Theodore M. Hesburgh, who was a longtime TIAA board member and civil rights leader. It's presented to a current college or university president or chancellor for outstanding leadership of their institution and broad impact on higher education and society. 
Paxson was honored for leading a campus community that is committed to initiatives focused on improving health, education and economic well-being for local residents. The TIAA Institute also noted her leadership of Brown's Diversity and Inclusion Action Plan, which has recruited more students, faculty and staff from historically underrepresented groups, diversified Brown's curriculum and found new ways to support education and research about race, ethnicity, inequality and justice.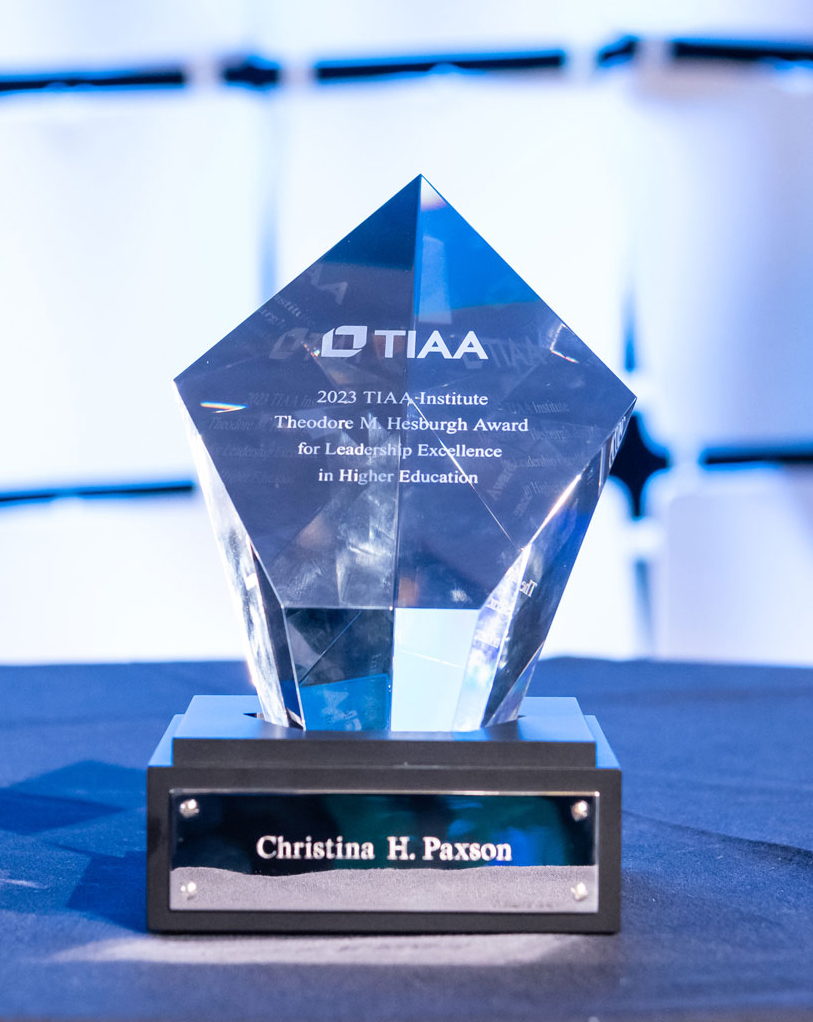 "The TIAA Institute is proud to recognize President Paxon's strategic vision of ongoing transformation not only for Brown University, but for the economic development of the surrounding communities," said Surya Kolluri, head of the TIAA Institute. "She is a passionate advocate for equity and driver of positive change who truly embodies the Hesburgh spirit." 
Since joining Brown in 2012, Paxson has helped to engineer public-private partnerships with government, businesses and industry, anchoring the ongoing economic transformation of Providence's Jewelry District and bringing new life to a neighborhood underused for decades. In 2016, Paxson led the development of an action plan that has increased diversity among students, faculty and staff, created new opportunities for underrepresented scholars to teach and conduct research, and established a campus-wide understanding of the essential roles that diversity, equity and inclusion play in Brown's success as a leading research university. Paxson also led efforts to create The Brown Promise, which replaced loans in the school's financial aid packages with grants that do not have to be repaid.
"It is a privilege for ACE to join the TIAA Institute in honoring the achievements of such an innovative higher education leader," said ACE President Ted Mitchell. "Christina Paxson's vision is at once global and local, focused on spurring researchers at Brown toward ground-breaking advances, fueling regional economic vitality, and ensuring access to a high-quality undergraduate education for a wide range of students. She has an unflagging dedication to the transformative power of higher education that would be appreciated by the legendary leader in whose name we honor her."
Kolluri and Mitchell presented the award to Paxson during ACE's annual meeting in Washington, D.C., on Saturday, April 15.
Established in 1993, the Hesburgh Award recognizes leadership and commitment to higher education and contributions to the greater good. It's presented to a current college or university president or chancellor who embodies the spirit of the late Rev. Hesburgh, who was appointed by President Eisenhower to the newly created Civil Rights Commission. The winner is selected by an independent panel of judges.
"I am honored to receive this award celebrating the legacy of Father Hesburgh and his commitment to education and service," Paxson said. "This award is reflective of Brown's mission to make a positive impact on the community, the nation and the world by advancing knowledge and understanding and preparing students to address the world's most pressing challenges."