PROVIDENCE, R.I. [Brown University] — At the Brown University chaplain's residence, tucked off a quiet College Hill street lined with lush, green canopies and colorful gardens in full spring bloom, pizza isn't just a meal — it's a metaphor.
Equipped with a towering stack of pizza boxes, students of all faiths began divvying up slices on a late April evening. One student who abstained from eating meat for spiritual reasons accidentally grabbed a slice of pepperoni, and another was quick to step in and offer their own veggie slice. For some, the pizza was their first meal since dawn as they broke their daily fast during the Muslim holy month of Ramadan.
For most, the pizza wasn't what they were hungry for: it was the conversation.
For more than 50 years, Brown students and community members have been gathering each month at the chaplain's house for Thursday Night Interfaith Suppers, a key initiative of the Office of the Chaplains and Religious Life that comprises dinners, inspiring speakers, a respectful exchange of ideas, and invigorating interfaith conversations about spirituality.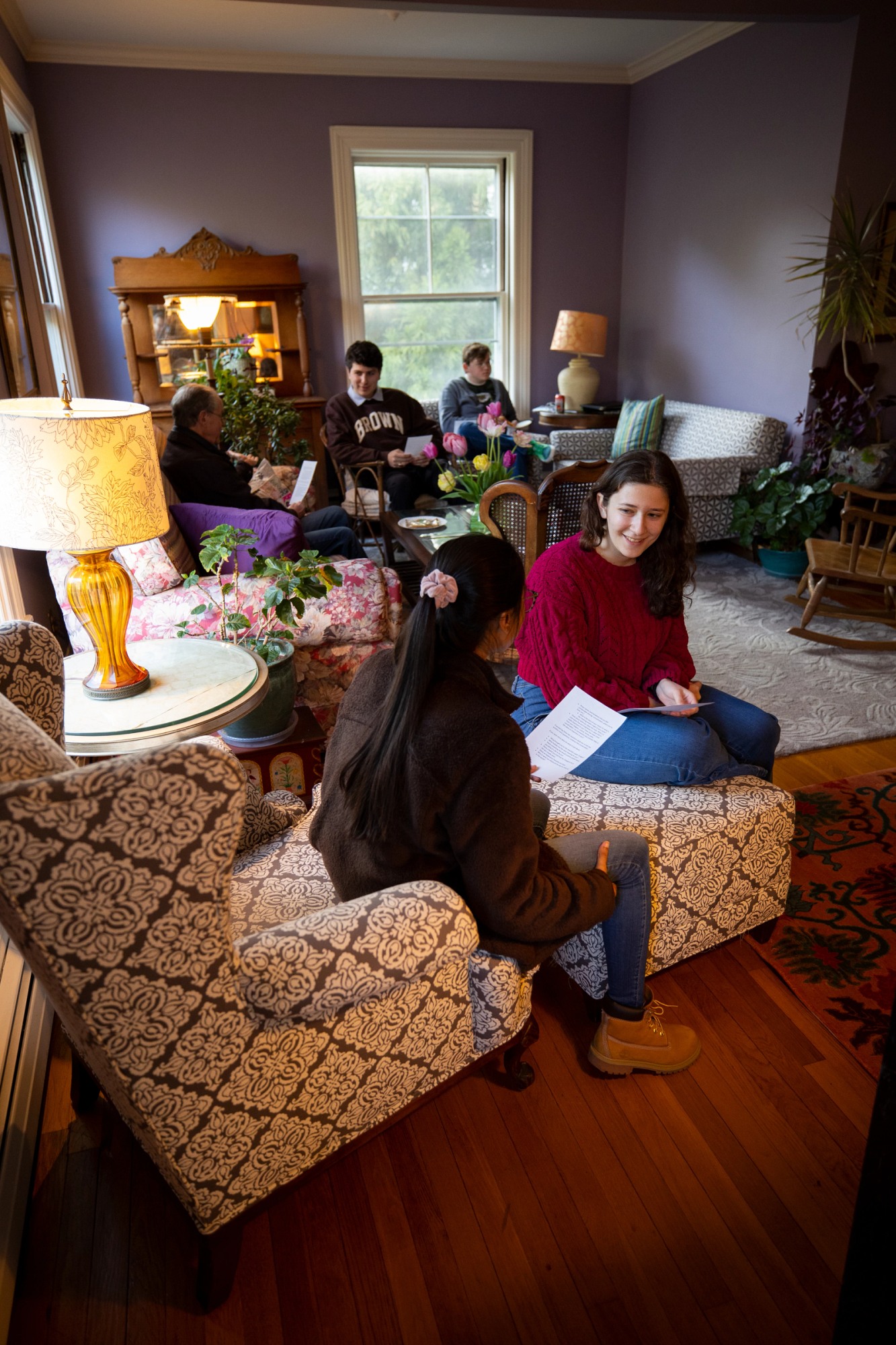 The suppers are emblematic of the interfaith community at Brown. They provide a welcoming space where no one is turned away, and, with luck, everyone leaves with a deeper, more compassionate understanding of the full breadth of religious, faith, spiritual and ethical perspectives in practice.
That has been senior Dan Tully's experience. When he was deciding where to attend college, a teacher and close mentor at his Catholic high school suggested to Tully that the beginning of his Brown education may spell the end of his faith.
"He told me, 'Dan, if you go to Brown, you will come back without a trace of your faith,'" Tully said. "'You will have been scrubbed clean of any stain of Catholicism.' I knew what he meant. But I think what he didn't anticipate is the richness of the religious community here in which I've spent the past four years."
Tully, a senior concentrating in behavioral sciences and religious studies, found his home within the Brown/RISD Catholic Community. He also wrote for Cornerstone, a Christian literary arts magazine; joined the C.S. Lewis reading club The Inklings; sang in Brown's interfaith choir; and, in what may be the first instance since the group's founding in 2005, took on the role of music director for the Alef Beats — an a cappella group at deeply rooted in the Jewish tradition and hosted at Brown/RISD Hillel.
"It's really been a privilege to see all the ways in which students practice their faith, and how it translates from the home life in which they've been raised into a totally self-sufficient, intellectual, spiritual pursuit at Brown," Tully said.