PROVIDENCE, R.I. [Brown University] — Before attending Brown University's Pre-College Programs, high school student Andreas Wimmershoff-Gonzalez said he was "the least social person."
Now, the 17-year-old from Bronxville, New York, is comfortable striking up conversations with random people in the classroom and around College Hill, or asking for help and seeking directions on campus.
For Miriam Gegechkori, a 16-year-old international student from Tbilisi, Georgia, the sheer breadth of perspectives among her Pre-College classmates has been eye opening.

"[In Georgia], in a school environment or even in a social environment, we would never get to talk about some of the topics that we are exploring here," she said. "I think it's valuable and a great thing to have an opportunity to discuss things that would probably get avoided back home."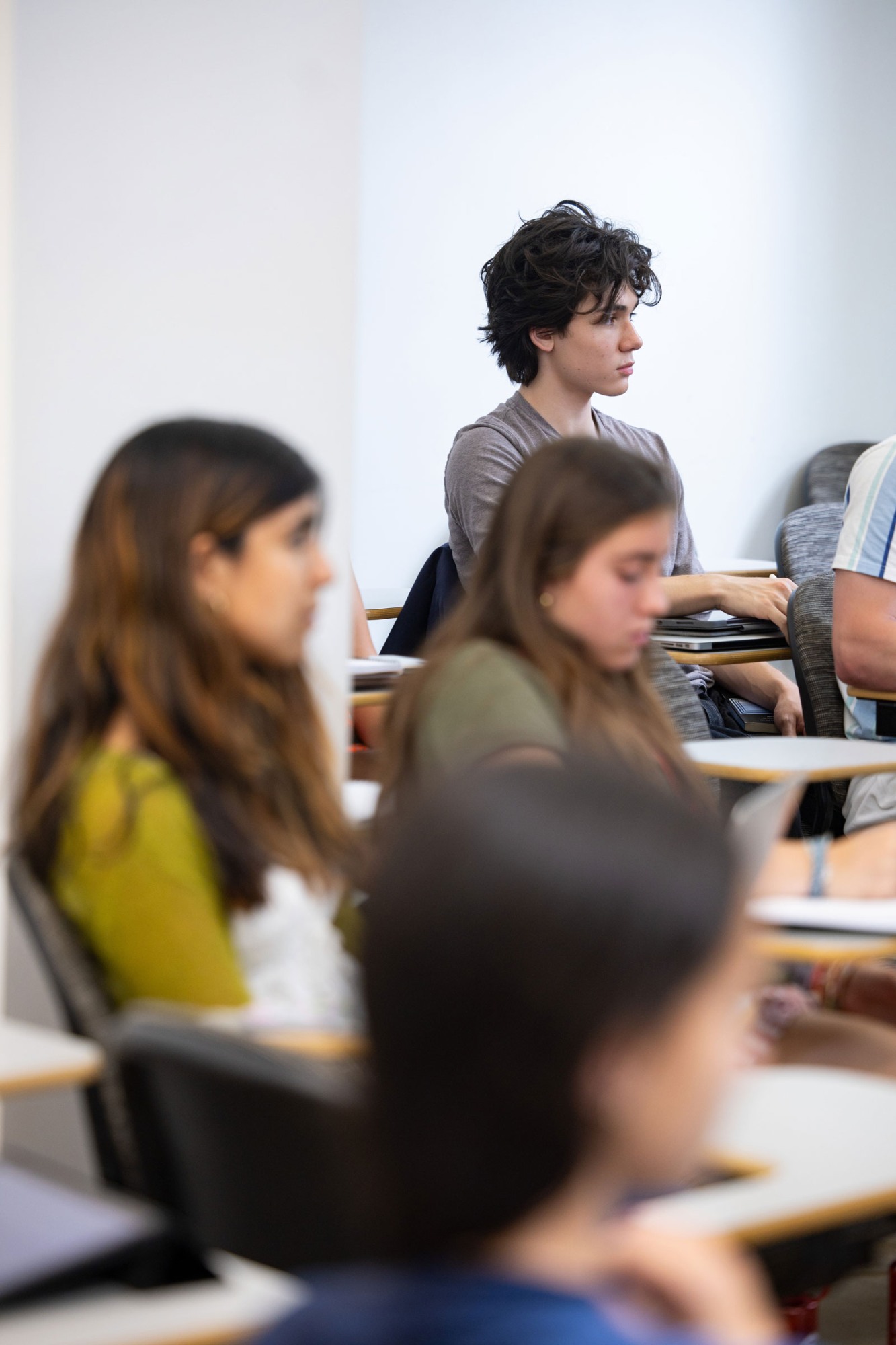 Wimmershoff-Gonzalez and Gegechkori are among thousands of teenagers who are participating in the University's 11 different summer Pre-College Programs, designed to give high schoolers from around the globe a sampling of Brown University's academic and collegiate life.
While each Pre-College program is distinct, they are all engineered to prepare students for their eventual collegiate experience, regardless of whether they end up on College Hill.
"This is not a 'one and done' situation," said Adrienne Marcus, dean of Brown's Division for Pre-College and Undergraduate Programs. "It's an opportunity to really begin to get a sense of how to navigate a space that may be radically different from their high schools or hometowns. And it's a great way to share the joy of learning that's perpetually happening across the campus."
Summer@Brown, the largest Pre-College offering, features more than 300 one- to six-week courses that reflect a wide range of topics and offers young students the opportunity to live on College Hill — or join remotely from anywhere around the world — and embrace new perspectives on how to work, learn and live. While the vast majority of students who participate in the Pre-College Programs are enrolled in Summer@Brown, Pre-College programming is as diverse as the fields Brown undergraduates choose to study.
The Brown Environmental Leadership Lab combines concepts in environmental studies, ecology and leadership, with programs this year taking place in Alaska, the Eastern Sierras in Mammoth Lake, California, and even right here in Rhode Island. Brown Experiential Education programs offer rigorous academic and cultural immersion experiences for high schoolers in Rome and Segovia, Spain. The Leadership Institute prioritizes collaborative problem-solving and solution development combined with leadership skill development in areas such as social entrepreneurship, racial justice, law and social movements and gender equity. And still others encourage 9th and 10th graders to advance their knowledge of STEM disciplines or offer new high school graduates the opportunity to earn college credit during Brown's Summer Session in its Pre-Baccalaureate program.