PROVIDENCE, R.I. [Brown University] —In keeping with the tradition of elevating student voices at Commencement, Brown's Graduate Student Council (GSC) has selected two students to deliver addresses at this year's Graduate School ceremonies on Sunday, May 27.
Javier Juarez, who will earn his master's in American studies, will address graduates and guests at the master's ceremony on Pembroke Field. Pinar Durgun, who will receive her doctorate in archaeology and the ancient world, will speak at the doctoral ceremony on Simmons Quadrangle. Each will draw on personal stories to raise larger questions about the role of scholars in the world.
"Both spoke to the diverse experiences of Brown graduate students and the difficult road traveled by all of those who seek advanced degrees," said Christian Casey, the GSC's chair of nominations. "Within their unique personal stories, they addressed both common struggles and broader social issues."
Juarez says he plans to share how, as a Deferred Action for Childhood Arrivals (DACA) recipient, he got to the point of graduating from an Ivy League university with an advanced degree.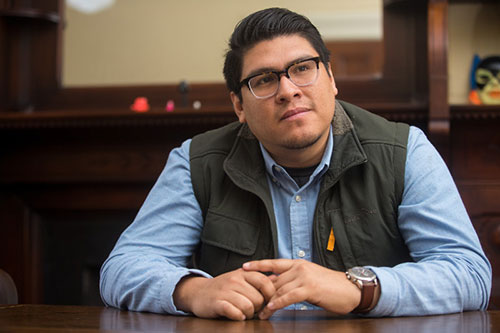 For Juarez, the route to Brown was a winding one. Before DACA was instituted in 2012, Juarez says, he was undocumented and made ends meet by working in a food truck. In 2011, the state of Rhode Island amended its policy to provide eligibility for in-state tuition to students, including undocumented students, based primarily upon attendance at a state high school. That allowed Juarez, who lives in Cranston, to earn an associate's degree from the Community College of Rhode Island. With the advent of DACA, he was able to get a driver's license, work legally and complete a bachelor's degree at Rhode Island College in May 2017.
Last September, the White House unveiled plans to end DACA just as Juarez began his master's program at Brown. Despite uncertainty about what lies ahead for him and other DACA students, Juarez maintains a sense of hopefulness.
The title of his address — "What Happens to a Dream Deferred?" — is the opening line of the Langston Hughes poem "Harlem," which Juarez says has lingered with him since he first read it in high school.
"I want the speech to be a continuation to that poem," he said. "I'm going to talk about my family's American dream, but I'm also talking about a bigger picture, especially now with what's happening in the current political landscape and the administration's anti-immigrant platform. People have lost hope in the American dream, but my story will show my fellow graduates and the rest of the nation that the dream is still very much alive."
Juarez says he came to Brown to study ethnic studies, immigration and critical race theory, but expanded his research focus to encompass social movements, political theory and the intersection between race and immigration. He credits Assistant Professor of American Studies Kevin Escudero with encouraging him to feel at home at Brown.
"He became my mentor," Juarez said. "He just gave me that confidence to be part of these classes, to take this opportunity and space and be confident of my intellectual contributions to the school."
During his year at Brown, Juarez participated in Brown Executive Scholars Training, a 12-week program designed to expose graduate students to careers in higher education. He joined the Brown University Latinx Council and completed a humanitarian mission to Puerto Rico with the Brown Christian Fellowship. He also tutored high school students in his hometown and spoke to undergraduates and others about the experience of earning an advanced degree as a DACA student.
"I only had one year, and I came to learn," Juarez said. "Whatever opportunity appeared, I made the time and said yes."
Those experiences build on a record of community-based work that Juarez has engaged in over the years. In his Commencement speech, he wants to emphasize to his peers how much potential they have to make a positive impact in the world.
"The speech is a higher calling of duty and responsibility as an Ivy League graduate to not only leave here," Juarez said, "but to understand geopolitical problems and actually do something about them, or to take a stand on whatever it is that my fellow graduates truly feel passionate about. It's our time to change the world."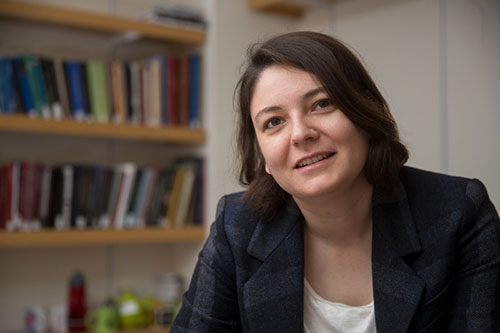 When Pinar Durgun addresses her peers at the doctoral ceremony, she too will reflect on the graduate school experience and the passage of time, but on a different scale — because her six-year course of doctoral study and her scholarly focus on archaeology and the ancient world encourage her to take the long view.
"Six years is a long time, especially in your twenties," Durgun said. "It's the formative years of your adulthood —you spend so much time being a graduate student, and life just happens around it."
Durgun says she aims to find common ground with her peers in the experience of intensive, long-term study. The title of her speech, "Speak to the Past and it Shall Teach Thee," will be familiar to Brunonians, as it is carved into the exterior of the John Carter Brown Library. The phrase also resonates with Durgun's training.
"Because I'm an archaeologist, I always see the effect of the past in the present," she said.
That awareness prompted her to structure a Commencement address that begins with the idea of looking to the past, moves on to enjoying the current moment, and finally, proceeds to looking toward the future.
"As graduate students, we always learn something new, and we're okay with not knowing," Durgun said. "I know some things about the past, some things about the present, but I don't know anything about the future — so here are some things that I learned and some things that I might use to look forward to the future."
Durgun, who is from Turkey, came to Brown in 2012 as a Fulbright grantee. During her time at the University, she worked on an archaeological survey near two monuments in west central Turkey supported by the Joukowsky Institute for Archaeology and the Ancient World. She also interned with the Giza Archives Project through Harvard University and worked at Brown's Haffenreffer Museum as an educator and collections assistant.
A first-generation college student, Durgun says she is attuned to graduate students' practical and financial constraints. In summer 2017, she helped plan Brown's graduate student orientation so it better met the needs of new students, including plotting out a campus tour that would help students adapt to life on College Hill. She also created Project Visiting Scholar, a database that helps students and early career academics manage the costs of attending conferences and events in distant locales by finding them free short-term lodging.
Durgun finished her dissertation in January, which allowed her to spend the spring semester as a visiting assistant professor of archaeology at Brown. She says her next step may lie in academia or in museum work. But first, she'll enjoy the chance to send her peers off on Commencement day.
"I know I can't really represent everyone's experience," Durgun said. "But because I've worked on so many different things on campus, I've had a very good relationship with different academic and social communities at Brown. It's a way of giving a thank you to all those people I've worked with, in a way."