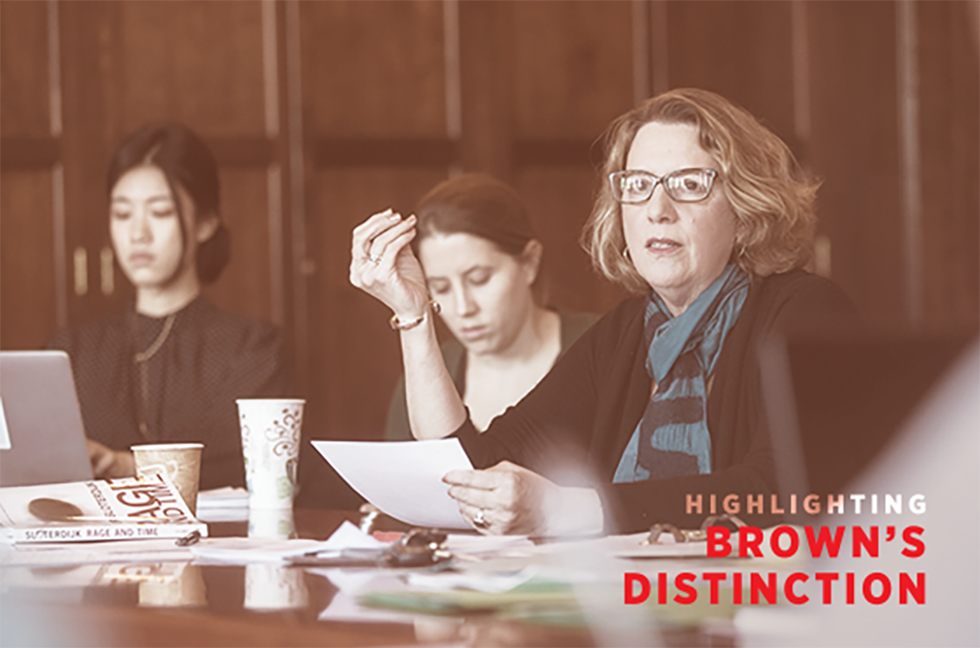 PROVIDENCE, R.I. [Brown University] —Brown scholars have built a reputation for tackling compelling, complex questions that impact key aspects of human experience.
For more than a century, the two dozen academic departments and programs of study that comprise the humanities at Brown have asked the big questions that inform our understanding of the past and deepen our sense of how to best approach current societal challenges of global significance.
How do we create a meaningfully engaged citizenry? How will we understand and respond to the social and ethical dimensions of technological change? How do religious and literary traditions inform our understanding of current political events?
The questions are countless. And as Brown President Christina Paxson argued in the New Republic — in an op-ed titled "The Economic Case for Saving the Humanities" — we need humanists to help us understand the implications of these questions, their answers and the coming changes they evince. Through a range of strategic initiatives, Brown is working to intensify the global impact of the humanities and their power to inspire change.
With major grants from the Andrew W. Mellon Foundation and the National Endowment for the Humanities, and the launch of Brown's Digital Scholarship Initiative, work in the digital humanities is rapidly expanding. Scholars are increasingly calling on cutting-edge technology to publish and preserve centuries-old texts, from handwritten papers from Timbuktu to ancient cuneiform tablets threatened by modern-day conflict in Syria.
And among new efforts recently launched, three based at the Cogut Institute for the Humanities are fueling collaborative, comparative work and putting the institute in a class of its own.
A scholarly theme focused on environmental humanities created a home base for research, teaching and public events about the forces affecting our planet and generated so much interest that Cogut launched a multi-year Initiative for Environmental Humanities at Brown in Fall 2018. A Politics in the Humanities series has invigorated dialogue on timely political questions across the humanities and social sciences that are shaping national and global affairs. And a new Collaborative Humanities Initiative is manifesting the spirit of Brown's Open Curriculum at the graduate level and has made Cogut the first humanities institute in the country to offer a graduate certificate in collaborative humanities. This is helping to shape the next generation of thought leaders.
"These initiatives incorporate the leading aim of the institute, which is to promote collaborative teaching and research — as well as public programming and active dialogue — on the most challenging questions facing humanities scholars today," said Amanda Anderson, director of the Cogut Institute and a professor of humanities and English.
Environmental humanities
By establishing the environmental humanities first as a scholarly theme and now as a multi-year initiative, the Cogut Institute has become a destination for humanities scholars who are actively engaged with issues that pertain to the environment, ecology or environmental studies through their disciplinary lens.
The initiative underscores Brown's commitment to establishing a deeper understanding of human-environment interaction and is led by a collective of humanities faculty from the Institute at Brown for Environment and Society and the departments of history, political science and religious studies.
Mark Cladis, a professor of humanities and chair of the religious studies department, said that a great deal of compelling work in the environmental humanities is being done across the Brown campus, and the Cogut Institute serves as an important convening function.
"Whereas the natural and social scientists' work may be describing the rate of rising oceans, the person in the humanities might be writing about why it is that people are having such a difficult time wrapping their minds around this catastrophe," Cladis said. "What are the different portraits of the natural environment and the human encounter with it?"
Illuminating that encounter has taken a variety of forms: a public conversation with writer, conservationist and activist Terry Tempest Williams; a film screening that focused on how the life and work of scientist Lynn Margulis can impact thinking on humans' relationship to the environment; a panel on writing about climate change; and a conference called "Earth(ly) Matters: New Directions in Environmental Humanities." 
Cladis also taught "Radical Romanticism: Religion, Democracy and the Environmental Imagination," which is directly related to his research on a forthcoming book with the same title. His research examines the convergence of progressive political, environmental and religious traditions and offers an alternative account of British and American Romanticism — what he calls radical Romanticism.
"Romanticism is often understood as fanciful thought that's trying to escape reality," Cladis said, "or the idea of an enchanted nature that's replacing religion. I'm reading these authors and texts as realists. They address industrialization, oppressive land enclosures, pollution and the exploitation of workers and the land alike. That's what I mean by realists."
More than 20 courses taught by Cladis and other faculty members are now offered as part of the initiative, ranging from "Pursuit of Happiness" to "Ecopoetics in Practice" to "The Nature of Conquest."
Politics in the Humanities
In 2015, Bonnie Honig launched the Politics in the Humanities series at Brown as a way to traverse the social sciences and the humanities. Honig is a professor of modern culture and media and political science.
Events in the series feature prominent thinkers who show "how humanistic projects can turn out to be a kind of fulcrum for understanding our social and cultural moment," Honig said.
"Social sciences tend toward generalization, laws, formulas, observations and explanations that strive to be capacious, with the hope of offering a great deal of encompassing, explanatory power," Honig said. "In the humanities, as I understand them, there is also an aspiration to have a broad reach, but that broad reach is very grounded in the particularities of human experience."
The contours of the series provide listeners with a window on what using both those approaches yields.
This year, professor, author and activist Cornel West visited campus, delivering a fiery, uplifting plea for humanity rooted in an examination of income inequality, mass incarceration, white supremacy and other bleak reminders of the current historical moment.
Earlier, Davina Cooper, a professor of law and sociology at the University of Kent, offered a political reading of what some consider a leisure activity — the physical maneuvering of parkour, or street-running — that considered the role of public play in a democracy. The reading also considered how class, gender, age and law are bound up in the use of public infrastructure for unintended purposes. 
The series has also featured subjects including the jurisprudence of U.S. Supreme Court Justice Clarence Thomas; post-colonialism's effect on indigenous peoples; the origins and impact of contemporary U.S. anti-tax politics; and whether Rachel Carson's "Silent Spring" — often seen as a doomsday text inaugurating a genre of climate catastrophe literature — can be seen rather as a seminal text of love for nature and others.
Honig's own research regularly crosses disciplinary boundaries. A fall 2017 talk examined how "Moby Dick" responds to Thomas Hobbes' "Leviathan" and has implications for collective democratic action. A forthcoming book titled "Theaters of Refusal" looks at the politics of refusal, enacted through civil disobedience, conscientious objection or simply withdrawal from political life, as seen in literature, film, and drama.
In welcoming lecturers working in equally dynamic ways to Brown, the series promotes the critical examination of the role of the humanities in informing a deeper understanding of important developments in the world.
"When we're at the Cogut Institute for Politics in the Humanities, there are people from so many departments in the room," Honig said. "That's an important dimension — it gives us all an opportunity to be together, thinking together."
Collaborative Humanities Initiative
Through the Collaborative Humanities Initiative, the Cogut Institute is demonstrating how Brown's distinctive Open Curriculum enhances graduate training in the humanities, helping graduate students sharpen their lines of inquiry and expand their professional prospects. 
In 2017, with a $1.3 million Mellon Foundation grant, the institute launched a certificate program that enables doctoral students to adapt the resources of different disciplines to research problems and provides a valuable credential to students as they embark on their careers.
At the program's core are team-taught collaborative research seminars led by pairs of faculty members from different fields, an approach that the Cogut Institute has been developing for a number of years. With the new program underway, the institute has steadily increased the number of these courses, with five offered in 2017-18 and nine underway or planned for 2018-19.
Among last semester's collaborative seminars was "Politics and Literature," co-taught by Anderson and Honig.
"Team-teaching is intellectually exhilarating and catalyzing for both faculty and students," Anderson said. "Our collaborative courses ask faculty and students to imagine new ways of working together — and to challenge each other to think beyond established forms of co-authorship or group work. We have students writing collectively, creating alternative syllabi and doing creative group projects. It helps students understand research questions and social challenges in a multi-dimensional way."   
Nechama Juni, a fourth-year Ph.D. student in religious studies and a Mellon Graduate Fellow in Collaborative Humanities, conducted an interdisciplinary study of modern Jewish halakha, or religious law. Juni said she wanted to complement the training provided by her department with other methodological approaches to the study of religion.
"This sort of training will be crucial for me as I develop my dissertation project, which seeks to combine strictly conceptual approaches (like those from philosophy and critical theory) with approaches that focus on how people live, like those from anthropology, history and political science," she said.
Completing the requirements also has the capacity to widen Juni's ability to collaborate with colleagues and expand the range of topics she will be able to teach, she said.
Kareem Estefan, a fourth-year Ph.D. student in modern culture and media, researches contemporary visual culture in the Middle East. He described his course of study as inherently interdisciplinary, involving courses located in different humanities and social sciences departments. The certificate program, Estefan said, formalizes and extends what many Brown graduate students already do while sharpening their theoretical focus and exposing them to faculty research.
"The program allows you to work with students who have similar questions but different approaches and emphasizes a collaborative learning process that opens up new lines of inquiry," Estefan said. "It also provides space for generative dialogue between professors."
Estefan took a seminar co-taught by Ariella Azoulay, a professor of comparative literature and modern culture and media, and Leela Gandhi, a professor of the humanities and English. The seminar considered the array of new nation-states and institutions that emerged in 1948, in the aftermath of World War II, which each professor approached through a different lens.
"While Ariella Azoulay's research often centers on Palestine/Israel, Leela Gandhi has a background in postcolonial South Asian studies," Estefan said. "Their expertise complemented one another, and outside of the certificate program, there is no regular opportunity for co-taught classes like theirs."
In addition to reconsidering how a subject is typically taught, the seminars allow free movement between disciplines, which is useful for students like Stephen Marsh, a doctoral candidate in English.
"I work on mid-20th century liberalism, mostly among a group of cultural critics called the New York Intellectuals," Marsh said. "Politics is on their minds virtually all the time, and their understanding of what literature is and does has a lot of resonance with how they think about politics."
The certificate program allows Marsh to ask key research questions using political theory directly, rather than limiting himself to literary studies questions. The Collaborative Humanities Initiative is among the strategic approaches at Brown that are supporting scholars seeking cross-disciplinary responses to some of society's most challenging questions.
"It lets me get at the real stakes of my research questions better," Marsh said, "because those questions themselves don't respect contemporary disciplinary boundaries."