PROVIDENCE, R.I. [Brown University] — A wide variety of Spring 2020 arts events at Brown University will allow creators and curious onlookers to take a deeper look into the world of artmaking.
All semester, acclaimed musicians, digital creators, writers, stage performers and other artists will come to College Hill for talks, workshops and other events that will shed light on how they execute their creative ideas.
The multitude of events, presented by the Brown Arts Initiative (BAI) and its participating departments and programs, promises to provide a unique peek into the artistic process for everyone in the community, from student artists to Rhode Islanders who want to delve deeper into art appreciation.
"Inviting international artists to the University provides an entry into the conversations that are happening in the arts world today," said BAI faculty director Thalia Field. "People who have encounters with contemporary artists and their work can learn something that they can't necessarily learn in a classroom, a museum or a textbook. With these events, the BAI and the arts departments at Brown aim to touch the lives of students across the curriculum and community members across Rhode Island."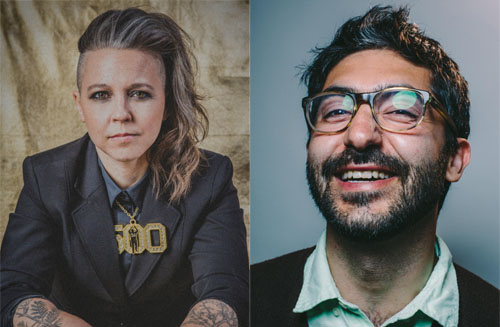 The semester-long exploration of creativity kicks off on Friday, Feb. 7, with the first day of Writing is Live, a three-day playwriting festival presented by the Department of Theatre Arts and Performance Studies (TAPS). Here, Brown's MFA playwriting students have the chance to see their work performed live for the first time, and audience members have the opportunity to observe the vibrant and often messy process of creating new work for the stage. 
On Feb. 27, the Department of Literary Arts will welcome novelist Ben Lerner for a reading from his latest book, "The Topeka School," and a discussion on his unique approach to writing. Lerner has bachelor's and master's degrees from Brown.
Musician, songwriter and Brown alumna Erin McKeown will be in residence at the University all semester. In addition to teaching a course exploring the art of musical storytelling and workshopping a new musical with students, McKeown will also take part in a March 16 public conversation about writing songs for stage musicals alongside Pulitzer Prize-winning playwright and fellow Brown alumna Quiara Alegría Hudes. 
McKeown is one of three BAI professors of the practice this semester. Another, digital artist Ali Momeni, will transform common spaces in the Granoff Center for the Creative Arts into an interactive multimedia exhibition that ruminates on concepts of the afterlife, opening April 9. And a third, the performer, writer and electronic artist Andrew Schneider, brings his immersive production "YOUARENOWHERE" to the Granoff Center from April 16 to 18; in the performance, Schneider dissects subjects ranging from quantum mechanics and parallel universes to missed connections and Alcoholics Anonymous recovery steps.
Aspiring and armchair architects alike are sure to enjoy "Raymond Hood and the American Skyscraper," an exhibition at the David Winton Bell Gallery that dives into the creative process of a Rhode Island native who went on to design Rockefeller Center, the Chicago Tribune Tower and the New York Daily News building. The exhibition, presented jointly by the Bell Gallery, the BAI and Shawmut Design & Construction, opens in early April with public talks by two art historians.
"Even though the exhibition is focused on a single subject — Raymond Hood — it's incredibly wide-ranging, looking at everything from the art of lighting buildings to the pop-culture ubiquity of certain American skyscrapers," said Jo-Ann Conklin, director of the Bell Gallery. "We are also hosting a series of four talks by influential female architects to coincide with the exhibit."
Also visiting to share her working process is Caroline Woolard, an interdisciplinary artist based in Brooklyn. An exhibition running from March 30 to April 19 in the Granoff Center presents documentation, correspondence, technical drawings, budgets and other ephemera from artwork she has produced over the past decade. Woolard will also participate in a panel on the business of receiving funding to make art on April 10 with others in the arts world, including Schneider; musician, visual artist and Class of 2015 graduate Jazzmen Lee-Johnson; and Jessica Massart, senior lead for dance and theater projects at Kickstarter.
From April 30 to May 3, Brown's dance program concludes its year-long 50th anniversary celebration with the Festival of Dance, a TAPS-hosted reunion and conference featuring performances, workshops, panels, conversation and more. Local residents are welcome to join students, faculty and alumni as they consider both the past and the future of dance at Brown.
Complete details on these and all of the current season's events can be found on the Brown Arts Initiative website at http://arts.brown.edu/events. A brochure is available for download at https://arts.brown.edu/current-season.