PROVIDENCE, R.I. [Brown University] — More fully populated common spaces. Small groups of students eating lunch together before rushing to class. Friends chatting while they carry books across the College Green. After a de-densified year on campus during the COVID-19 pandemic, those have been welcome sights in recent weeks.
And in addition to Brown students completing the summer term, the recent arrival of high school students on campus for summer pre-college programs is yet another sign of a return to more traditional operations.
In the years preceding the pandemic, up to 6,000 high school students typically spent the summer participating in pre-college classes, workshops and institutes at Brown over seven weeks of overlapping sessions. This year, given health and safety guidelines that remain in place, that number is smaller; two cohorts of roughly 400 students each are taking up residence on College Hill for Summer@Brown with a week-long break between sessions to allow for deep cleaning of the facilities.
Hailing from 38 states and territories and 28 countries, those students will live and learn on Brown's campus, choosing from 243 classes that represent the range of Brown's Open Curriculum. Courses span the academic disciplines — from "Combating Disease in the Modern Age: Virus Evolution" to "Free Will and the Brain: Neuroeconomics and the Science of Decision-Making" — and are taught by faculty, graduate students and instructors affiliated with the University.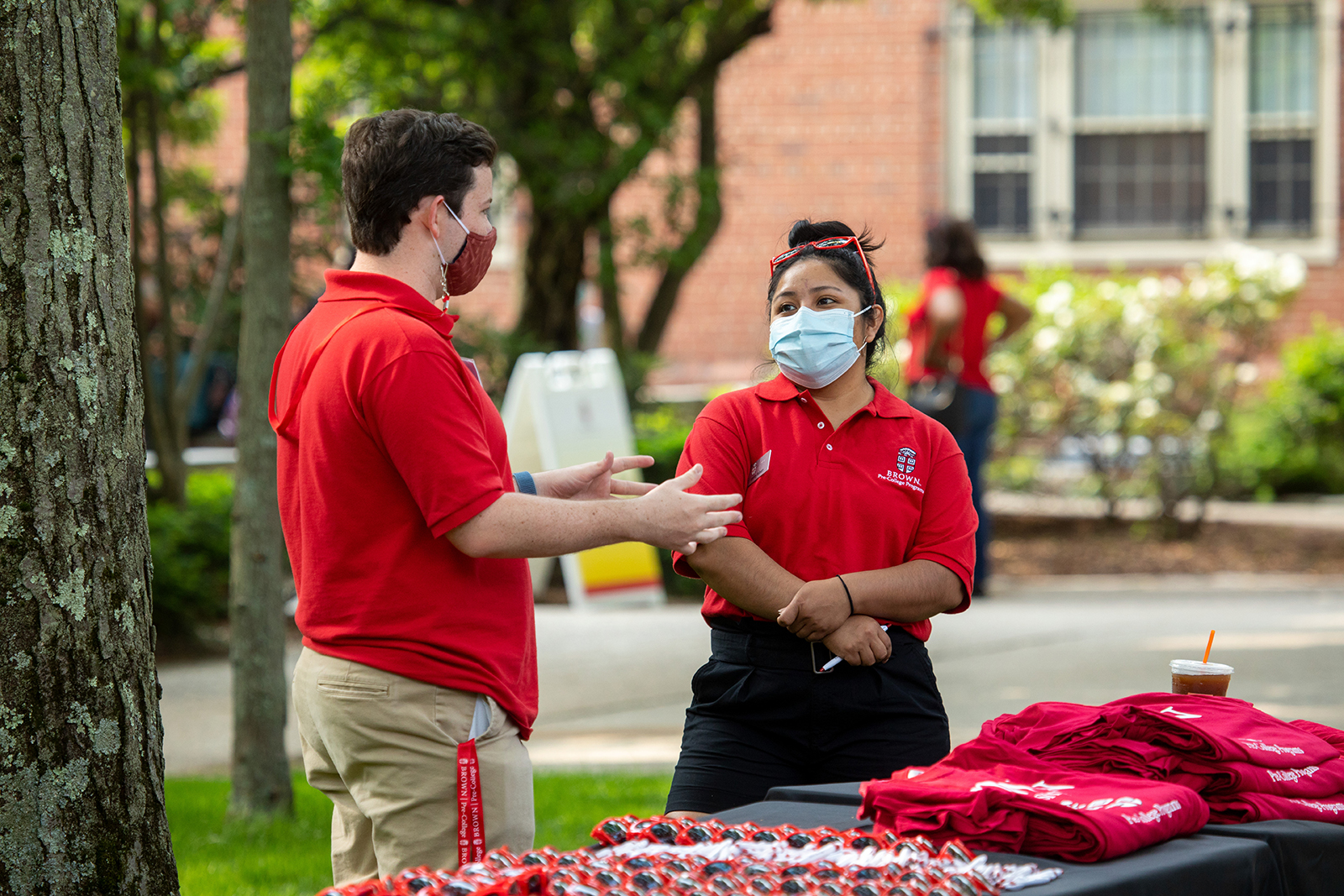 Outside of class, students experience the independence of college life and get a taste for what their first year as an undergraduate might look like, snoozed alarms and all. But in Brown's pre-college programs, there is an extensive safety net for students, which makes the transition a bit smoother, said Adrienne Marcus, dean of pre-college and summer undergraduate programs.
"We expect students to fail, to trip up, to make mistakes — we all do," she said. "But we want to be there to prop them back up and help them see it as a learning experience."
In planning for a summer on campus, safety was the top priority. Due to age restrictions on the COVID-19 vaccine eligibility, the Division of Pre-College and Summer Undergraduate Programs operated on the assumption that the incoming students wouldn't be vaccinated; but Marcus said that nearly all of the program staff were fully vaccinated, and more than 70% of the students in the first session voluntarily shared their fully vaccinated status as well.
Still, precautions were implemented to protect against potential virus spread, including designated dining, academic and residential buildings used solely for the pre-college population, additional staff presence helping to ensure students observe mask-wearing and social-distancing mandates, and routine COVID-19 testing twice-weekly for all students and staff associated with the program.
In addition to being able to attend in-person classes, those precautions made it possible to provide safe and memorable events for the students.