PROVIDENCE, R.I. [Brown University] — Since the inception of Brown University's Breakthrough Lab in 2015, no two cohorts have looked the same — and that's by design.
The students who come together for B-Lab, a venture accelerator program at Brown's Nelson Center for Entrepreneurship, represent a broad swath of the University community, each bringing distinct strengths from their own personal backgrounds, areas of academic study and varying levels of entrepreneurial experience. This year's cohort also, for the first time, includes students from the School of Professional Studies' revamped Master's in Technology Leadership program — a move that B-Lab Director Hamzah Ansari says expands the incubator's reach and brings fresh perspectives to the table.
As a result, this 2023 cohort's 15 ventures are as unique as their student founders.
Some are highly focused on technology, with projects aiming to simplify job-seeking and workflow processes; make 3D printing more sustainable; or use artificial intelligence to curate the online dating experience. Others seek to improve virtual-learning platforms for students; better connect independent artists with their fanbases; boost civic engagement; or create customized plans to help vape users cure nicotine addictions.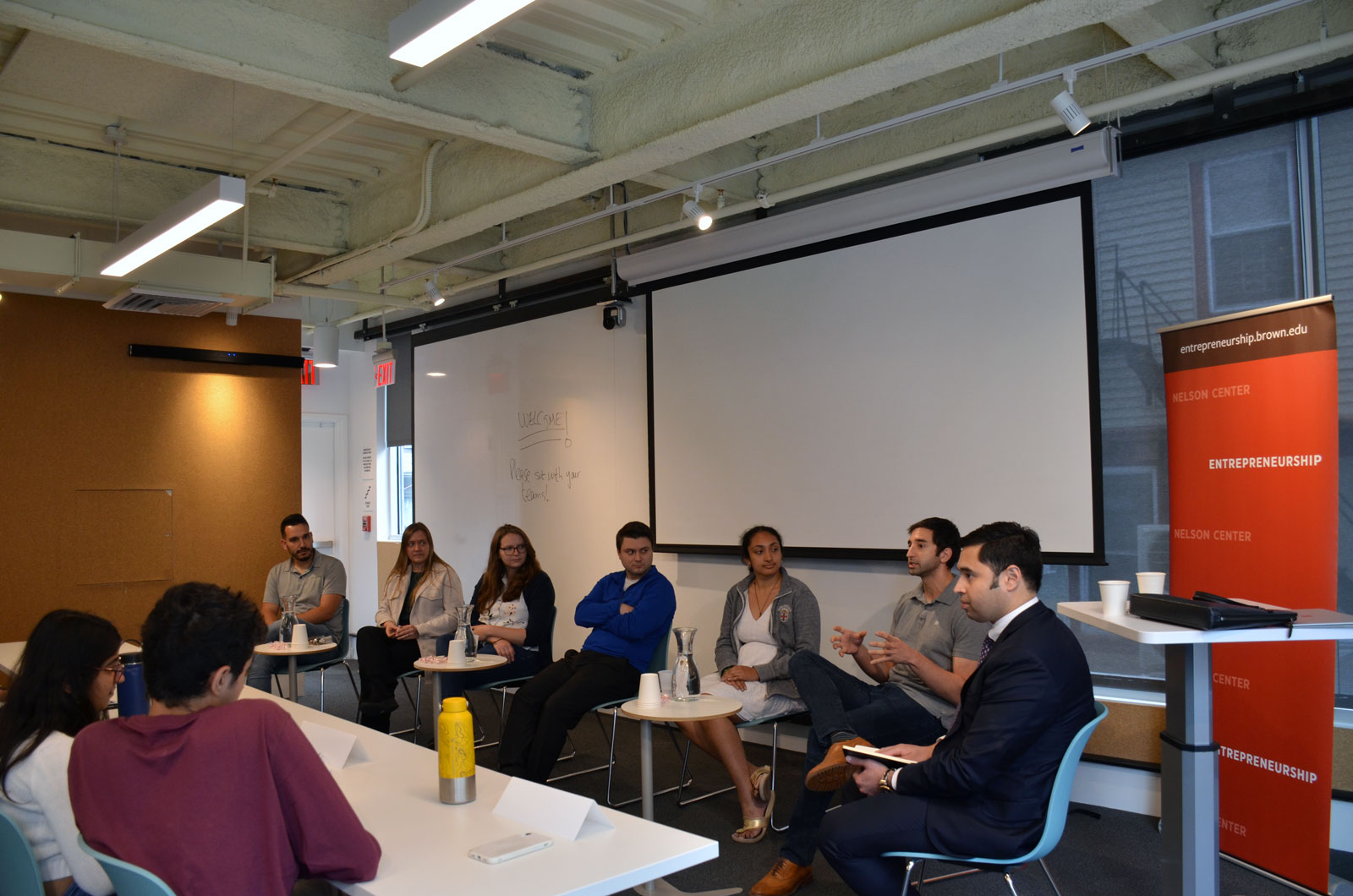 "I tell our teams that their first priority is to cultivate deep empathy for their prospective customers — to really understand their problems, unmet needs and pain points," Ansari said. "This deep and insightful understanding of their customers is essential in the creation of innovative and impactful solutions."
While the ventures couldn't be more different, they share a crucial commonality: the support they receive during the incubation process.
Together, they spend eight weeks on the Brown campus learning from mentors and educators, attending custom workshops and collaborating with a peer cohort of dedicated founders, all within a co-working space at the Nelson Center. From personalized mentoring and networking opportunities to pitch presentations and industry-specific education, there's no shortage of entrepreneurial knowledge to be gleaned through B-Lab.
The unique instruction comes from B-Lab leaders and mentors who know what it's like to be an entrepreneur at Brown. This summer alone, the program has engaged more than 40 Brown alumni, a dozen of whom previously participated in B-Lab, to provide mentorship and advising.
"This collaboration creates a dynamic ecosystem of knowledge sharing and continuous growth," Ansari said.
As the cohort continues during the next several weeks of development, here's a glimpse into the various ventures they are working on, in the founders' own words.
Aries Beauty Hauz
AnnMarie Nayiga, Class of 2024
Master's in Technology Leadership
Aries Beauty Hauz is a dedicated marketplace curating the finest Black-owned beauty products from global creators. We champion inclusivity and equality, providing an accessible platform for Black and Brown consumers while facilitating creators to showcase their products, bypassing traditional, exclusionary routes.
DeCert
Grant Lee, Class of 2023.5
Master's in Computer Science
Alexander Matthew, Class of 2024
Master's in Computer Science
Abhijit Ravichandran
DeCert enables companies to hire better developers, faster. Developers demonstrate their skills through standardized technical certifications (à la Common Application). Companies trust DeCert to recommend certified developers most suitable to fill their positions. The result: an efficient hiring process that respects everyone's time, ability and preferences.
Featr.
Claire Liu, Class of 2023.5
Business, Entrepreneurship and Organizations
Makayla McPherson, Class of 2024
Computer Engineering and Music
Sterling Stiger, Class of 2023
Business, Entrepreneurship and Organizations
Spencer Winningham, Class of 2023
Business, Entrepreneurship and Organizations
Featr. is a one-stop matching platform that connects musicians to local performance venues and recording studios. With our built-in AI technology, we create a steady stream of collaborative opportunities that will generate more income and exposure for our users.
ForeverFan
Chance Emerson, Class of 2023.5
Computer Science and Archaeology
John Rytel, Class of 2025
Applied Mathematics and Computer Science
ForeverFan makes independent musicians famous faster. By combining multi-link landing pages, fanbase communication through email and SMS broadcasting, and a novel recurring pre-save technology, ForeverFan enables artists to to develop close ties to their fanbase and build a long-lasting career. We are a cashflow positive B2C SaaS business operating on a subscription model. 
Hey, You
Brian Zuelch, Class of 2023
Master's in Technology Leadership
Trouble with dating has more to do with ourselves than the people we meet. "Hey, You" is seeking to enable our users to put in the introspective work and prioritize becoming the best version of themselves through a catered online coaching experience to make more impactful connections.
Hooga
June Choi, Class of 2023
Master's in Technology Leadership
Hooga is a mobile app designed to help college students rethink how they meet potential lifelong friends. In a world where we're more connected than ever, we've become more disconnected than ever — and a byproduct of that is a growing "friendship recession" and "loneliness epidemic." With Hooga, we are offering a discovery tool — in other words, an alternative way for students to increase their chances of finding their most compatible friends during their time in college.
Irada
Moksh Mehta, Class of 2026
Biomedical Engineering and Economics
Vini Rupchandani, Class of 2024
Psychology and Physics
In today's fast-paced environment, there is a disconnect between the things people prioritize versus those that lead to long-term fulfillment. Irada is a card game consisting of introspective prompts that cultivates a sense of joy by empowering players to connect with their Ikigai.
Kognitiv Edge
Colleen Thamm, Class of 2024
Master's in Technology Leadership
Tyler Van Hook, Class of 2024
Master's in Technology Leadership
Kognitv Edge is the trailblazer for digitally transforming how elite teams in the government evaluate and train candidates. Our software expands recruiting horizons, customizes training programs, and bolsters the ability to attract and retain exceptional talent with diverse skill sets.
Mentis
Tom Yang, Class of 2024
Computer Science and International Relations
Brandon Fay
Mentis is an Edtech tool that helps students learn faster from video content. Leveraging the latest AI, Mentis allows users to chat with the video to obtain additional explanations and navigate directly to where they are searching for.
Perplex
James Mullen, Class of 2024
Biological Physics
Quinn Straus, Class of 2024
Mathematics and Computer Science
Perplex is on a mission to render textbooks a thing of the past by constructing a comprehensive platform for advanced STEM education. By crowdsourcing diverse, quality resources and offering intuitive tools for the creation and organization of materials, we empower educators and simplify learning for students, replacing scattered, inconvenient resources with a singular, efficient solution.
PlanMyCity
Viola Tan, RISD Class of 2024
Architecture
PlanMyCity makes cities for everyone. At PlanMyCity we create and deploy tools that improve the community engagement process of urban planning. PlanMyCity creates spaces where voices are heard and cities are made by and for everyone.
Puff 'N Quit
Lauren Diamond, Class of 2025
Economics and Entrepreneurship Certificate
Jason Pien, Class of 2025
Computer Engineering
Alex Wick, Class of 2025
Computer Science
Puff 'N Quit is developing a mobile application to help vape users stop vaping by delivering a highly personalized program for gradually reducing their nicotine consumption. The program integrates cognitive behavioral therapy practices, provides actionable metrics of improvement, and creates spaces for quitters to connect and support one another. Puff 'N Quit also offers spaces for users to bet on themselves and their friends and is considering developing a hardware component to track users' compliance with the goals they set for themselves in a more accurate way.
RESO
Sam Bagheri, Class of 2024
Master's in Technology Leadership
Ralph Bou Samra, Class of 2024
Master's in Technology Leadership
RESO is a workflow management platform simplifying and streamlining the dispute resolution process for arbitrators. The collaborative tool enables arbitrators and disputing parties to coordinate tasks, documents and schedules amongst all of its key stakeholders. The result — a fair and fast outcome.
Topo Prints LLC
Jamie Gabbay, Class of 2025
Computer Science
Devlin Glover, Class of 2025
Electrical Engineering
Griffin Wells, Class of 2025
Mathematics
Topo Prints is revolutionizing the 3D printing industry with sustainability at its core. Our innovation, an attachment for the traditional FDM 3D printer, aims to combine the shredding, drying and printing processes into one continuous machine. Originating from creating and selling 3D printed topographical models, our focus has evolved towards engineering solutions for a more sustainable future.
Visionaries Empowered Through Art (VETA)
Paris Cooke-Brown, Class of 2025
International and Public Affairs (Policy and Governance) and Entrepreneurship
Visionaries Empowered Through Art is a "by college students, for college students" sneaker customization service addressing the need for unique, sentimental clothing that builds confidence. VETA creates a community around customized sneakers to foster a sense of belonging, in addition to boosting people's confidence and feeling of uniqueness. By coupling students' passion for their organizations and interests with theme-based merchandise based on the needs and desires students seek to fulfill with their clothing, VETA's network of artists will work one-on-one with individual students and student-run organizations to design apparel for them to express their passion. Visionaries Empowered Through Art is envisioned by you, empowered by us.