PROVIDENCE, R.I. [Brown University] — The newly renovated Churchill House, home to Brown University's Department of Africana Studies and the historic Rites and Reason Theatre — one of the oldest continuously operating Black theater organizations in the nation — has opened its doors to a light, bright and community-oriented building that promises to propel its scholarship and creative work to new heights.
Churchill House is now home to new indoor and outdoor spaces for interactive learning and community-building, a state-of-the-art black box theater and a fully accessible main entrance on The Walk, a series of linked green spaces that intersect the Brown campus. 
As more than 1,100 attendees — including more than 700 alumni — convened on campus for Black Alumni Reunion, graduates from across the generations celebrated the transformed space during a dedication ceremony on Friday, Oct. 27.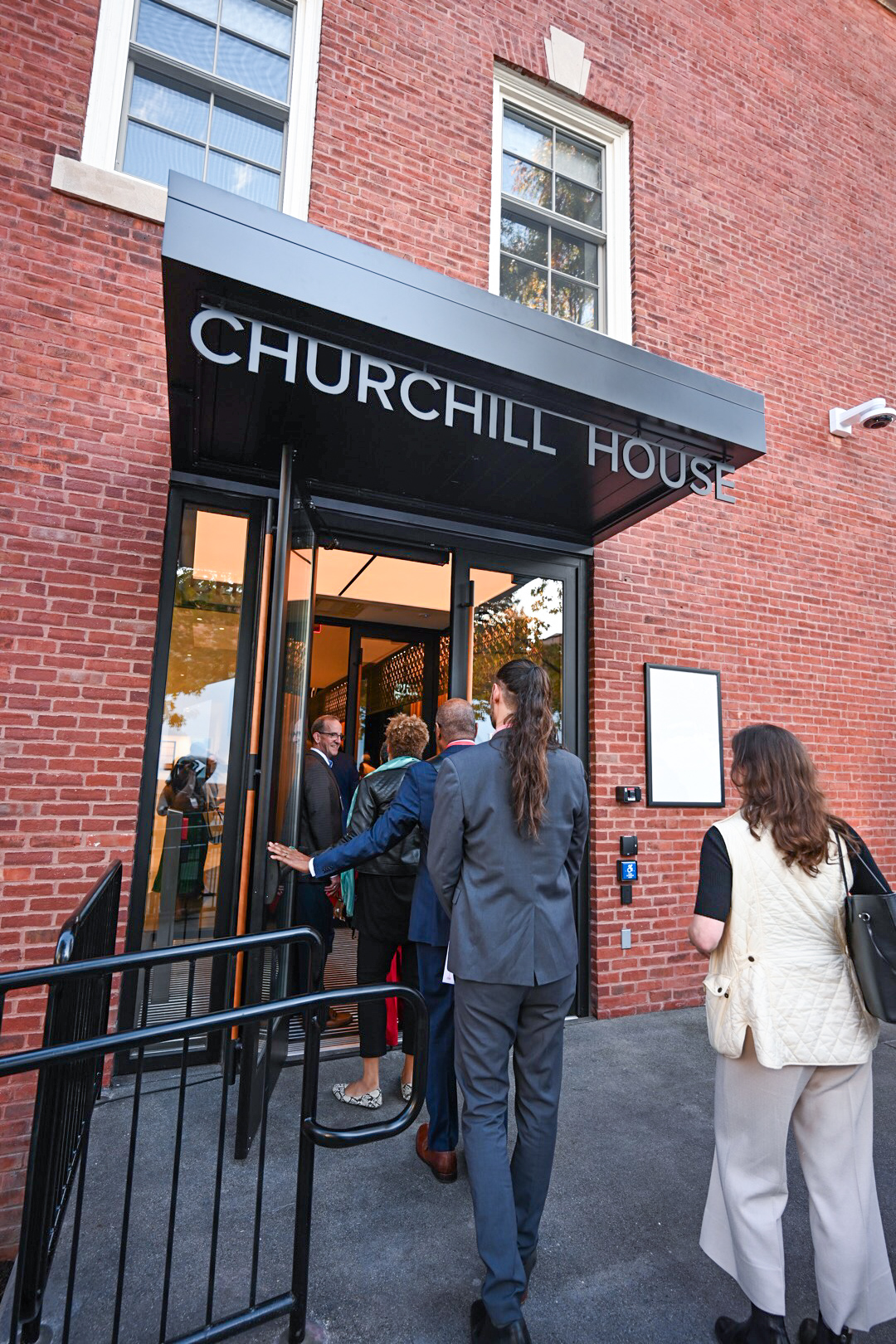 "We're celebrating the expansion of the intellectual footprint of Africana studies and all of the people who have contributed so much to the important work of the past — and will continue to do so in Churchill House," Brown President Christina H. Paxson said during the ceremony. "I'm thrilled that we now have a building that lives up to the past and future of a great institution."
The renovations were completed just ahead of the 2023-24 academic year after 12 months of construction. From a new western entrance and light-filled foyer to a three-story glass addition to support the growth of the Department of Africana Studies, Churchill House is brimming with possibility and energy, said Noliwe Rooks, chair of Africana studies.
"I understand now how space can enhance community," Rooks said. "The renovation has provided us with the opportunity to embrace our past in ways that help us fully see our present and plan for our future."
At the dedication ceremony, hundreds walked through Churchill House's new doorways — but many didn't get too far in before they stopped in their tracks. Crowds of alumni buzzed with a chorus of gasps; some expressed disbelief that this was indeed the same Churchill House they learned and engaged in during their time at Brown.
When the renovated building was officially dedicated — following a recitation of an original poem by Professor of Africana Studies Brian Meeks — it received a standing ovation.
The dedication of Churchill House came during a Black Alumni Reunion weekend of lectures, receptions and gatherings designed to collectively reimagine the future of the Black community at Brown. Panel discussions explored a vast array of topics, from understanding the impact of the Supreme Court's ruling on race-conscious admissions, to leveraging the power of Black votes, to exploring the evolution of the Black experience at Brown while planning for its future.
Lectures and film screenings offered an in-depth exploration of Afrofuturism, hip-hop and the life of Rosa Parks, while musical performances and visual exhibitions highlighted the legacy of Black art at Brown.