PROVIDENCE, R.I. [Brown University] — Courses conducted remotely over Zoom don't have to be impersonal experiences — a point that many instructors at Brown University are proving this semester. 
Marina Tyquiengco, a teaching associate with the Department of the History of Art and Architecture, has employed a host of methods to turn her virtual course, Indigenous Art, Issues and Concepts, into a hands-on and interactive experience that mirrors in many ways in-person instruction.
The students in the course are jump-starting their own online discussions each week and analyzing readings, films, talks and artworks together on video chat. Together, they're exploring big questions: What is Indigeneity? Who decides what Indigenous art is and is not? Does Indigenous art belong in an anthropological museum or an art gallery? 
In November, Tyquiengco's students will put their knowledge to the test in a unique way: by conceiving of their very own art exhibitions.
"People who study and pursue a career in art history usually have to wait a long time before they get to curate their own exhibition," Tyquiengco said. "I think it's really empowering to put something together and think about how to present it to a broad audience. I want them to feel like they're not just learning but also creating something in this class."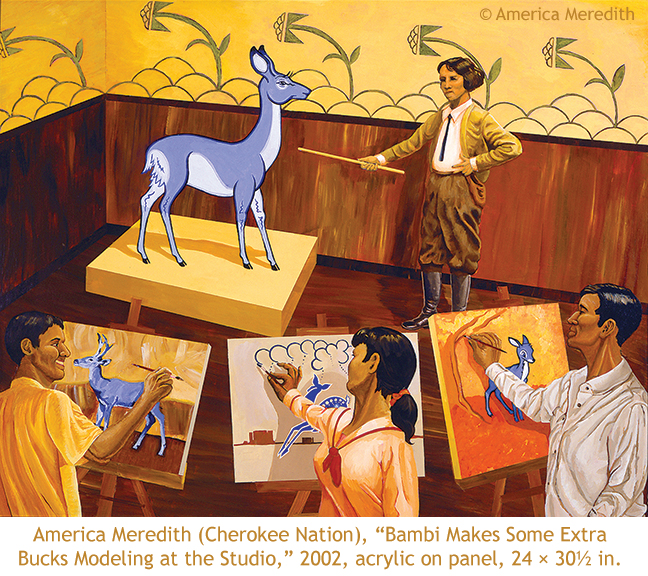 The final project — in which small groups of students will present written summaries of their exhibition themes, select works of art, and create museum-ready labels that explain each work's history, context and meaning — is more than a classroom exercise. Like many course assignments at Brown, the project brings together students from a diverse set of backgrounds (academic and otherwise) to navigate a complex, ever-changing subject, a task they'll likely face in their post-graduate lives regardless of what careers they pursue.
Tyquiengco, who spent part of her childhood in Guam as a member of the CHamoru people and is now a curatorial assistant at Boston's Museum of Fine Arts and a Ph.D. candidate in history of art and architecture at the University of Pittsburgh, is new to the world of virtual teaching. But she taught this same course at Brown in Fall 2019 and said the material was remarkably portable to the online world — thanks in part to her students, who have been more than willing to engage in spirited interactions despite the physical distance between them.
"They're using their critical thinking skills in every class," she said. "They're thinking deeply. They're asking tough questions and not accepting all that they read as fact."
That's critical, Tyquiengco said, for a field as complex as Indigenous art, where even the use of the word "art" is contested. An influential 2012 paper, "No Word for Art in My Language?", traces the history of a long-held idea that for Indigenous peoples, the creation of visual objects is not a profession or avocation that can be considered independently, but simply a part of life. 
"There is no rarefied space for art in many Indigenous cultures, like a museum or a gallery," Tyquiengco said. "Many see it as a contiguous part of being and making and engaging in the world."
In the essay — which Tyquiengco and her students read and discussed in September — Chiricahua Apache scholar Nancy Marie Mithlo details the divide between Indigenous peoples who reject Western fine art culture and contemporary Indigenous artists who move more comfortably between the Western and Indigenous worlds. Some in the latter group exhibit and sell the art they make, sometimes even claiming to be "an artist first and an Indian second," Mithlo notes.
Pinpointing what is and is not Indigenous art is one among many complicated questions the students will explore throughout the semester, Tyquiengco said. They'll also study why Indigenous art is sometimes categorized as anthropology, the ways in which Indigenous artists responded to 19th century colonialism in the United States, Canada and Australia, and Indigenous artists' use of art as activism, from the 1960s to today.