PROVIDENCE, R.I. [Brown University] — For the third consecutive year, a Brown University student or recent graduate has been awarded a Rhodes Scholarship, the oldest and perhaps most prestigious international scholarship in the world. 
Class of 2020 graduate Mneera Abdullah Saud, a computer science concentrator, was named a 2021 Rhodes Scholar on Saturday, Nov. 21. The award covers all expenses for two or three years of graduate study at the University of Oxford in England.
Abdullah Saud, who is planning a career in Middle Eastern migration policy, intends to pursue two master's degrees from Oxford — one in refugee and forced migration studies, and the other on the social science of the internet, which focuses on how the web influences society.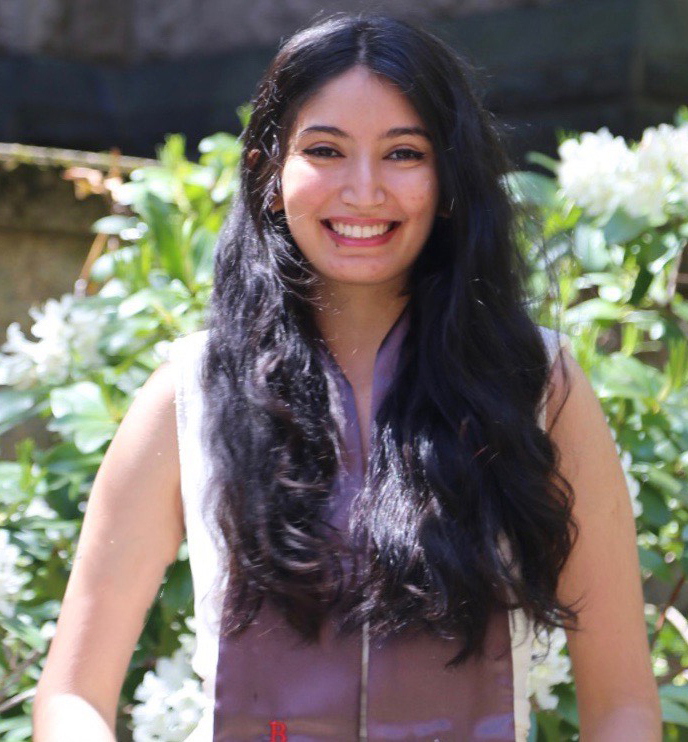 "I'm really humbled and grateful to have received this opportunity, and I'm especially excited about the two programs I hope to pursue," she said. "I believe 'fighting the world's fight' will rely on interdisciplinary skills more so today than ever — that an understanding of forced migration will also entail an understanding of the disinformation on Facebook that could incite ethic violence."
A native of Saudi Arabia and Bahrain who currently resides in Saudi Arabia, Abdullah Saud said her experience at Brown uniquely prepared her to study across a range of academic subjects — and to use what she learns to make innovative contributions to the world.
"Brown has taught me the value of an interdisciplinary perspective and approach," she said. "Nowhere else would I have been able and encouraged to pursue coursework ranging from computer science to language study to history and political science. Looking forward, I want to take this foundation and apply it to projects that will serve my home region." 
At Brown, Abdullah Saud distinguished herself as a tutor and coordinator for the Brown Refugee Youth Tutoring and Enrichment program, providing academic tutoring and mentoring to refugee youth in the Providence area. She was a member of the College Curriculum Council and participated for two years in the Presidential Host Program, in which students serve as University ambassadors at events and ceremonies throughout the year. 
"We are so proud that Mneera Abdullah Saud has become our newest Rhodes Scholar" said Rashid Zia, dean of the College at Brown. "In her work both inside and outside of the classroom at Brown, Mneera demonstrated a deep commitment to creating, sharing, and applying knowledge from her wide-ranging studies to help advance issues of social justice. We wish her the best as she furthers this important work through the courses she will take and the connections she will make at Oxford."
Since her graduation in May, she has worked remotely as a research assistant for the Middle East Institute, a non-partisan think tank in Washington dedicated to the study of the region, while living in Saudi Arabia. Her research has focused on the effects that internet disinformation has had on the region.
Abdullah Saud is one of just three scholars from Saudi Arabia who were named to the Rhodes Scholars Class of 2021. In total, the cohort is expected to include more than 100 scholars from over 60 countries by the time all selections conclude in December. 
In developing her application during her senior year at Brown, Abdullah Saud was supported by Fellowships at Brown, a team within the College who advise and mentor students pursing Rhodes, Fulbright and many other global and domestic fellowships.
With Abdullah Saud's award, Brown has endorsed a winner of the prestigious scholarship for three consecutive years. Camila Pelsinger, a Class of 2020 Brown graduate who earned a Rhodes Scholarship in 2020, is now pursuing a master's degree in criminology and criminal justice at Oxford. Brown Class of 2019 graduate Rhea Stark is a member of the 2019 Rhodes Scholarship cohort.