PROVIDENCE, R.I. [Brown University] — Like many Peace Corps volunteers, Emmery Brakke had plans to pursue a career in international affairs or foreign service after returning from abroad. Then, the COVID-19 pandemic arrived.
In 2020, in the midst of her third year of service in Irpin, Ukraine, Brakke was evacuated as the novel coronavirus spread across the globe. It was then that she discovered her own country needed help, too.
"Coming back to the United States in the middle of a pandemic, and in an election year, after being abroad for a few years was a really fast and significant reality check," she said. "I realized there were so many important topics and issues to get involved with domestically, and especially on a local and regional level. The idea of applying the Peace Corps' participatory approach to community action and development to my own community appealed to me immensely."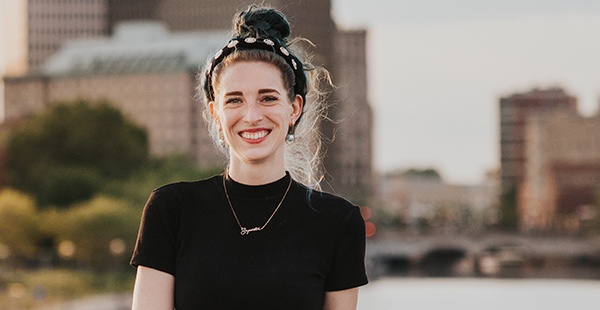 Brakke, a Rhode Island native, knew exactly how to acquire the skills she'd need to make positive change in the Ocean State: apply to Brown University's master of public affairs program.
In June 2021, Brown's one-year MPA program, housed at the Watson Institute for International and Public Affairs, welcomed its largest and most diverse cohort ever. Brakke is among 109 new MPA students, a 58% increase from last year. Students in the cohort hail from 21 countries, and 52% of those from the U.S. self-identify as coming from historically underrepresented groups.
"Our largest MPA cohort to date brings an incredible range of talents, experiences and perspectives to Brown," said Edward Steinfeld, director of the Watson Institute. "They come to us with educational and professional backgrounds in fields ranging from mathematics and business to environmental studies, education, health care and political science. I know, of course, that they will learn a great deal from one another through the course of the program. But, just as important, I know that the Watson community, of which they are now a part, will in the coming months learn a great deal from them."