PROVIDENCE, R.I. [Brown University] — The progress pride flag — a reinterpretation of the traditional rainbow pride flag, with added stripes to represent trans and nonbinary identities and people of color — anchors the exterior of Stonewall House, the new location of Brown University's LGBTQ Center at 22 Benevolent St. in Providence.
Enabled by a generous gift from Katie and Brent Gledhill and their son Rowan, who graduated from Brown with his fifth-year master's in 2022, Stonewall House reimagines the LGBTQ Center as a home on campus for members of Brown's queer community. Now, in its new space — after 18 years in a small, third-floor office suite — the center has room to grow.
Located one block south of the College Green, the two-story house is renovated to reflect the needs of an ever-evolving identity center, and is fully accessible to individuals with disabilities. Every detail — from a small addition directly connecting it to the next-door building that houses the Office of the Vice President for Campus Life, to the size of the closets — is a product of intention, said Director of the LGBQT Center Caitlin O'Neill.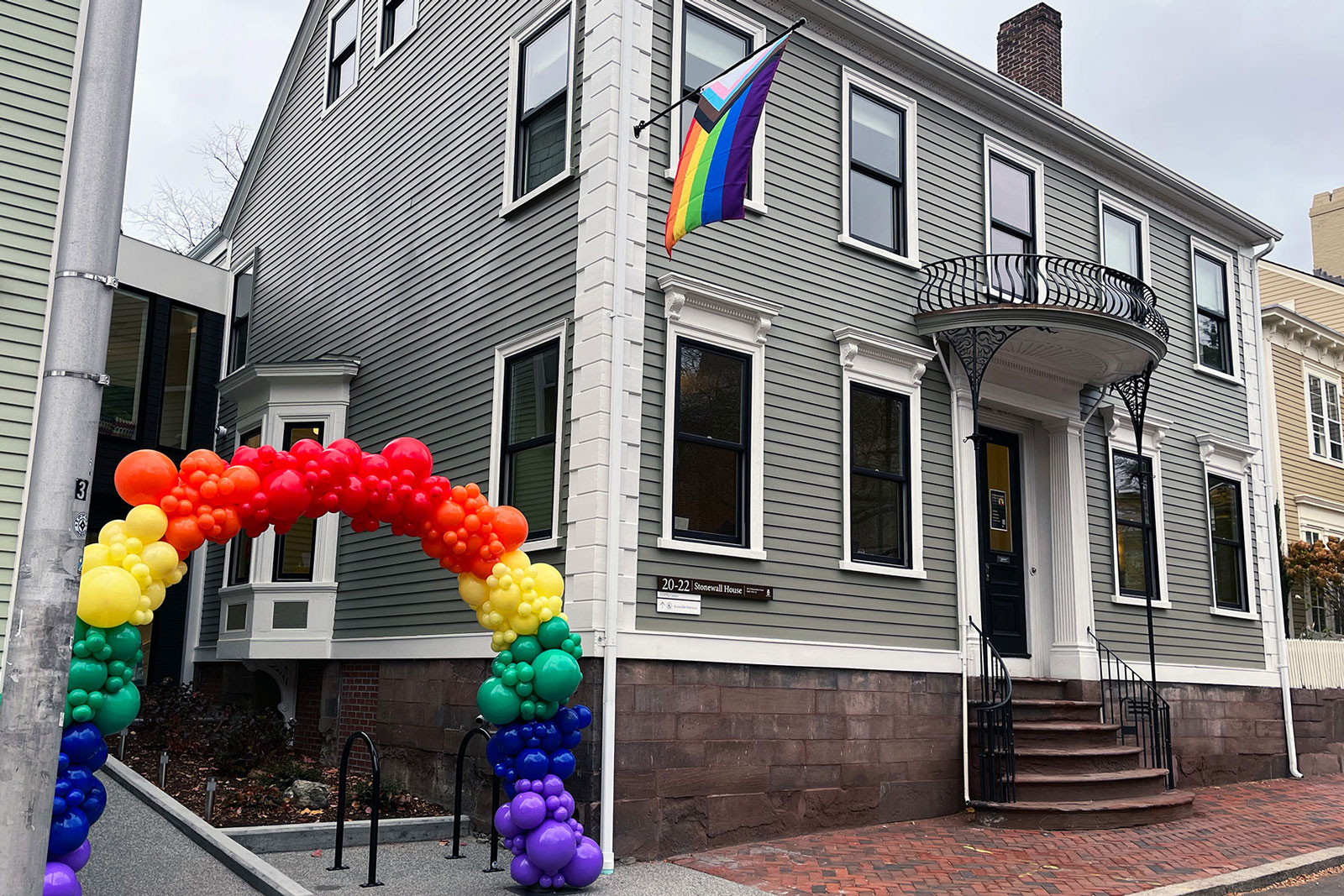 "Nothing beats the looks of absolute wonder and awe on all the students' faces when they see this space for the first time and really see the care and respect that has clearly gone into this process," O'Neill said. "It's so incredibly heartwarming to see students' faces when they see their dreams come to life."
Designed entirely with students in mind, Stonewall House will serve as both a community gathering space and a home for queer scholarship and academic collaboration, O'Neill said.
Over the years, the center has ramped up its programming across the University, collaborating with other centers to advocate for the many identities that comprise Brown's LGBTQ+ community. And for the first time, the LGBTQ Center is able to host some of those flagship programs — like Queer International Connections; the Women, Gender and Sexuality Peer Counselors; and the U-FLi QTs series, which provides space for students who are members of Brown's undocumented, first-generation college and low-income community and identify as queer, trans or nonbinary.
"We've already seen an increase in requests for collaboration from other campus partners and students, ranging from athletics to Brown Emergency Medical Services to graduate students in the Center for Middle East Studies," O'Neill said. "The house has highlighted our presence on campus, and some students are realizing for the first time that a place like the LGBTQ Center exists and is a home to find others who will see and celebrate them."
At a grand opening ceremony in early November, Brown President Christina H. Paxson said she's particularly excited by these connections, as they reflect just how multi-dimensional Brown students are.
"This is going to be a place where students come together around their LGBTQ+ identity," Paxson said. "But they're also going to bring all of these other aspects of themselves to this place and build a really strong community."