Date
July 15, 2022

2022-07-15
Program spearheaded by Brown's Annenberg Institute translates research into results for educators
In partnership with the policy group Results for America, EdResearch for Recovery provides resources to effectively implement evidence-based strategies in schools nationwide to combat pandemic-related learning losses.
PROVIDENCE, R.I. [Brown University] — The COVID-19 pandemic hit Coventry Public Schools in Coventry, Rhode Island, as it did every other educational institution in the country: like a ton of bricks. In March 2020, the virus sent everyone home for the rest of the school year, and the new school year in the fall didn't look much sunnier. Coventry superintendent Craig Levis, like many others in his position, found himself in charge of a district that needed to make up for lost time while supporting its community through a time of overwhelming grief.
Levis knew that classes would need to resume as usual to keep lesson plans on track through the 180 school days, but he also knew that something else needed to be addressed first: the well-being of the teachers and staff in his district.
"When we were talking about COVID's impact, the big thing was around learning loss," Levis said. "I see all this work that we're going to cover over the next few weeks and months, but we do that through people. And if we don't take care of those people and acknowledge the fact that they're struggling, this all could be for naught."
Levis brought this up at one of his district's first meetings with representatives from EdResearch for Recovery, a new program spearheaded by Brown's Annenberg Institute for School Reform in partnership with the policy group Results for America.
The program began in July 2020 when education experts at Annenberg realized that they needed to pivot their work with local school districts that were struggling in the throes of a pandemic.
"We got into a conversation with some district leaders around the state and asked what type of partnership might actually be most useful from Annenberg during this moment in time," said program founder Nate Schwartz, associate professor of the practice at Annenberg.
District leaders said most of their time was consumed with operational questions on ventilation and masking when they knew they needed to spend more time on the unfolding educational crisis. Students' mental health was suffering and many weren't making academic progress.
While the specifics of the pandemic were unprecedented, insights from decades of research by national experts could be applied to help schools address these issues. The Annenberg researchers collected and organized dozens of questions from local district leaders. Soon they began to think about a model in which education experts were asked not only about their research but also about their informed opinions on how to address schools' most urgent needs.
"It's sort of taking researchers out of what is often a somewhat more neutral stance and asking them to lay concrete bets," Schwartz explained. "We asked researchers, if you had to put your money where your mouth is right now, what would you do and why?"
These questions led to a series of research briefs on everything from implementing tutoring programs to combating learning loss to rebuilding a positive school climate. They are short, easy to read, and get directly to the point of how to effectively implement evidence-based strategies in schools.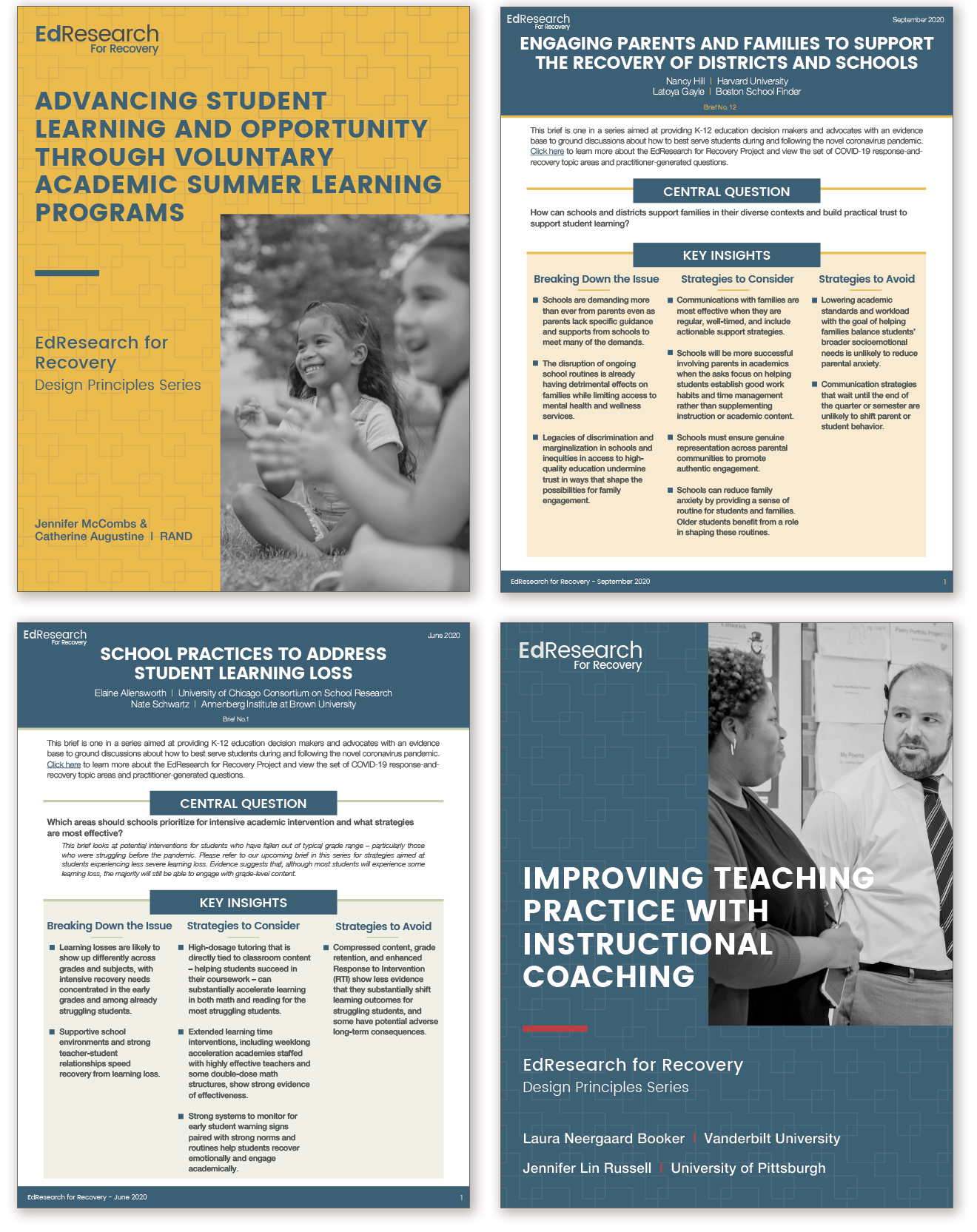 Since Schwartz doesn't believe that "research briefs, in and of themselves, change the world," the program also allows district leaders a venue for engaging directly with researchers and piloting the strategies laid out in the research briefs. The EdResearch for Recovery team met with a network of school districts in Rhode Island, including the one in Coventry, to assess their specific needs and advise them on implementing strategies.
Working with Levis, the team recommended research-based interventions that supported teachers and staff as they navigated working with students while dealing with turmoil in their own lives. Addressing teacher wellness wasn't at the top of the list of priorities from the beginning, but after Levis brought it up, "they made it part of their agenda early on," he said, "because we needed to talk about this before we could work on the academic interventions."
Levis said that working with EdResearch for Recovery has been one of the most powerful experiences he's had as an educator.
Annenberg Director Susanna Loeb said that EdResearch for Recovery is a perfect representation of what the institute does.
"We think very much about the process of taking the research and the knowledge we create and making it actionable," she said. "In EdResearch for Recovery, it worked so well because we had the sourcing of questions from school leaders around the country, and then we used these connections to researchers and scholars to get answers to those questions and put them in the form of a tool that summarizes what one could do to address them."
The ongoing pandemic remains a challenging environment for teaching and learning, and questions continue to arise from school leaders. In January, EdResearch for Recovery released briefs on strengthening school counseling programs and building effective instructional coaches — and also held a workshop for Rhode Island districts and community-based organizations aimed at ensuring summer enrichment programs for students align with the best available evidence.
EdResearch for Recovery continues to represent a real-time, need-based model for bringing knowledge directly to school leaders in a way that helps them keep teaching, learning from, and supporting one another.